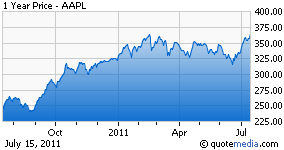 With Google's (NASDAQ:GOOG) earnings beat in the books it's time to take a look at Apple (NASDAQ:AAPL). We see three reasons that may allow Apple to post 100%-plus earnings growth when the company reports on July 19th:
1. Mark Moskowitz of JP Morgan is traditionally one of the most conservative of the 40-plus Apple analysts but he recently released a research report that is forecasting sales of 19.6 million iPhones. Last quarter, Apple set a company record by selling 18.65 million iPhones which represented 113% year over year growth. The big outlier this year is the fact that Apple didn't release a new phone in June. Does that help or hurt quarterly sales? Our thesis is that the lack of a supply chain disruption, in addition to a full quarter of Verizon (NYSE:VZ) sales and white iPhone sales, creates the best sales environment that Apple has ever had. Mobile analytics firm Localytics published a report showing the Verizon iPhone now commands 32.3% of all iPhones in the U.S. after only four months on the market. This report suggests some impressive momentum in May and June ahead of Verizon's July 7th transition away from unlimited data plans. Whether Apple sold 17, 18, or 20 million iPhones in the quarter won't matter too much considering it only sold 8.4 million iPhones in the same three-month span of 2010. Any way you slice it, it looks as though Apple will grow the iPhone by well over 100% this quarter and could be approaching the 125% growth number if JP Morgan is correct.
2. The Mac continues its hot sales trend. IDC released preliminary Q2 U.S. sales results that indicate Apple sold 1.97 million Macs representing a 14.7% year over year increase. U.S. sales, in addition to international sales, should see Apple report approximately 28% year over year growth for the Mac which would put Apple right in the mid range of analyst expectations of 4.2 million Mac units sold. In the March quarter, the Mac grew sales by 28% year-over-year, totaling 3.76 million units. In the Asia Pacific region the Mac grew 76%. As for the back to school season, Apple is off to a hot start since beginning the $100 iTunes Back to School Mac promotion. Global Equities Research analyst Trip Chowdhry issued a note suggesting that 80% of incoming students are buying Apple computers vs. Microsoft Windows computers. In the year ago quarter Apple sold 3.27 million Macs.
3. As for the iPad, consensus estimates are hovering around 8 million units for the quarter after Apple announced at the software event that it had already sold 25 million iPads in just 14 months as it expanded to 48 countries from 26 in the previous quarter. Subtracting the total number of iPads sold prior to the June quarter reveals that Apple had already sold 5.52 million iPads up until that point. The previous record for iPad sales came in the 2010 holiday quarter when Apple sold 7.3 million units. In the year ago quarter, Apple sold 3.27 million iPads. Noted Apple blogger Andy Zaky has extensively researched Apple's guidance in terms of historical precedent and has concluded that the "mother of all backlogs" for iPad 2 could result in sales of 10 million units for the quarter.
In a quarter of favorable comparisons, we are leaning toward holding our positions through the earnings report as the stock action is performing in accordance with our projected 40% rise from the $310 June low. In the year ago quarter, Apple posted quarterly revenue of $15.7 billion and earnings per share of $3.51. For the current report, consensus estimates among professional analysts project revenue of $24.8 billion and earnings per share of $5.73. A survey of bloggers is expecting earnings of $6.64 on revenue of $26.6 billion, up 90% and 70%, respectively. However, If Apple sells 19.6 million iPhones (125%-plus growth) as JP Morgan projects, 10 million iPads (175% growth) as Andy Zaky projects, and 4.2 million Macs (28% growth) as the consensus expects, then Apple will report quarterly revenue of approximately $30.38 billion and earnings per share of $7.89. Such results would beat year over year revenue by 93.5% and earnings by 124%. The possibility of such an astounding beat will keep us in the game.
Disclosure: I am long AAPL.