Sometimes it doesn't take a whole lot of sophisticated analysis to be able to tell what's going on with a stock. As I have noted in past articles, frequently, the story and other intangibles tell you everything you need to know. Often, a song - most often one by Bruce Springsteen - says it all so well:
We made it through the heart of a hurricane/We tore it apart and put it back together again
Springsteen lets those simple, yet powerful words flow in Don't Look Back. And they apply to quite a few stocks, most notably Sirius XM (NASDAQ:SIRI).
I laugh when investors let one-day movements in a security concern them, assuming they intend to hold the stock for longer than one day. If you see a pattern on a chart that confirms higher highs and, when the dust settles, higher lows, there's no need to fret. If everything else that matters to you about the company checks out, you're probably good.
SIRI acts as the perfect example of a stock that continuously gets torn apart and put back together again. There's not a better stock to buy on the dips because, more often than not, it follows through after ranging around its 50-day simple moving average.
The two red circles on the following chart, drawn by an unsteady hand, represent two of the most recent examples. The patterns are almost identical. And, in investing lingo, a steady hand should result if you're long SIRI after reviewing the chart.
(Chart courtesy of Schwab's StreetSmart Edge; Click to enlarge)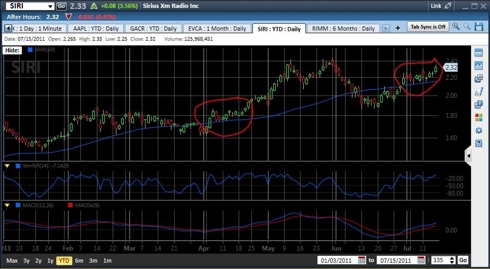 Click to enlarge
If you need more convincing that predictions in the neighborhood of $3.00 stand on solid footing, I have some for you. Just study more history, very recent history that is. And realize that you're watching history and an obvious (as obvious as it gets in this business) trajectory unfold.
On June 29th, SIRI closed at $2.10. In an article from that day, I wondered if the stock was "Ready for Lift-Off?"
In that piece, I described the technical indicators - MACD and Williams %R - that I use to help make buy/sell decisions on stocks. At the time, I noted:
The chart shows the MACD about to convincingly cross its signal line. At the same time, the Williams %R looks to establish itself in overbought territory.
Now, about two weeks later, the MACD has crossed its signal line. It looks an awful lot like it did prior to and during SIRI's April/May run to its 52-week high of $2.44. And there's the Williams %R, not venturing very far at all out of overbought territory. As I noted in the above-referenced article, that's a bullish sign because it indicates sustained buying.
On June 22nd, with SIRI trading at $1.92, I did some back of the Springsteen ticket stub math and came up with my $2.73 price target into earnings. Here's a look at that chart, courtesy of wikinvest:
(Click to enlarge)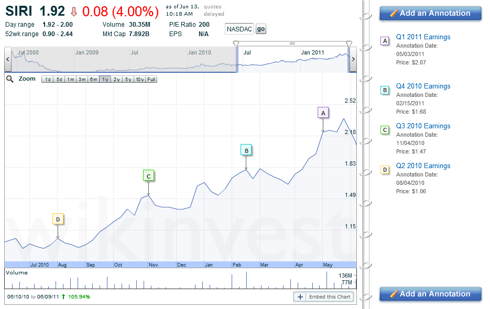 Right now, SIRI bulls sounds like broken records and the bears are few and far between. There's a reason for this. We are witnessing this stock do what it does. It's so simple, but so are Springsteen lyrics. It's just an incredibly pain-staking process to come up with them. And very few people have the talent to do actually do it.
I am sure there are other stocks out there that will outperform SIRI over the next 2 to 4 weeks. That said, I cannot tell you which ones they are. Not one has given me the confidence that I have in SIRI, particularly on the likelihood that the company raises guidance ahead of earnings.
In addition to Springsteen lyrics, I also get into lines and scenes from certain epic movies. Alec Baldwin turned in one of the best performances of all-time in Glengarry Glen Ross. What he said in the movie's greatest scene applies to investing, particularly when there are people ready and willing to be on the losing side of your winning trade:
Get out there - you got the prospects coming in. You think they came in to get out of the rain? A guy don't walk on the lot lest he wants to buy. They're sitting out there waiting to give you their money. Are you gonna take it? Are you man enough to take it?
It doesn't take a whole lot of machismo to go long SIRI these days. I think it's more about common sense.
Disclosure: I am long SIRI.