The other day, a colleague showed me an article on MSN entitled,
U.S. Obesity Epidemic Continues to Spread
." The article states that obesity rates increased in sixteen states over the past year, and that twelve U.S. states now have an obesity rate greater than 30%. Four years ago, only one state had an obesity rate over 30%.
This table from the MSN article shows the obesity rate as a percentage of the total population in each of the fifty states.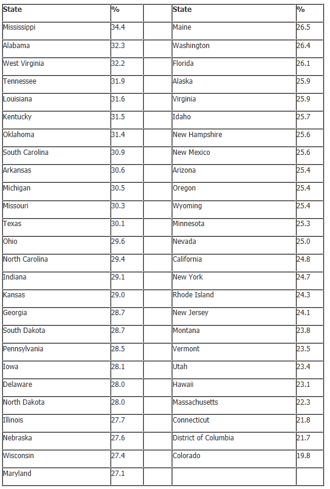 Obesity brings with it the potential for several health problems, including heart disease and type-2 diabetes. The persistent increase in the obesity rate reveals that Americans are becoming obese at a rate that exceeds population growth. This is clearly not a good trend for society as a whole.
It is a fact that obese people require more healthcare services and have higher healthcare costs than the average person. The United States currently spends approximately 16% of its GDP on healthcare and the continued expansion of the obesity epidemic will likely swell this further. This is not a good trend for either consumers or for governments.
There is, however, one group that can benefit from this trend. I have already mentioned the link between obesity and maladies such as heart disease and diabetes. Companies that provide products that treat these conditions will be the beneficiaries of the aforementioned increased healthcare spending.
The three largest producers of diabetes-care products are Novo Nordisk (NYSE:
NVO
), Eli Lilly (NYSE:
LLY
), and Sanofi (NYSE:
SNY
). These three companies stand to profit from this trend because a growing diabetes rate is likely to accompany this growth in the obesity rate. This means that there will be a greater demand for the diabetes medicines that these firms provide.
Of the three companies, Novo Nordisk is the closest to a pure-play on diabetes. Novo Nordisk derives 64% of its total operating profits from its diabetes-care division. The remaining 36% comes from biopharmaceuticals.
Novo Nordisk has a twelve-month trailing EPS of DKK 26.05 ($4.94). The stock has a trailing P/E ratio of 25.38.
Zack's
expects the company to earn $5.65 per share in 2011 and $6.50 per share in 2012. This gives the stock forward P/E ratios of 22.19 and 19.29 for 2011 and 2012 respectively. Novo Nordisk has increased its dividend every year since 1997 and currently pays DKK 10.0 ($1.90) annually for a 1.51% yield. This dividend is subject to a 28% Danish withholding tax.
Eli Lilly and Company is Novo Nordisk's biggest rival in the diabetes-care industry. Eli Lilly was the first pharmaceutical company to mass-produce penicillin, and is the world's largest manufacturer and distributor of psychiatric medications today. Eli Lilly is also the manufacturer of human insulin products and Byetta (with Amylin (
AMLN
)) for diabetes patients.
Eli Lilly faces a very steep patent cliff as many of its biggest drugs will lose patent protection between 2011 and 2013. I do not expect its diabetes products will grow enough on their own to make up for the revenue losses from these patent expirations for two reasons:
One of the company's largest insulin products, Humalog, is coming off patent in 2013. This drug had 2010 sales of $1.22 billion.
Novo Nordisk's Victoza is, quite frankly, a better product than Byetta for diabetes patients. Novo Nordisk also has a superior research pipeline when only diabetes-care products are considered. Eli Lilly does have some experimental medicines for diabetes but these are not expected to be available until after 2015.
Some of my fellow Seeking Alpha contributors believe that Eli Lilly is well positioned for growth after 2014 and may be a good investment today. I am not pursuing this opportunity in my own portfolio at this time but it could be a decent play for some investors.
According to Zack's, Eli Lilly has a trailing EPS of $4.80. The company has a trailing P/E of 7.99 at current prices. Analysts expect the company to earn $4.28 per share in 2011 and $3.68 per share in 2012. This gives the company forward P/E ratios of 8.96 and 10.42 for 2011 and 2012 respectively. Eli Lilly pays a dividend of $1.96 for a yield of 5.11%.
Sanofi is a Paris, France-based multinational pharmaceutical company with seven major product areas: cardiovascular, nervous system, diabetes, internal medicine, oncology, thrombosis, and vaccines. Sanofi is far from a pure-play on diabetes. The company could still profit off of increasing healthcare costs due to the spread of obesity though.
Sanofi has a trailing EPS of $4.33, which gives the stock a trailing P/E ratio of 9.05. Analysts expect the company to earn $4.87 per share in 2011 and $4.71 per share in 2012. This gives the stock forward P/E ratios of 8.15 and 8.32 for 2011 and 2012 respectively. Sanofi pays a dividend of $1.32 per share which gives it a 3.49% yield. Please note that this dividend amount is net of withholding taxes. This year, the company paid a dividend of $1.76 subject to a 25% French withholding tax. This gives it a pretax yield of 4.49%.
Disclosure: I am long NVO.