This post is the latest in a series on preferred stocks that includes Preferred Stock ETFs: Beware the Heavy Concentration in Financials, 5 Preferred Stocks for High Income and Safety and Trading Preferred Stocks: Opportunities for Generous Yield and Quality Capital Gains. You can find all of them here.

In my recent post on preferred stock ETFs, I discussed how these products have a heavy concentration within the financial sector ranging from 80% to 90% of the entire portfolio. And recognizing the fact that the preferred stock market lost -65% of its value at the depths of the financial crisis before gradually recovering their value, my next post on the topic introduced five individual preferred stock names that might merit consideration for income investors.
This article presents three more individual preferred stocks that may be of interest to income-oriented investors that would also like to protect against the potential for a major loss of principal value. All of these preferred stock offerings can be purchased on an exchange just like a common stock.
Before going any further, it is worth noting as I have in a past post on this topic that the intent is not necessarily to hold these preferred stocks to maturity. Trading opportunities are available in preferred stocks just like they are in regular common stocks. And when purchased at the right time, they can offer attractive capital gains opportunities to go along with their generous yields. Thus, the idea is to seek particularly attractive entry points and identify an exit strategy when applicable just as with common stocks.
The following is a review of the screening process applied in the selection of these additional preferred stocks:
First, I focused only on preferred stocks that are non-financials. Given that nearly all financial preferred stocks were liquidated indiscriminately during the 2008 crisis, I am interested in seeking to avoid this sector exposure whatsoever. This is a particular priority at present given the currently mounting sovereign debt instabilities in the euro Zone and its potential negative spillover effects on the global financial sector.
My second screen was on quality, including only those preferred stocks that have investment grade credit ratings of BBB/Baa or better.
My third screen was on price stability. This included a focus first on those companies whose preferred stocks remained stable during the QE Pause from April 2010 to August 2010 and recovered relatively quickly from the depths of the financial crisis in late 2008 and early 2009. This represents a slight loosening of this screen criteria from my original post.
My final screen focused on addressing call risk, including only those preferreds that are not callable until 2012 at the earliest.
This screening process yielded the following three preferred stocks with ticker symbols found in parenthesis. Credit ratings shown are from S&P and Moody's respectively. All information shown below is as of July 15, 2011.
Entergy Louisiana 5.875 (NYSE:ELA)
Sector:

Utilities
Parent Company:

Entergy (NYSE:ETR)
Par Value:

$25.00
Current Price:

$26.15
Current Yield:

5.6%
Credit Rating:

A-/A3
Issue Date:

11/19/2010
Call Date:

11/23/2015
Maturity Date:

6/15/2041
Average Daily Volume (3 Month):

16,264 shares
click on all charts to enlarge
Entergy has several preferred stocks currently available that may also merit consideration including Entergy Arkansas 5.75 (EAA), Entergy Louisiana 6.00 (ELB) and Entergy Texas 7.875 (EDT). Since ELA was not issued until after QE2 was announced last August, the second chart above shows EDT as a related issue and its general stability during the post QE1 time period from April 2010 to August 2010. It should be noted that ELA has a higher credit rating at A-/A3 than EDT at BBB+/Baa2, implying that ELA should have slightly more price stability all else equal.
Comcast 6.625 (NYSE:CCS-OLD)
Sector:

Consumer Discretionary – Cable/TV
Parent Company:

Comcast (NASDAQ:CMCSA)
Par Value:

$25.00
Current Price:

$26.05
Current Yield:

6.4%
Credit Rating:

BBB+/Baa1
Issue Date:

5/4/2007
Call Date:

5/15/2012
Maturity Date:

5/15/2056
Average Daily Volume (3 Month):

34,364 shares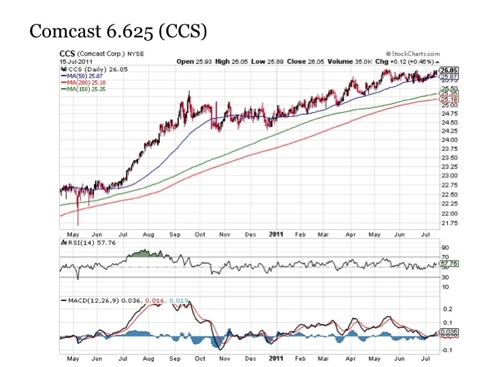 It should be highlighted that this preferred stock becomes callable in May 2012. However, Comcast has two other preferred stocks that are callable prior to CCS. These include Comcast 7.00 (CCT) that became callable on 5/15/11 and Comcast 7.00 B (NYSE:CCW) that will become callable on 9/15/11. Monitoring both of these positions will provide insight into the probability for CCS being called come 5/15/12.
Telephone & Data Systems 7.00 (NYSE:TDJ)
Sector:

Telecom
Parent Company:

Telephone & Data Systems (NYSE:TDS)
Par Value:

$25.00
Current Price:

$25.50
Current Yield:

6.9%
Credit Rating:

BBB-/Baa2
Issue Date:

3/22/2011
Call Date:

3/15/2016
Maturity Date:

3/15/2060
Average Daily Volume (3 Month):

82,067 shares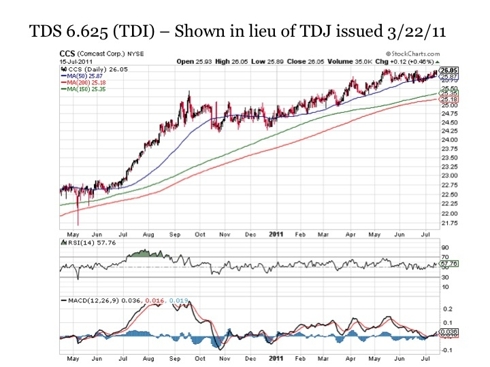 TDJ along with sibling Telephone & Data Systems 6.875 (TDE) are preferred stocks that were newly issued in the last year. As a result, the chart above shows Telephone & Data Systems 6.625 (TDI), which was issued on 3/24/2005 and has sufficient trading history to illustrate price stability in a post QE1 market (TDI was callable as of 3/31/2010). This preferred stock offering (TDJ or TDE) should be considered somewhat higher risk relative to the other seven preferred stocks introduced in this series. While the company is a strong free cash flow generator, it faces heavy long-term competitive pressures in both its wireless and wireline businesses. But the additional yield and lower price premium relative to par may offer appeal, particularly as we move through the post QE2 summer months.
One final point - a key in managing holdings in these or other preferred stock positions is to use limit orders to ensure proper price realization both when purchasing and selling positions. This is particularly true when your intent is not necessarily to hold these positions to maturity but instead to opportunistically trade the security prior to its call date, which would most likely be the case specifically with CCS listed above.

Disclosure: I have no positions in any stocks mentioned, and no plans to initiate any positions within the next 72 hours.
Disclaimer: This post is for information purposes only. There are risks involved with investing including loss of principal. Gerring Wealth Management (GWM) makes no explicit or implicit guarantee with respect to performance or the outcome of any investment or projections made by GWM. There is no guarantee that the goals of the strategies discussed by GWM will be met.