Residential mortgage backed securities ("mREITs") are callable bonds. A callable bond allows issuers to call the bond prior to maturity.
As interest rates fall, the incentive for the issuer to call the bond at par increases, therefore, its price will not rise as quickly as the price of a non-callable bond.
Prepayment speeds determine the timing of principle cash flows coming back to the MBS investor. The faster the prepayment rate, the quicker cash flows are paid back to the bond investor, and therefore the shorter the life of the fixed income investment. Conversely, when prepay speeds slow down, the average life of the bond's cash flows are extended. This occurs because of the embedded call option in mortgage-backed securities.
Only the borrower has the option to pay off their mortgage debt. If a borrower's mortgage rate is below current market yields, they will be less likely to refinance. If an investor buys a mortgage-backed security with cash flows supported by borrowers that have mortgage rates near current market, and rates unexpectedly rise, that investor will be holding an MBS that is unlikely to prepay because borrowers will have no incentive to refinance (because current market rates are higher). This is called extension risk.
Prepayment speeds are an important factor for mREIT investors to keep in mind. As interest rates decline, high prepayments will mean that new investments are put on at lower rates, thus shrinking net interest margins.
According to Annaly Capital (NYSE:NLY) company reports, prepayments have been stagnant recently. March, April and May speeds were flat, down 13% and up 15% respectively.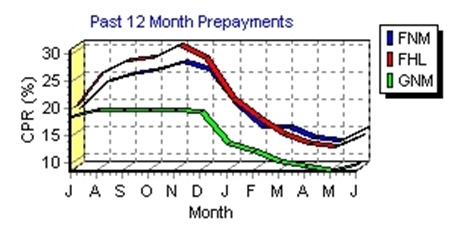 Structural issues in the housing market as well as other economic headwinds will continue to put structural headwinds in the refinance market.
In general, we think interests rates will remain low for the foreseeable future (next 12-24 months). As such, we believe REITs offer investors an extremely compelling risk/reward profile. However, we caution investors to watch interest rates and prepayment rates very closely if invested in the space.
Annaly Capital (
NLY
) and MFA Financial (NYSE:
MFA
) remain our two main REIT holdings due to their strong management teams and proven ability to manage their portfolios in any interest rate environment. However, we also have a small position in American Capital Agency Corp. (NASDAQ:
AGNC
).
We continue to believe that the best strategy for investing in this space is to own a portfolio of mortgage REITs to diversify your risk. That said, the following REITs are currently on our watchlist and we are following them very closely: Anworth Mortgage Asset Corp. (NYSE:
ANH
), Chimera Investment Corp. (NYSE:
CIM
), Hatteras Financial (NYSE:
HTS
), and Invesco Mortgage Capital (NYSE:
IVR
).
Disclosure:
I am long
NLY
,
AGNC
,
MFA
.