Who is going to be the next lean, mean, teen retail machine? We are looking for a retailer that might rival the incredible performance of Aeropostale (NYSE:ARO) in 2003 and 2004 when the company vaulted from $3 to $12 or of American Eagle (NYSE:AEO) in 1998 and 1999 when it moved from $2 to $10. One that could double or even triple in a short period of time. ARO and AEO, during those halcyon times, were putting up stores like crazy, improving margins, and that helped to propel the stocks higher.
There is a teen retailer that looks very much like ARO and AEO in the early days, a company that delivers strong store growth while giving investors improving operating margins and comparable store sales.
Which retailer? Hands down, it's Body Central (OTCQB:BODY), an apparel company based in the southeast. BODY, which came public back in October, has been opening stores at a blistering pace. Last year, the company put up 27 stores. Starting FY 2011 with 209 stores, it plans to open 30 to 35 more this year. BODY expects to grow its store base by 15% a year. To put these numbers in perspective, look at the following graph: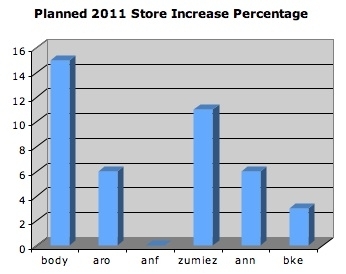 Some of the companies in the chart above are actually planning to close more stores than they are opening; Abercrombie & Fitch (NYSE:ANF) is shuttering 50 stores in the U.S. while launching 36 to 46 overseas.
Body Central is going from a small regional retailer to a larger and more geographically diverse national player. It pays to reiterate the company's plan: Increase the number of new stores by 15% every year. This dynamic roll-out is reminiscent of the impressive store growth delivered by ARO and AEO in much younger days.
As Body Central grows, its operating margin is increasing dramatically, in sharp contrast to more mature retailers. This trend is likely to continue as its gains scale, giving BODY the ability to gain leverage. Body Central has room to build its operating income margins, boosting earnings. During its last quarter, the company gained a 11.9% margin, 120 basis points over last year's comparable quarter. Coming off a low base, Body Central wins the award for most improved margins among the retailers.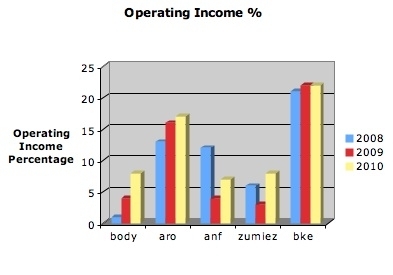 The brand is doing well: It's showing remarkable comparable store sales. Last quarter, it beat most of its brethren.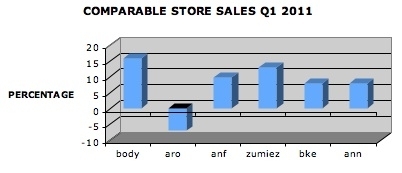 For just the growth alone, I see BODY outperforming its peers.
I've put up stiff competition here, having chucked a lot of weak retailers. For example, ANF has been turning itself around: Moving strongly into Europe and discounting in the U.S., an attempt at a come back story. The Buckle (NYSE:BKE) is crazy investor friendly; management is more aligned with shareholders than any other retailer out there, they give a bonanza of special dividends and are on track to keep it up even this year. Zumiez (NASDAQ:ZUMZ) is hot, growing, improving, just not as quickly as the lesser known Body Central. Ann Taylor (NYSE:ANN) has reinvented itself after a near collapse in 2009, skyrocketing 10 fold; it's a loyalty play, fulfilling a key niche for women who seek fashion. Bringing up the rear is Aeropostale, which has lost its way, a company that tried to be investor friendly buying back oodles of shares, only to discover it bought those shares at way too high a price.
Bottom line: For those who want the chance to double their money on a fast growth ride, Body Central is the play. This stock is speculative in nature. For those who want safety, steady growth and dividends, the Buckle (BKE) is a better choice.

Disclosure: I am long OTCQB:BODY, BKE.