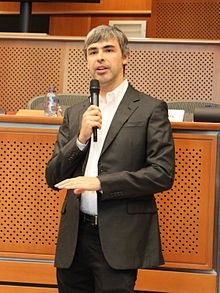 Google is a growing company. It continues to invest heavily in its basic infrastructure. It keeps entering new businesses.
Yet to read some comments at Seeking Alpha and elsewhere, it's been stupid, then smart, then stupid, then smart, almost every week all year.
Google does have problems. It is outgunned in patents. Its success is creating enemies and drawing the attention of regulators. Many things it has tried to do failed. Most of its revenues still come from basic Web advertising.
But every company has problems, and challenges, and areas where it is relatively weak.
Some of the attitude stems from the recent hand-off of power from Eric Schmidt to co-founder Larry Page (above). Page and Sergey Brin came up with the concept of Google as part of their graduate work at Stanford. Its original search system was dubbed PageRank – Larry Page's ranking system. Some see the two as akin to Bill Gates or Steve Jobs.
But they're not. They have been at the company consistently since its founding. They have been helping run a very large company for quite a while now. Page's hair has gone gray in the service of Google, and one day it's probably going to go thin, too. He took a multi-year graduate seminar on management from Dr. Schmidt and his directors, and he has always been deeply involved in decision-making.
Some of the attitude stems from Page's decision to focus strategically rather than in a scattershot manner. This has caused some scattershot engineers to scatter. When Google couldn't help growing, when the business was so new the top men didn't fully understand it, when it was simple for a new idea to have a material impact on page views or earnings, scattershot made sense.
It doesn't make sense any more. Now, to progress, Google must address many stakeholders and not just fanboys. Governments, media companies, lawyers, and its public image, must all be considered. And any idea Google commits to, in order to move the needle of revenue and earnings, has to be a massive hit.
But, unlike Microsoft, Google can still come up with such hits. Because, as has been the case for a decade, the roots of its success remains its cost structure, not its revenue model, and there remain enormous opportunities both to expand its geographic reach and capitalize on it in new ways.
Google is one of those stocks you can buy on dips and hold forever. It's something you can give as a birth present and know the kid has a head start toward college. (I wish companies still mailed stock certificates because it would enhance the value of the gift.) Google doesn't deserve the enormous spread between its annual high and low – over 200 points – that it presently has.
There will come a time when Google's growth will slow, when we'll look to it for dividends, when it will become what I call a "widows and orphans" stock. There will come a time when the Internet's global growth and reach will peak, when some other economic segment will become the focus of investors hungry for quick gains – I'm thinking alternative energy for that myself.
But it is not this day.
Dana says Google relax.

Disclosure: I am long GOOG.

Additional disclosure: Still have those 20 shares in my IRA. I might have a few more through mutual funds and, who knows, maybe even my life insurance company has some stashed somewhere. But I don't know about those.