The U.S. Shopping Center sector is a very large and broad market with a high level of fragmented ownership. According to a report from Davenport & Company there are over 102,000 shopping centers in the U.S. representing over 7 billion square feet of gross leasable area (GLA). In addition, there are around 1.1 million square feet of retail establishments in the U.S.
There are also 28 REITs in the FTSE NAREIT Equity Retail Sector of which 17 are considered shopping center REITs. This subsector has a market capitalization (as of June 30, 2011) of around $ 34.52 billion and the retail sector has a market capitalization of around $106.71 billion. Based upon the FTSE NAREIT Equity Market Capitalization Index, the Shopping Center sector represents approximately 32.4 % of the Retail Equity Capitalization of the Sector and around 8% of the entire All REIT Equity Capitalization.
click on images to enlarge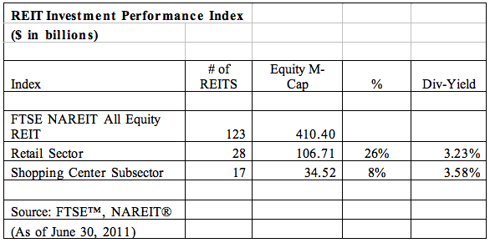 Many of the leading U.S. shopping center REITs have reported improved operating fundamentals and that provides for an excellent opportunity for investing in Retail REITS: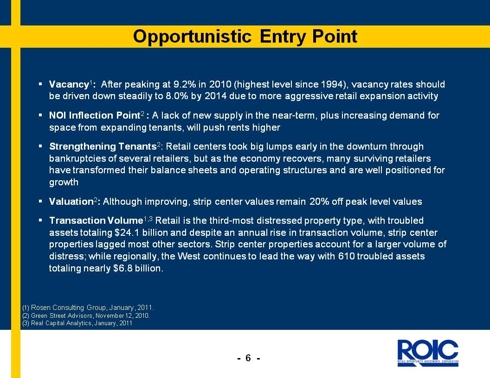 As Chris Macke, Senior Real Estate Strategist & Media Spokesperson with CoStar Group, explains:
Retail real estate has now had two years, yes two years, of positive net absorption, longer than office or industrial. With construction at a forty-year historic low and retail sales above pre-recession levels it is positioned to respond favorably to a material increase in private sector job growth – whether that happens is a question for corporate America.
Of course, high industry fragmentation and improved market fundamentals are key ingredients for consolidation in the sector. Driven by abundant capital and increasing economies of scale, most REITs are growing rapidly by increasing market share in order to gain competitive distance from the growing subsector base.
"In business, I look for economic castles protected by unbreachable 'moats'." --Warren Buffett.
As a leader begins to distance from the peer group, an economic moat begins to form. One such well capitalized shopping center REIT is Retail Opportunity Investment Corporation (NASDAQ:ROIC). This high growth shopping center REIT started almost a year ago from scratch with no legacy assets and no secured debt.
The majority institutionally owned REIT began to form its economic moat with a clean slate, and an IPO capitalization (of around $380 million), targeted to acquire necessity based shopping centers (and portfolios) including distressed and/or under-capitalized centers. Due to its majority institutionally owned funds, ROIC was successful in developing a wide moat model and because of its opportunistic and well-timed IPO; ROIC was able to launch a competitively targeted consolidation strategy. Here is a snapshot of the top 20 ROIC shareholders: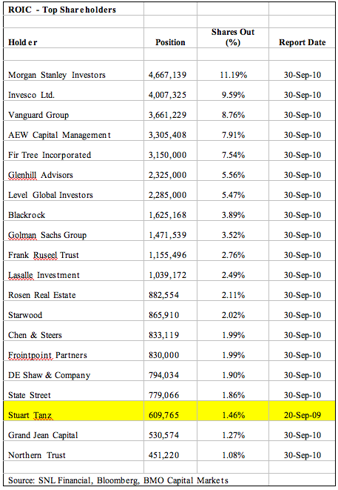 Pricing Power

With what started as an enviable "blank check" Initial Public Offering, ROIC commenced its retail investment strategy with a significant cash balance. With around $400 million in its war chest, ROIC was able to attract opportunistic investment properties by paying cash. Because there is a greater amount of discretionary equity required to buy (and refinance) commercial real estate, ROIC has been able to capitalize on market place inefficiencies (such as higher developer funded projects with higher LTV ratios).
In addition, the shopping center industry is a capital driven sector with extremely wide economic moats that can only be breached with substantial capital availability. Because of the current credit crunch and its liquid balance sheet, ROIC has created significant opportunities to buy distressed assets. Consequently, ROIC maintains an extremely strong balance sheet with attractive "pricing power" defined by the widely used expression, "cash is king".
I find it interesting that ROIC is a stock symbol (or ticker), but it is also one of Warren Buffett's most important metrics in value investing. As Mr. Buffett explains below, he frequently analyzes companies by calculating return on invested capital (ROIC) to determine whether a company has an economic moat - the ability to earn returns on money above the money's cost.
ROIC analysis is a critical metric for assessing a company's ability to create value for investors from its operating activities. When capital invested in a business is capable of generating sustainable returns greater than the company's opportunity cost, economic value is created. As Mr. Buffett wrote in his 1992 Chairman's Letter:
Leaving the question of price aside, the best business to own is one that over an extended period can employ large amounts of incremental capital at very high rates of return. The worst business to own is one that must, or will, do the opposite – that is, consistently, employ ever-greater amounts of capital at very low rates of return.
As noted above, pricing power is an important attribute for defining an economic moat and I will provide two additional moat characteristics:
Brand Name

ROIC is a cleverly named stock symbol and the founding sponsorship has also provided some historically impressive results. That core management consists of its current President and CEO, Stuart Tanz, and several other leading shopping center veterans. Mr. Tanz was the former CEO of Pan Pacific Retail Properties Inc. (PNP) where, during his nine year tenure, he grew the company's market cap from $447 million to around $ 4 billion. Through a series of consolidative acquisitions, PNP purchased around $2 billion of retail assets (over 18 million square feet) and later sold PNP to Kimco (NYSE:KIM) for around $4.1 billion (2006).
Another notable veteran, Richard Schoebel (currently COO at ROIC), was also directly involved in the success of PNP where he directed leasing and property management for around 38 shopping centers (and over 5 million square feet). With a developer-centric mindset, Tanz and his team have integrated a proven development and redevelopment model with a proven track record for repositioning assets and identifying inefficiencies in the distressed retail sector.
As evidenced by the early enthusiasm with ROIC's IPO, Mr. Tanz track record (at PNP) was fundamental to the success of the investment model. During the period of PNP's public ownership, the company provided a 529% total return, compared with 355% for shopping center REITs and 67% for the S&P 500 over the same period. Clearly Mr. Tanz brings a veteran bench over to ROIC and included in the new brand is a formidable culture for profitability and success.
The ROIC brand is widely identified as one that provides a premium value driven REIT model with strong conservative capital. The ROIC brand is comprised of established industry relationships that are the gateway to providing superior investment opportunities. The core strategy for the new REIT is to capitalize on senior management's extensive network of relationships with retailers, brokers, institutional owners, banks, private owners, and other real estate operators to generate a consistent flow of off-market acquisition opportunities. Because of its enviable recognized capital structure, ROIC has begun to identify its brand with some superior products and its "best in class" performance credentials.
Market Share

As explained by Rick Chichester, COO with Faris Lee Investments, a leading nationwide retail investment advisor:
Since the recession, the S&P retail index has outperformed the S&P 500 principally due to the discipline, skills and approach many retailers have developed to adapt to the structural changes of consumer behavior and confidence.

At the property level, rents in many cases, have adjusted to the new normal and many owners/investors have reengineered, re-merchandised and developed operational excellence to partner and support their tenants business. As an asset class, retail is showing the most value opportunity as rents have stabilized, new development is limited and retail sales have continued to expand, albeit at a moderate pace...The investment opportunities sit in 3 primary segments; core, distressed and single tenant NNN properties.
As a new equity based, shopping center REIT with no legacy assets, ROIC has targeted 11 of the top 15 U.S. retail markets. These top markets all enjoy strong, densely populated trade areas with lower unemployment. Also, these top tier markets have above average household income levels and disposable income to support the retail investment model. In addition, these top markets provide further moat expansion (for ROIC) as these cities are historically difficult for new development as zoning tends to be more restrictive. Here is a map identifying the primary focus markets for ROIC: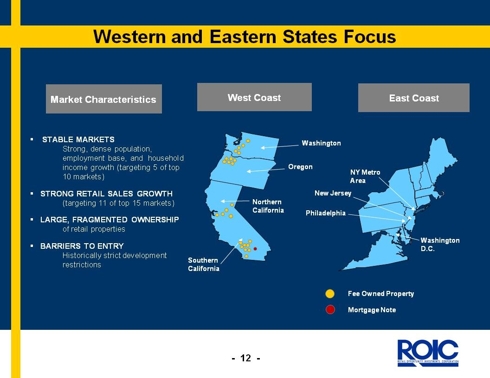 As referenced, ROIC targets "necessity-based" retail properties located in densely populated, middle and upper-income household markets in the western and eastern regions of the U.S. The current portfolio consists of properties located in Washington state (816,402 square feet), Oregon (664,057 square feet), and California (1.3 million square feet). Last year, ROIC acquired around $442 million in assets totaling 21 shopping centers containing around 21.8 million square feet.
Utilizing its ultra-healthy balance sheet, ROIC was able to reposition many of the grocery anchored centers and to capitalize on enhancing operational revenues. As previously mentioned, ROIC's operational and leasing agility, combined with its response time, enabled the REIT to quickly react to market conditions allowing its vertically integrated model to perform best. As Chris Mackey with CoStar described:
Markets and submarkets matter more today than ever, especially in retail.
Here is a list of ROIC's portfolio details: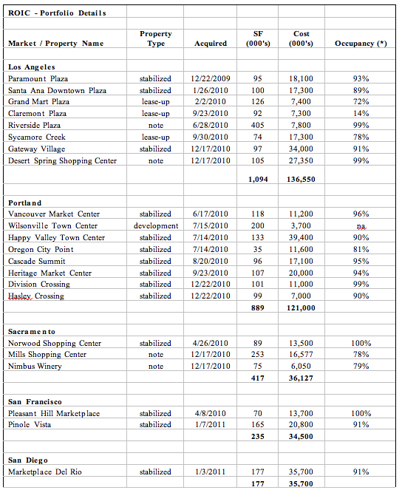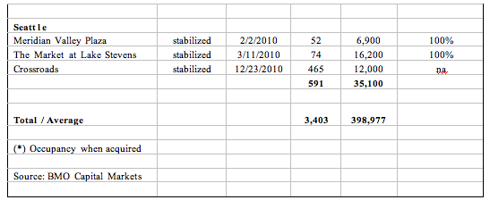 One such property is Claremont Center in Los Angeles, CA. ROIC acquired this center in September 2010 and immediately implemented a repositioning strategy. The 92,000 square foot center was acquired at 72% occupancy at a price of $7.3 million: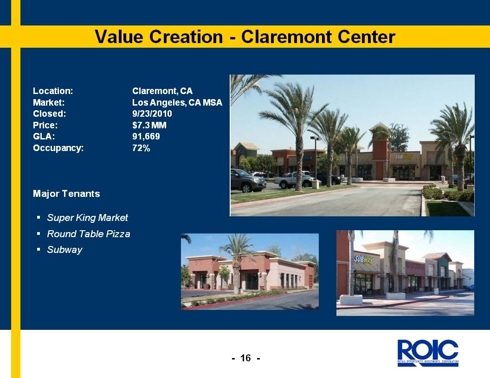 Another example is Santa Ana Downtown Plaza located in Santa Ana, CA. ROIC acquired this 100,000 square foot center in January 2010. The occupancy was 89% and the cap rate was 8.2%. Ten (10) months later and after successful capital improvements, the center was 98.5% leased with a post-development cap rate of 9.74%.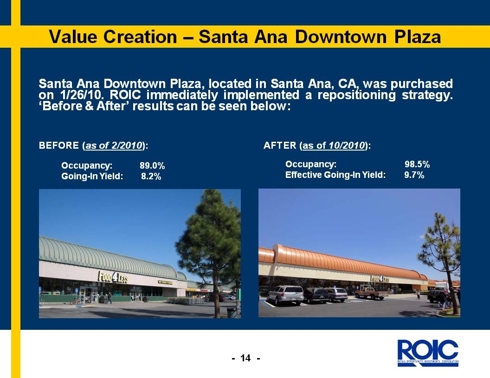 One final illustration of ROIC's experienced redevelopment engine is Pleasant Hill Shopping Center in Pleasant Hill, CA. ROIC purchased this 70,000 square foot center in April 2010. This distressed retail center was 57% occupied and the REIT acquired the in-place income based on a 6% cap rate. Eleven (11) months later, ROIC was successful getting the center to 100% occupancy with a post-development cap rate of 9%.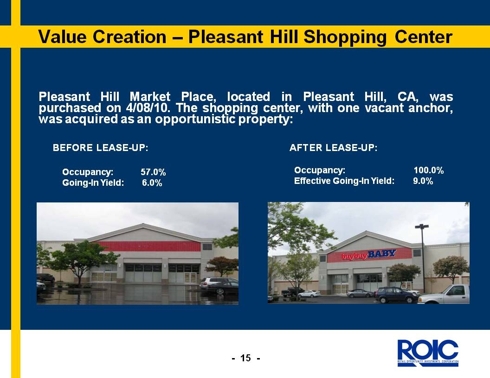 On the acquisition front, ROIC has been amazingly effective purchasing stabilized grocery anchored centers with little or no lease up and/or cap-ex costs. In March 2010, ROIC acquired The Market at Lake Stevens in Lake Stevens, WA for a price of $16.3 million. This 74,130 square foot center is anchored by Haggen Food & Pharmacy and the occupancy at acquisition was 100%.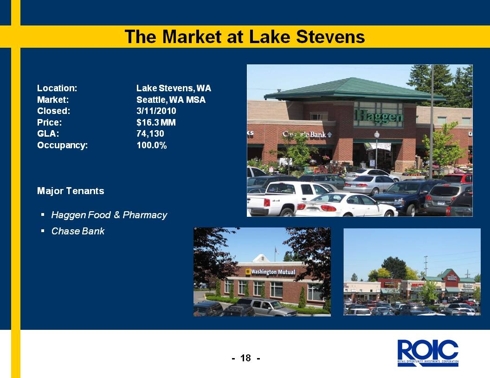 Another well thought out acquisition was Cascade Summit in West Linn, OR. This 95,912 center is anchored by Safeway Supermarket and the 95.6% occupied center was purchased for $17.1 million on August 2010.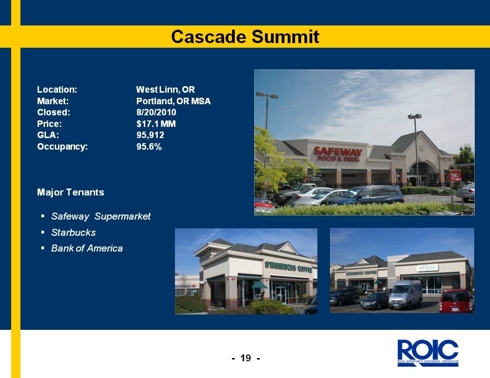 Peer Group and Results
As Warren Buffett described, defining a company's economic moat is an important concept for a value investor to consider and comparative analytics are essential to measuring the width and depth of the competitive forces. As referenced above, pricing power, brand name (recognition), and market share are all important attributes to defining the barriers to entry; however, peer analysis is fundamental.
Due to the ability of economic moats to protect excess profit and produce solid long-term returns, companies have a strong incentive to find ways to establish moats, and investors have an equally strong incentive to determine which stocks have solid economic moats and which don't.
Paul Adornato, CFA, with BMO Capital Markets Corp. (www.bmocm.com/) recently provided an outperform rating stating:
with a sizeable initial war chest now deployed and veteran REIT executive Stuart Tanz at the helm, ROIC has already succeeded where many have not; acquiring stabilized and value-add shopping centers in select high-density markets. We think earnings will become more visible in mid-2011 and beyond, as the underleveraged balance sheet becomes more fully utilized. Investors today can get in at par – essentially paying the no NAV premium for an entity actively acquiring stabilized and value-add assets in off-market transactions.

with its initial cash balance recently fully committed, and significant leverage yet to be applied, ROIC still has approximately $400 to $500 million in buying capacity until its target 40% leverage ratio is achieved. With, the stock trading at estimated NAV, it seems that current shareholders will benefit from announced acquisitions (in 2011) as well as those yet to come.
With an equity market capitalization of around $460 million, ROIC currently ranks in the lower end of the charts compared with the peer subsector REITs; however, as the economic moat widens, ROIC should quickly move up the ladder making the stock more appealing to its investor base.
In addition, earlier this year, ROIC obtained a $175 million unsecured revolving credit facility with an accordion (expansion) feature allowing for up to $ 250 million in total capacity. With a most conservative and flexible capital structure, ROIC targets the use of unsecured debt as its primary debt source.
Around 90% of ROIC's assets are unencumbered and 90% of the portfolio consists of grocery- and/or drug-anchored shopping centers. The REIT's high quality, low-leverage investment model should further enhance the growing economic moat and allow its investor pool to grow from its current 99% institutional-driven base to a more diverse REIT fund base.
Investor's value growth and the three year guidance range for assets under management are projected to be around $2.5 billion to $ 3 billion. Also, given the continued distress with CMBS maturities combined with continued fallout associated with unprofitable retailers, ROIC's redevelopment and value-add strategies should continue to produce opportunities for a growing economic moat.
Furthermore, with a majority of necessity-based tenants, ROIC's diverse income stream should continue to grow and become a durable moat providing shareholders with sustainable operating results.
Compared with its peer subsector group, ROIC's 3.30% dividend is average (compared with its 3.58 % peer average); however, management has stated that it intends to grow the dividend as the company creates positive leverage initiatives and gains economies of scale with its ever increasing deal pipeline. As the economic moat grows, ROIC will have tremendous resources and abilities to leverage its operating systems and its human resources.
Here is a snapshot of ROIC and its peer group: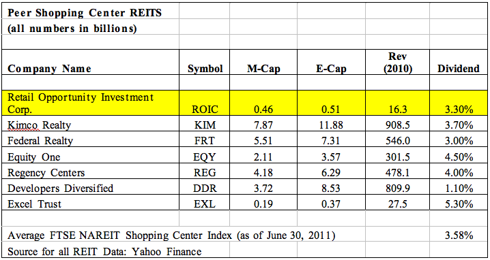 In Summary

ROIC is currently trading at $10.97 a share (as of July 15, 2011) and analysts target a year end price of around $13.00 per share. In the course of a year's time, ROIC has successfully deployed over $ 400 million in capital by acquiring over two (2) dozen west coast shopping center assets. The company's earnings (and dividend payout) should increase over the balance of the year as leverage begins to provide attractive arbitrage fundamentals.
Unlike the period in time where Mr. Tanz was with PNP, the current environment should provide an increased multiple to the ROIC model (compared to the PNP model) as there are abundantly more buying opportunities and fewer buyers (with cash). In addition, because of ROIC's strong industry relationships, the redevelopment and value-add strategies (at ROIC) will produce significant "higher yielding" components that will provide investors with some premium earnings results.
Indeed, ROIC is an appropriately named REIT and its economic moat should continue to develop into a significant and unequal operator. The competitive advantages outlined in this article promises to deliver significant value to investors as the "best in class" REIT continues to deploy capital to a consolidating and highly fragmented marketplace.
Disclosure: I have no positions in any stocks mentioned, and no plans to initiate any positions within the next 72 hours.