Someone once said that a "picture is worth a thousand words." If you are looking at Sirius XM's (NASDAQ:SIRI) chart for last week, you might have many words from which to choose to describe both the levels of anxiety and vindication that Sirius investors have experienced. "Vindication" is probably a bit too early since the goals are still much higher and not yet achieved, but (if nothing else) Friday's activity should have helped investors enjoy their weekend a little more.
To appreciate the artistic quality of the chart below; let's first take a walk down memory lane to chronicle what transpired to inspire the lines on this canvas.
(Click chart to enlarge)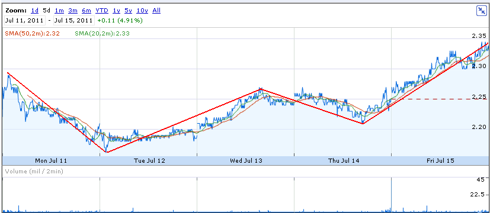 Click to enlarge
Monday 7/11 Sirius XM investors saw what I then considered the "head-fake" of the year as the market opened that morning. This came on the heels of the NASDAQ-100 inclusion that inspired much confidence the preceding weekend. Early pre-market activity indicated exactly what investors had come to expect. At precisely 8:27 am Monday morning, the stock hit a pre-market high of $2.31. This was after having closed the previous session at $2.22. Things were looking pretty good. The stock opened the regular session at $2.27 and within the first half hour of trading, Sirius hit its intra-day high of $2.30. But surprisingly, at precisely 11:03 am on Monday, the stock dipped below its open to $2.17. Frustrated investors threw their hands up in discuss and asked "what is going on?" I then told readers that the economy was being stupid and that Sirius will overcome these near-term macro concerns.
Tuesday, the stock opened down 2 cents to $2.19. As you can tell by the chart above the stock was flat for the day. Tuesday after the market closed, NASDAQ released its bi-monthly short interest snapshot. Investors were pleased to learn that for the second consecutive reporting period, Sirius XM saw its bearish indicator take a significant decline. I reminded you that the market has a funny way of telling us what it's about to do or (at the very least) what the "potential outcomes" are going to be. In this case, after a 15% reduction in Sirius' short interest, the market was indicating that the stock is heading up; and by a significant percentage.
Wednesday, Sirius opened trading up 2 cents to $2.21. The stock stayed in positive territory throughout the session. The day's action was pretty uneventful, but the stock had a couple of pretty important "milestones" to affirm its uptrend. First it broke a key point of resistance at $2.25 on its way to a $2.27 high. Second it closed the day at $2.25; the same point of resistance. There were some debates as to whether the closing price was $2.245 or $2.25. But I'll leave it up to whether you are a "glass half-empty or glass half-full" person.
Thursday, the stock was flat for most of the day; it reminded me somewhat of Wednesday's session. It hit a high of $2.27 but this time it closed at an irrefutable $2.25. But the action took place in the last 10 minutes of trading. Sirius ended the day with 174,746,800 million shares traded, which prompted many to speculate that it was related to the NASDAQ-100 inclusion. Also on Thursday, with the help of a reader as well as some extra due diligence, I was compelled to raise my price target on the stock from $2.75 to $2.90.
Friday, Sirius announced its presence with authority! The stock opened up 2 cents at $2.27 and never let down. Throughout the trading day I updated my followers with tweets of what was likely to happen and things to expect. Surprisingly things worked out according to plan. Around 11:53 am the stock hit $2.29 on several large orders, I sent out a tweet letting readers know that it might hit $2.35; this was to let investors know not to sell at $2.30 as some had initially planned. I can't blame them; we had seen these "head-fakes" before. But considering the large volume from Thursday, there was something different about Friday's action. It was no "head-fake". At 3:30 pm the stock hit $2.35 and closed at $3.33 on 126 million shares.
Food for thought
For the week, Sirius started at $2.22, saw a low of $2.16 and closed the week at $2.33 for a 5% gain; lending further credence to what I always say, which is that a stock should be evaluated on a week-to-week basis. Sirius saw 548 million shares traded compared with 181 million from the previous week. Does anyone still believe the NASDAQ-100 had no impact? Better yet, what will today (Monday) bring and are you ready for the week ahead?
Summary
With only 12 days left (unofficially) until earnings, Sirius expects to generate approximately $3 billion in revenue and $715 million in adjusted EBITDA for fiscal year 2011, while projecting free cash flow to now approach $350 million. From an operations standpoint, the company also is projecting to add another 1.4 million net subscribers by the end of the year and to experience full-year conversion and self-paid churn rates similar to that of 2010.
From Friday's close of $2.33, the stock is "arm's length" (5%) away from my $2.45 target by July 25 and then on its way to $2.90. Investors can begin to rejoice, in (at least) 6 trading days, Sirius will see a new 52 week high. I call it "money in the bank." But how will you play it?
Disclosure: I am long SIRI.