As I previously showed, often times the stock market cycles through similar patterns. This time I will detail how two healthcare companies have recently faced similar ill fates. The first is Mannkind Corporation (NASDAQ:MNKD) and the second is BioMimetic Therapeutics (NASDAQ:BMTI). Both companies have faltered beyond investors' worst imagination and both have faced a heavy load of class action lawsuits from several law firms. These suits may not have any bearing on the share price, but it does indicate the share price has declined very fast due to, arguably, management flaws.

With that said, both companies have fallen for different reasons. Mannkind crumbled due to a CRL for the companies leading product Afrezza and a 40% cut in employment. BioMimetic's share price fell due to a not-so-strong recommendation by an FDA Advisory Committee followed by statements that make it seem clear BioMimetic's leading product, Augment Bone Graft, will need further trials.

Following the CRL, Mannkind's share price declined roughly 41% over four trading sessions, followed by a separate 40% slide over the next 24 days. This means Mannkind's share price declined about 64% in less than four weeks. Comparatively, BioMimetic's share price tumbled over 35% on May 9th after the FDA reported concerns with Augment Bone Graft. Over the next six days the company fell another 13% after the FDA Advisory Committee gave a positive vote for the treatment. Despite the positive vote, the advisory committee pointed out the fact that Augment may need new trials because the previous trial had too few people and it did not prove Augment Bone Graft works better than autologous grafts.

When comparing the two companies it is possible to see several similar characteristics. The most obvious is the share price drop. From Mannkind's peak to bottom the share price fell 64.5% while BioMimetic slid roughly 66.7%. However, I must say I would not be surprised to see BioMimetic fall to the $4.00-$4.15 range before finding long term stability.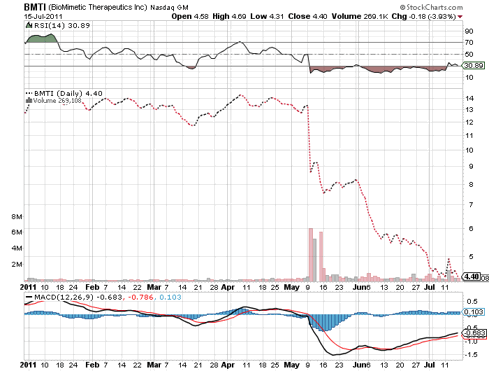 Another similarity is the wording in which both companies' management described the two respective treatments. Prior to the delayed PDUFA for Mannkind, Alfred Mann gave an interview in which he stated the December delay was expected due to an audit on the bioequivelancy group that studied the data. This should have been a red flag as the FDA must have seen something was wrong with the data. This did not bother Mr. Mann in any way. In my opinion an audit like this should have been a concerning action.

Similarly BioMimetic's management did not release to the full extent the concerns the FDA had with Augment Bone Graft until much later. Also, the company stated problems with the trials existed, but management continued to irresponsibly promote the treatment as if nothing was wrong. However it must be noted until the verdict from the FDA about the NDA is released, the treatment is not guaranteed to be rejected; but it can be assumed at this point a CRL will be sent to BioMimetic. And if the FDA does irresponsibly approve Augment Bone Graft, the share price will rise over 100%.

Another similarity between the two companies is the mass amount of lawsuits thrown at each company. The basis for the class action suits is that each respective company withheld truth from investors about their respective drugs. The lawsuits for Mannkind can be found here (as well as I and II). While several of BioMimetic's lawsuits can be found here (as well as I, II, III, IV, V, VI). From a legal standpoint, these lawsuits seem futile as proving someone purposely withheld information is nearly impossible to prove. Also, it will be nearly impossible to prove the company knew the FDA was going to hand down negative news about the treatments. However, in the case of Mannkind we did see some insider selling that brings to mind maybe Mannkind knew the drug was going to be rejected before the company announced it publicly. Of course this is all speculation and would be nearly impossible to prove as well.

This shows the way in which many companies, particularly small biotechnology companies, follow similar cycles. Some very recent examples of this are Durect (NASDAQ:DRRX), Pain Therapeutics (NASDAQ:PTIE), and Transcept (TSPT). Companies in other sectors face this same fate as well. Off the top of my head, JDS Uniphase (JDSU) comes to mind as the share price fell almost 50% due to terrible outlook and negative news earlier this year. These are not the only companies that follow this pattern, but Mannkind and BioMimetic are perfect examples.

An important point to take from this note is companies that fall hard and fast tend to continue to fall several days or weeks later. Therefore it is imperative for investors to keep these trends in mind and avoid hoping for a "dead cat bounce" after a large 20-30% drop because the share price may drop another 20% before catching resistance. However one important fact to remember is after an extreme drop, these companies fall into oversold territory and always move up a little bit before settling down into a lower more stable level.

Disclosure: I have no positions in any stocks mentioned, and no plans to initiate any positions within the next 72 hours.