Last week Yum! Brands (NYSE:YUM) reported earning, beating estimates by a nickel, at $0.66. Best of all they raised their full year guidance by 12%. Their call affirmed what was already widely expected; Yum's American sales growth figures are dismal, but China and Yum International are doing so well that it doesn't even matter. The decline in American sales presents a few different alternatives as an explanation of this. American consumers could be trading up to the likes of Chipotle (NYSE:CMG) or Panera (NASDAQ:PNRA); trading laterally to say McDonald's (NYSE:MCD) or Wendy's/Arby's (NYSE:WEN); or trading down to brown baggin' it.
This could prove to be extremely important for McDonald's investors as earnings are to be released on Friday, July 22. Yum and McDonald's are each sitting near all-time highs, at $55.51 and $85.48 respectively. This could make them appear risky, but in fact, their positioning in China provides plenty of room to grow.
First we will take a look at Yum, who owns Taco Bell, Pizza Hut, KFC, Long John Silvers, and A&W restaurants. The problem with these franchises is that Americans have become turned off to them, so new store openings have slowed to a crawl. Yum's earnings call attributed poor Taco Bell sales to their faux beef lawsuit from earlier in the year. This was of course dropped but let some to question the integrity of their product, mainly its freshness. I personally don't think this is the case. Taco Bell's best products are chicken or steak based and the prices on these items have risen at astronomical levels. Their best campaign of the last six months was the "5 Buck Box," which probably didn't work too well considering the price has since been raised.
Pizza Hut is slowing fading away and even more so since Dominoes (NYSE:DPZ) re-did their crust. I do not particularly enjoy fake pizza since the water in my region of the country is always good for actual pizza to be made, but I do know that Dominoes has been doing very well as a company. The number of Pizza Hut commercials is very low in comparison as well. Speaking of such, it appears that KFC has all but eliminated marketing from their game. A year ago, Double-Down commercials were heard ad nauseam, and now I see Sunday Bucket deal commercials very rarely.
But its all good for Yum, despite the efforts of the media to highlight to the American sales figures. You can see below that their stock has been unfazed, and again, this is because of the performance of their international units. At this point, it is no secret that Yum is an excellent play on China. The Wall Street Journal's Weekend Edition actually highlighted them and Coca-Cola (NYSE:KO) as the best American companies if you are looking for significant Chinese exposure with less risk.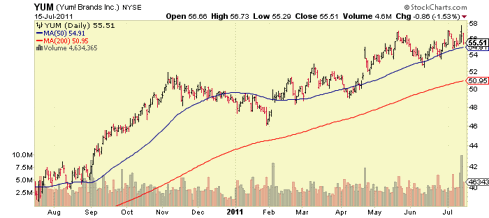 Click to enlarge
(Click to enlarge)
So the million dollar question thus becomes can Yum continue to grow at this rate and run through their all-time high. Probably the biggest statement made in their call was that they will not be raising prices in China despite the jump in the cost of commodities and labor. They are banking on the fact that the steady prices will help them retain customers, to the point that they will still have sales significantly exceeding rising costs.
What makes this intriguing is that McDonald's has just come out and stated that they will be raising prices in China. If any company in the restaurant industry knows about margins, its McDonald's. They are the king of the sector for a reason, a history of showcasing their ability to turn a profit at excellent margins. For a look of McDonald's specifically in China, you should check out this clip from a CNBC documentary a few years ago. Yum is best known for it's Chinese exposure, but McDonald's is certainly there in force. They just do not get the notoriety because they are also everywhere else.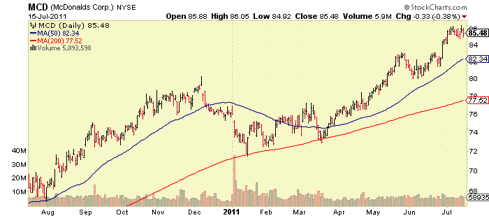 Click to enlarge
(Click to enlarge)
Above you will see a one-year chart of McDonald's, showing them at a price teetering around $85. This is unprecedented and their P/E has inflated to 18 (Yum is at 22 for comparison's sake). But despite this, you know what you're getting when you buy into McDonald's, a top-tier company, best in its industry, and most importantly a stable growing dividend. McDonald's is currently yielding 2.9%. This is crazy for a company that offers up such growth potential. Everyone knows that McDonald's is one of the best companies to hold for the next 10, 20, even 50 years. Their recent highs should not deter adding to this position, and if all goes well Friday's earnings will help push McDonald's to the next level.
Disclosure: I am long MCD.