On the afternoon of July 12, the SEC declared YRC Worldwide's (NASDAQ:YRCW) exchange offer registration statement effective, which included almost 6 billion shares to be registered in connection with the restructuring, of which 1.9 billion will initially be issued under the proposed terms. The exchange offer was set to expire on Friday, July 15 and represents a massively dilutive event which will leave current YRC Worldwide shareholders with less than 2.5% ownership in the company. A 2.5% stake implies just over 1.9 billion total shares outstanding post-restructuring, not including the additional shares underlying the new convertible notes and stock compensation plan. Below is a reconciliation of the approximate post-restructuring shares outstanding:


| | | |
| --- | --- | --- |
| | Shares in Millions | % Ownership |
| Current Shares Outstanding | 47.77 | 2.5% |
| | | |
| New Shares in Exchange for Credit Claims | 1399 | 72.5% |
| | | |
| New Shares Contributed to the IBT 401 (k) Plan | 482.5 | 25.0% |
| | | |
| Total | 1929.27 | 100.0% |

The SEC registration statement can be found here.

See the below from page 16 of the exchange offer:
Assuming that we complete the restructuring and all outstanding credit agreement claims are exchanged through the exchange offer and related transactions, at the closing of, and after giving effect to, the exchange offer:
holders of credit agreement claims will hold approximately 72.5% of our voting power, subject to certain limitations and subject to dilution by the management incentive plan and the new convertible notes;


the IBT 401(k) will hold approximately 25.0% of our voting power, subject to certain limitations and subject to dilution by the management incentive plan and the new convertible notes; and

our current stockholders would continue to hold the number of shares of our common stock outstanding immediately prior to giving effect to the exchange offer, or approximately 2.5% of our voting power, subject to certain limitations and subject to dilution by the management incentive plan and the new convertible notes.
It is almost saddening to see the current chapter of YRC Worldwide's misguided soap opera come to an end. It appears that the company may escape bankruptcy (for now), but this is certainly no victory for shareholders. To put the extent of YRC Worldwide's underperformance in context, you must consider that almost every investor in the shares for the three decades prior to the beginning of 2010 have lost more than 95% of their investment. While the value destruction has been somewhat unparalleled, the unfortunate fact is that it is not yet over. Despite the almost never-ending decline in share prices, YRC Worldwide shares remain incredibly overvalued.
The recent volatility, fueled by short-covering and momentum-buying, has generated numerous sizeable moves, providing an opportunity to make a short-term killing; however, it has also left the shares trading at extremely unrealistic levels.
When the Morgan Stanley (NYSE:MS)-backed financing, originally announced in May (link), failed to materialize, the shares continued their decades-long decline as investors considered that bankruptcy might be inevitable. However, in recent weeks, optimism (likely unfounded) emerged with the rumors that JP Morgan (NYSE:JPM) would be coming to the rescue and stepping in to provide the financing that Morgan Stanley was either unable to generate interest in or unwilling to provide.
Just in time to accommodate the restructuring deadline of July 22, the most recent amendment to the exchange offer was filed last Friday after market close, in addition to a termsheet for the proposed JP Morgan financing. (Exchange Offer and JP Morgan Financing.)
Note that the terms of the JP Morgan financing are substantially more punitive relative to the Morgan Stanley proposal, with the spreads to LIBOR having more than doubled from 3.00-3.75% to 7.00-8.50% and all in interest and fee costs well exceeding 10.00%. One bank pulling out and another requiring massive spreads in an ABL financing is certainly not confidence-inspiring.
With the exchange offer having expired on Friday, July 15 at 5:00 PM, any event-driven upside in YRC Worldwide has essentially evaporated. Upon consummation of the exchange offer, the current shareholders will retain less than a 2.5% interest in a company that continues to be highly levered and fairly handicapped by its unionized labor force.
Valuation Disconnected With Reality
YRC Worldwide is currently left with very few options. With the exchange offer having expired and limited alternatives other than bankruptcy, it is perplexing why the company continues to trade with an implied valuation of well over $3.5 billion (calculation below).
YRC Worldwide's equity market cap as of July 15's close of ~$62.6mm x (100%/2.5%) = $2.5 billion in post-restructuring equity market cap. Then adding the ~$1.3 billion in post-restructuring liabilities gets us to a ~$3.8 billion Enterprise Value.
See the below excerpt related to post-restructuring liabilities from the Exchange Agreement (page 13):
Specifically, upon the completion of the restructuring, we expect the aggregate principal amount of our indebtedness and related deferred interest and fees to be approximately $1.3 billion as of March 31, 2011 and at the closing of the restructuring ($1.1 billion excluding the paid-in-kind interest bearing, convertible Series A Notes and Series B Notes), consisting principally of $271.5 million in aggregate principal amount of term loans under the amended and restated credit agreement, $140.0 million in aggregate principal amount of paid-in-kind interest bearing, convertible Series A Notes, $100.0 million in aggregate principal amount of paid-in-kind interest bearing, convertible Series B Notes, approximately $69.4 million in aggregate principal amount of 6% Notes, $339.2 million in aggregate principal amount under our lease financing obligations, $149.4 million outstanding in aggregate principal amount under our contribution deferral agreement and $255.0 million outstanding in aggregate principal amount under our ABL facility.
Given that YRC Worldwide appears to have barely avoided bankruptcy, saying that this is quite a generous valuation would be an understatement. Looking at the SEC filing YRC Worldwide made on July 14, the company still expects to generate an operating loss of almost $65mm in 2011. Based on the guidance disclosed in this filing, YRC Worldwide projects an adjusted EBITDA of ~$210mm in 2011 which results in an EV/'11E EBITDA multiple of over 17x. To put this in context, YRC Worldwide's peers currently trade below 10x on an EV/'11E EBITDA basis, with Werner Enterprises (NASDAQ:WERN) trading at 5.5x; Con-Way (NYSE:CNW) at 6.4x, Arkansas Best Corp. (ABFS) at 8.1x, Old Dominion Freight Line (NASDAQ:ODFL) at 8.3x and J.B. Hunt Transport Services (NASDAQ:JBHT) at 9.7x. Assuming that YRC Wordwide trades to the mean peer valuation of 7.6x '11 EBITDA, this would imply an equity value of under $600mm and greater than 60% downside from Friday's closing share price.
Perhaps you are more patient and would look to 2012 numbers for comfort. Unfortunately there is little reassurance to be found here. Based on the most aggressive analyst estimate currently available for 2012 expected EBITDA of ~$320mm, the implied valuation is still over 11x, well above YRC Worldwide's peer valuations. Werner Enterprises trades at 5.0x '12E, Con-Way at 5.2x, Arkansas Best Corp at 4.3x, Old Dominion Freight Line at 7.1x and J.B. Hunt Transport Services at 8.5x. In order for YRC Worldwide to trade at the average peer valuation of 6x '12E EBITDA, the company would have to generate more than $600mm in EBITDA in 2012. For a company like YRC Worldwide with growth rates largely tied to transportation volume, a tripling of 2011 adjusted EBITDA guidance of ~$210mm in 2012 is very close to impossible. (YRC Worldwide 2012 EBITDA Estimate Data Below as of July 15)
[Click to enlarge]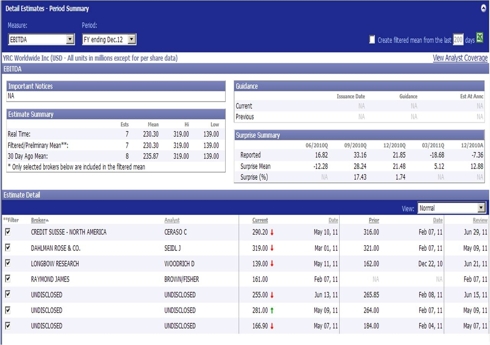 Ultimately we are left with a company that has consistently lost money over the past years and may barely escape bankruptcy only by handing over a >97.5% stake in restructuring, but nevertheless continues to trade at a significant premium to the valuation multiples of its peers. While the credit agreement claims will be satisfied through the restructuring and ceding of equity, YRC Worldwide will still be burdened by ~$1 billion in debt or more than 5x Debt/'11E EBITDA. Despite the partial use of PIK debt, the restructured entity will still experience sizeable interest costs with numerous financing sources bearing interest of 10% or greater.
All of this is before even considering that the one saving grace that YRC Worldwide had achieved is now in question, given that on July 6 the US Court of Appeals decided that the dismissal of the ABF Freight (ABF is the largest subsidiary of Arkansas Best Corp.) lawsuit was unwarranted and that it deserved further proceedings (link). The lawsuit is related to the concessions made by the Teamsters in order to aide YRC Worldwide in reducing its cost structure, which ABF did not receive. In the lawsuit, ABF seeks to either eliminate the concessions to YRC Worldwide made by the Teamsters or at least receive equal benefit. In addition, ABF is also seeking monetary damages estimated to be approximately $750mm.
Gravity-Defying Act Comes to an End
With the restructuring having reached its final hours and shares remaining at completely unrealistic levels, the disorderly exit is drawing near. This is what is to be expected in the near term as current holders look to salvage what value they can ahead of and following the implementation of the incredibly dilutive event that the exchange offer represents (anything over $1.00 is literally a gift from whomever is willing to pay this for a share).
Following the exchange offer, there will be 40x (100%/2.5%) the current number of shares outstanding. Who will want to provide a bid to absorb this supply of shares? At what prices? I wouldn't want to stick around holding the bag to find out. Better to watch from the sidelines or behind a large short position.
In conclusion, the logical action is to take what value one can get now instead of waiting and receiving the fractional value that will be available once shares return to fundamental value as opposed to the current wildly inflated prices.
Disclosure: I am short YRCW.