When you think of the restaurants with the obscene stock climbs of the past several years, you think of names like Chipotle (NYSE:CMG), Chili's, Darden (NYSE:DRI), BJ's Restaurant (NASDAQ:BJRI), The Cheesecake Factory (NASDAQ:CAKE), and Buffalo Wild Wings (NASDAQ:BWLD). Would you believe that fully half of the rock stars I just named were all created in large part by one man? That one man is Michael Nahkunst.

Nahkunst started with Chili's, owned by Brinker International (NYSE:EAT) in 1977; and for about 20 years, he developed this chain and gave EAT a market smashing performance:




He took what he had learned and taught it to The Cheesecake Factory, where he served as CEO from 1997 to 1999. They must have learned well, because the stock turned into a legend shortly thereafter: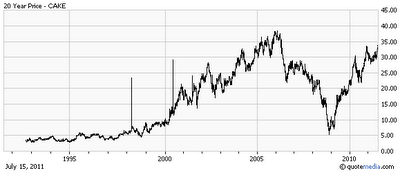 Michael Nahkunst became something of a traveling restaurant growth guru. On March 25, 2002 he became CEO of BJ's Restaurant. Did he work his magic there?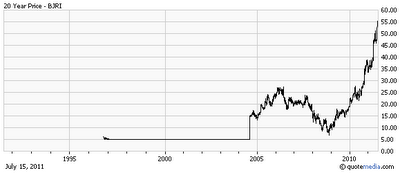 I think he may have. He seems to like to join a board, look around for a couple years or so, then impart the golden strategy needed and move on to the next adventure.

But then he ran into Max and Erma. On September 10, 2007 a PRNewsWire release said:
Michael Nahkunst, a restaurant and franchise growth expert who helped guide Chilis, The Cheesecake Factory, and BJ's restaurants to national prominence, has been named Chief Operating Officer at Max and Erma's
But Max & Erma's Restaurants was a basket case of debt at the time, and they were in perhaps an irreversible state of collapse. Just a little over a month later came this news from The Columbus Dispatch on November 3, 2007:
The Dispatch reports that Max & Erma's Restaurants, Inc. , unable to meet the terms of its loans, has renegotiated its deal with its lender and agreed to slow growth of the company
The stock was in a state of collapse while Nahkunst was taking the reins: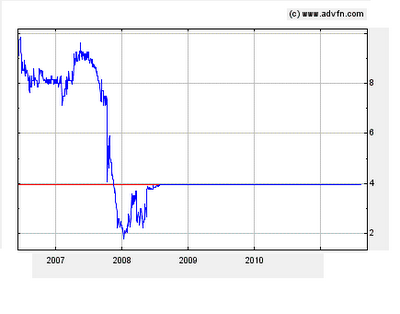 On April 28, 2008, a buyout of the chain by G&R Acquisition, a private group, was announced at $4/share, a 37% premium. We will never know what kind of turnaround could have happened there.

This is all of more than just academic interest, because Mr. Nahkunst has now set his sights on another challenge. On June 6, 2011, it was announced that he has now been named CEO of Kona Grill (NASDAQ:KONA). Will this be D-Day for KONA's launch into the stratosphere? This company is not the debt basket case that Max & Erma's was, having $3.4 million in cash and just $0.5 million in debt. But the recession knocked then down hard, and they are struggling. To put their stock situation in perspective: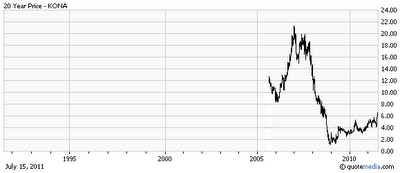 In the same 20 year time frame of the previous cases, no big growth has ever been experienced.

In announcing the change at the top, replacing Marc Buehler, it was noted by Restaurant Finance:
That doesn't sound like a voluntary departure to us, especially as the release's headline focused on his successor. That successor is a longtime restaurant veteran, Michael Nahkunst, former chief operating officer at both the Cheesecake Factory and BJ's Restaurants and a veteran of Brinker International. The 60-year-old became a director at Kona Grill last year, and there are rumors that some in the company wanted him at the top spot almost immediately
The insiders have been forming a lot of confidence in a turnaround with persistent buys, many of them in six figures. The insiders own a whopping 46% of the shares, while institutions own just 44% - leaving a lot of room for some heavy handed buying. There has been a pronounced change in the trading pattern of the stock after the June news about Nahkunst: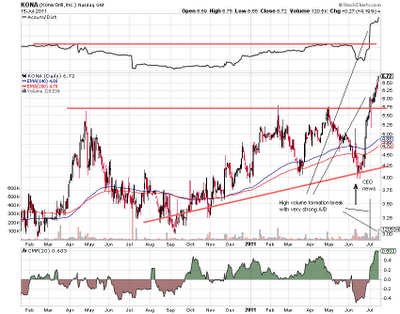 The $6 resistance level in place for a year and a half is decidedly history, having been blasted through with strong volume and essentially no distribution profit taking very shortly after the CEO news in June. You could wait for a pullback, or put a limit order under it, but that may be a frustrating wait.

Disclosure: I am long KONA.