Orthopedic devices giant Stryker Corporation (NYSE:SYK) is slated to report its second-quarter fiscal 2011 results after the closing gong on Tuesday, July 19. The Michigan-based company expects foreign currency to favorably impact sales by roughly 3%-4% in the quarter. The current Zacks Consensus Estimate for revenues and earnings for the second quarter are $2,007 million and 90 cents a share, respectively.
First-Quarter Recap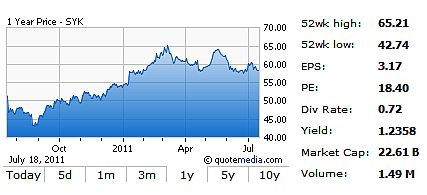 Stryker's first-quarter fiscal 2011 adjusted (excluding acquisition-related charges) earnings per share of 90 cents beat the Zacks Consensus Estimate by a penny. Profit slipped 4.4% on account of hefty charges associated with the company's acquisition of Boston Scientific's (NYSE:BSX) neurovascular business.
Revenues jumped 12% year over year to $2.02 billion, just ahead of the Zacks Consensus Estimate of $2 billion. Sales were boosted by sustained double-digit growth at the company's surgical equipment unit (MedSurg) and the acquisition of the neurovascular business, which offset the lingering weakness in its reconstructive business.
Reconstructive segment revenues edged up 1.9% in the quarter. Hips and trauma businesses posted growth in the quarter, partly offset by lower knee sales which were affected by a soft market. Stryker backed its full-year fiscal 2011 revenues and adjusted earnings guidance.
Estimate Revisions Trend:
Agreement
Estimates for the second quarter reflect lack of movement over the last 7 days with none (out of total 27 analysts) moving in either direction. Over the last 30 days, there have been a couple of negative revisions accompanied by a sole reverse movement. The current Zacks Consensus Estimate (of 90 cents) represents an estimated 12.18% year over year growth.
For fiscal 2011, estimates are evenly poised over the past week with one out of 30 analysts having raised his/her forecast with one moving in the opposite direction. Over the past month, estimates are edging towards the positive side with three analysts have lifted their estimates while two having lowered the same.
Magnitude
Given the relative lack of activity, the magnitude of revisions for the upcoming quarter has been stationary over the last week and month. Similar trend applies to the earnings estimate for fiscal 2011 which stays at $3.71 a share over the corresponding periods.
With respect to earnings surprises, Stryker has posted three positive surprises in the preceding four quarters while it met the Zacks Consensus Estimate on one occasion. The company has produced an average positive earnings surprise of 2.78% over the last four quarters, implying that it has beat the Zacks Consensus Estimate by that measure.
Neutral on Stryker
Stryker is positioned for growth driven by new product launches, acquisitions and a stable-to-improving hospital capital spending environment. Its MedSurg unit continues to grow at a healthy quarterly run rate, benefiting from the synergies of the Ascent Healthcare acquisition.
Stryker is on an acquisition spree to incite growth as it faces sustained pricing and procedure volume pressure in its core replacement hips and knees businesses.The company is expanding its product portfolio by acquiring complementary businesses leveraging a solid balance sheet.
The $1.5 billion acquisition of Boston Scientific's neurovascular unit has enabled the company to diversify into the fast-growing therapy markets. The buyout complements Stryker's neurosurgery product range and positions it as the leading player in the neurovascular market.
The company's recent acquisition of orthobiologic and biosurgery products maker Orthovita has strengthened its competitive position across the spine, orthopedics and biosurgery markets. Moreover, Stryker recently completed its purchase of France-based extremity devices maker Memometal Technologies S.A. The acquisition boosts the company's exposure in the extremities market and reinforces its position as a major player in the fast-growing foot and hand segments of this market.
We feel that new products including the hip systems, ADM Restoration and MDM X3 (Modular Dual Mobility), are expected to favorably impact Stryker's fiscal 2011 results. The ongoing transition from metal-on-metal (MoM) hip implants to next-generation hip systems represents a tailwind for the company. Given its lesser MoM exposure, Stryker is well positioned to gain share in the forthcoming quarter.
However, Stryker faces stiff challenges from Zimmer Holdings (ZMH), Biomet, Johnson & Johnson's (NYSE:JNJ) DePuy and Smith & Nephew (NYSE:SNN) in a highly competitive orthopedic industry.
Moreover, Stryker is challenged by pricing pressure on implant products and a still soft reconstructive implant market. March quarter trends indicated sluggish volume growth across hip and knee (albeit manifesting signs of sequential stabilization), which are expected to continue into the second quarter. Our long-term Neutral recommendation on Stryker is in agreement with a short-term Zacks #3 Rank (Hold).