The iShares S&P Global Clean Energy Index Fund (NASDAQ:ICLN) was down 14.1% during the June 2011 quarter, while the S&P 500 was down half a percent. Industries included in the clean energy sector consist of solar energy, wind energy, geothermal, and other alternative energy companies. Of the approximately one hundred stocks in the alternative energy industry sector, 44 stocks trading above $1 at closing on June 30th went up or down more than 25% during the quarter (see Table). These stocks were analyzed to determine if they would continue in the same direction, or if they would reverse their moves going forward. The following are the best ideas based on that analysis.
Buy LDK Solar Co. Ltd. (
LDK
)
: LDK is a Cayman Islands-based Chinese manufacturer of multi-crystalline solar wafers, used to manufacture solar cells and modules. In addition, it also provides wafer processing services to mono-crystalline and multi-crystalline solar cell and module manufacturers. It dropped 40% in the June quarter, and 27% year-to-date (YTD).
LDK is trading at a trailing twelve month (TTM) price-to-earnings ratio (P/E) of 2.1 and a forward P/E ratio of 3.6, as earnings are projected to drop from $2.23 in 2010 to $2.16 in 2011 and $1.81 in 2012 , due to the expected drop in margins resulting from a weakness in solar wafer pricing. However, the company strongly beat analyst estimates by between 9c and 29c for each of the last four quarters, so it is likely that the earnings' shortfall may not materialize, or if it does then it may not be as sharp as is currently factored into the stock price. Indeed, revenues were up 150% year-over-year in 2010, and earnings recovered from a loss of $2.19 in 2009 to $2.23 annual earnings in 2010, as the company blew past analyst revenue and earnings estimates and guided up strongly almost every quarter in 2010.
The company recently approved a plan to buy back up to $110 million of its shares, which equates to about 11%-12% of its outstanding shares. However, given that the CEO owns almost 49% of the company, the buyback represents an even greater 22% of the publicly traded shares, and should provide a bottom for its shares in the $6 range. Furthermore, the stock is ripe for a short squeeze on any positive news as over 35m shares or over 50% of the float has been shorted.
Furthermore, if LDK buys back the 16.5 million shares as stated, that will mean that if current short positions stay the same, then 65% of the float would be short. Also, the company has announced its intent for an IPO of its poly-silicon division, which may provide an additional impetus to ignite a rally in the shares. While margins are expected to fall for the June quarter due to a weakness in spot wafer pricing, earnings should still increase year-over-year. And it is likely that the June 2011 quarter may be the trough.
We would be buyers here as the downside appears limited, and the upside is high based on the strong growth in the company's revenue and earnings and long-term promising outlook for solar. Analyst mean target for LDK is $9, well above the current price in the $6.50s; and of the 23 analysts covering the company, seven rate it buy / strong buy, eight rate it hold, and the remaining four rate it at underperform / sell.
Buy Yingli Green Energy ADS (NYSE:YGE)
: YGE is a Chinese manufacturer engaged in the design, development, marketing, manufacture, installation, and sale of photovoltaic (PV) products, including PV cells, PV modules, and integrated PV systems, as well as poly-silicon ingots, blocks, and wafers. It dropped 51% for the June quarter and 40% YTD.
YGE trades at a forward P/E ratio of 6, near the bottom of its historic P/E range. The analyst mean target is $11, with a high of $17, well above the current price of $7.20; and of the 25 analysts covering the stock, nine rate it a buy / strong buy, 15 a hold and only one rates it at underperform. Also, YGE along with its peer Trina Solar Ltd (
TSL
) were the best picks of high alpha or guru funds in the solar group. Guru funds aggressively bought a net $173 million of YGE during the prior quarter, adding significantly to their prior $16 million position in the stock. This includes $189 million bought by
Maverick Capital
. With the increased position this quarter, guru funds controlled 15% of the outstanding shares of YGE, and they added to their position in the quarter, making them bullish as a group on YGE. While there is a concern over declining product margins, we believe those are already 'baked' into the analyst projections and the current price. The upside opportunity outweighs the downside risk, and we would start accumulating shares at these levels.
Buy GT Solar International (SOLR):
SOLR is a New Hampshire-based manufacturer of specialized equipment for production of photo-voltaic wafers, cells and modules and poly-silicon. The company's principal products are directional solidification systems and chemical vapor deposition reactors and related equipment. It is up 52% for the June quarter, and up 78% YTD.
SOLR trades at a forward P/E of 8, in the top one-third of its historic P/E range. Revenues and earnings are up strongly from $544 million and 60c in the March 2010 fiscal year to $899 million and $1.24 in 2011, and are projected to rise sequentially to $1.67 in 2012 and $1.93 in 2013. In the latest March 2011 quarter, reported on May 23rd, SOLR thrashed analyst estimates by reporting $271 million and 41c versus analyst estimates of $224 million and 34c, and it guided up strongly for the 2012 fiscal year. Furthermore, subsequent to that on June 13th, SOLR raised June 2011 quarter revenue and earnings to $225 million and 30c versus analyst estimates of $155 million and 14c.
The stock has responded to this acceleration in fundamentals and is up strongly for the quarter and YTD. Recently, SOLR stock hit the $17 price it peaked at on the first day of its IPO, and is up strongly from the $1 low it hit during the 2008/09 crisis. While fundamentals are excellent and the stock still trades at a discount based on its PEG (Price/Earnings to Growth) ratio, it is likely that the stock will consolidate here before rising further. We would be buyers on a dip to the $12 range and below, to which it is likely to correct as it consolidates the steep 17-fold rise from $1 in late 2008.
Trina Solar Ltd. (
TSL
)
: TSL Trina Solar Ltd ADS is a vertically-integrated Chinese manufacturer of mono-crystalline ingots, wafers and cells to the assembly of high quality solar modules. It traded down 29% for the June quarter and 7% YTD. TSL trades at a forward P/E ratio of 6, while earnings are projected to fall from $4.41 in 2010 to $3.18 in 2011 and rebound to $3.43 in 2012. The company widely missed analyst estimates for the March 2011 quarter, reporting $551 million and 41c versus analyst estimates of $579 million and $1.04. Gross margins were down to 27.5% versus 31.4% in the prior quarter. We would stay on the sidelines on this one until fundamentals are more favorable.
Other Big Movers
: Other prominent big movers in the alternative energy industry in the June quarter include Satcon Technology Corp. (SATC), a manufacturer of utility grade inverters and micro-grid systems used in fuel cell and photo-voltaic power plants, that is down 38% for the quarter and down 47% YTD; Advanced Battery Technologies (OTCPK:ABAT), a manufacturer of rechargeable polymer lithium-ion batteries for cell phones, laptop computers, PDAs, and digital cameras, that is down 49% for the June quarter and down 74% YTD; Fuelcell Energy Inc. (NASDAQ:FCEL), a manufacturer of stationary fuel cells worldwide for commercial, industrial, government, and utility customers, that is down 39% for the June quarter and down 43% YTD; Evergreen Energy Inc. (EEE), a developer of K-fuel technology, designed to improve coal quality and comply with air emission standards for coal producers, that was down 42% for the June quarter but up 175% YTD; Energy Conversion Device (NASDAQ:ENER), engaged in the design, manufacture, and sale of photovoltaic products for the alternative energy markets, that was down 48% in the June quarter and down 75% YTD; Synthesis Energy Systems (NASDAQ:SYMX), that develops gasification technology for conversion of low-rank coals and coal waste into high-value energy products in China was down 34% for the June quarter and up 60% YTD; Ener1 Inc. (NASDAQ:HEV), a manufacturer of rechargeable lithium-ion batteries and battery systems for energy storage that was down 63% for the June quarter and 71% YTD; and American Superconductor (NASDAQ:AMSC), a manufacturer of programmable power electronic converters, and high temperature superconducting wires, that was down 64% for the June quarter and down 68% YTD.

Click to enlarge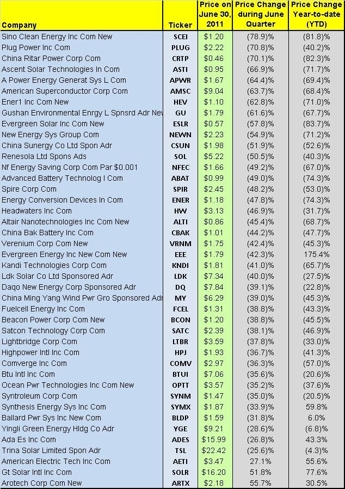 Click to enlarge




Disclosure: I have no positions in any stocks mentioned, and no plans to initiate any positions within the next 72 hours.

Disclaimer: Material presented here is for informational purposes only. Nothing in this article should be taken as a solicitation to purchase or sell securities. Before buying or selling any stock you should do your own research and reach your own conclusion. Further, these are our 'opinions' and we may be wrong. We may have positions in securities mentioned in this article. You should take this into consideration before acting on any advice given in this article. If this makes you uncomfortable, then do not listen to our thoughts and opinions. The contents of this article do not take into consideration your individual investment objectives so consult with your own financial adviser before making an investment decision. Investing includes certain risks including loss of principal.