Programmable logic devices (PLD) maker Altera Corporation (NASDAQ:ALTR) is scheduled to report second quarter earnings on July 19, 2011.
Earnings estimates for 2011 increased $0.09 after the company topped earnings in the first quarter. The company has consistently met or exceeded expectations. On average, Altera has beaten the Zacks Consensus Estimate by 5.40% in the last four quarters.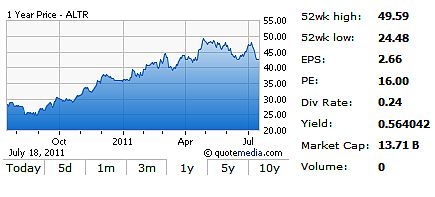 Last month, Altera affirmed its sales guidance for the second quarter. Altera continues to expect sales to be flat to up 5% in the second quarter. This implies a revenue guidance of $535.8 million – $562.6 million.
Altera expects that the Telecom and Wireless vertical market will be up sequentially, driven by growth in wireless. However, revenues from other vertical markets such as automotive, industrial, military, computer, networking and other verticals are expected to be flat to slightly down sequentially.
On its first quarter conference call, Altera stated that the earthquake in Japan (the country accounts for 15% of total revenues) will not impact results for the quarter. Gross margin is expected to come in around 71%-72%, slightly lower than 72.6% reported in the first quarter due to a negative vertical mix. R&D expenditure is projected at $84 million-$85 million, up from the first quarter as Altera continues to expect a multi-period of 28-nanometer introductions.
SG&A expenditure is targeted at $70 million-$71 million. The company expects full-year SG&A to be $280 million, up from the previous estimate of $265 million, due to legal expenses, Avalon acquisition and other miscellaneous items.
Altera expects to continue to see significant 40-nanometer growth throughout FY11. Altera continues to post solid growth, and we believe this growth will be sustainable in the long run. The industry-leading 40-nanometer product execution and the company's ongoing efforts to improve operating efficiency remain the keys to long-term revenue growth. We believe the company gained market share in 2010 from rival Xilinx Corporation (NASDAQ:XLNX).
We continue to maintain our Outperform recommendation on Altera supported by Zacks #2 Rank, which translates into a short-term rating Buy.