Omnicom Group Inc. (NYSE:OMC) will report its second-quarter 2011 earnings on Tuesday, July 19, 2011. The current Zacks Consensus Estimate for earnings per share (EPS) is 92 cents, representing an annualized growth of 16.65%.
With respect to earnings surprises, over the trailing four quarters, OMC outperformed the Zacks Consensus Estimate in almost all the quarters. The average earnings surprise was a positive 7.34%, implying that the company outperformed the Zacks Consensus Estimate by the same magnitude over the last four quarters.
First Quarter Highlights
Omnicom Group Inc. posted strong operating results for the first quarter of 2011. During the quarter, Omnicom's net income grew 23.6% year over year to $201.9 million from $163.4 million in the first quarter of 2010. Earnings per share (EPS) expanded by $0.17 from $0.52 in the year-ago quarter to $0.69 in the reported quarter. Reported EPS also beats the Zacks Consensus Estimate of $0.59.
Total revenue was $3,151.3 million, up 7.9% year over year from $2,920.0 million in the corresponding quarter of the previous year. Revenues surpassed the Zacks Consensus Estimate of $3,133.0 million. Omnicom recorded a 5.2% organic growth.
Omnicom generated approximately 44.9% of revenue from Traditional Media Advertising, 36.9% from CRM, 9.1% from Public Relations and the remaining 9.2% from Specialty Communications. Revenue by discipline grew in all categories: Advertising increased 7.8% year over year, CRM 8.9%, Public Relations 3.9% and Specialty Communications surged 8.8%.
Agreement of Estimate Revisions
In the last 30 days, out of the two analysts providing estimates, both increased the company's earnings per share (EPS) estimates for the second quarter. No one decreased their EPS estimate for the current quarter. However, for fiscal 2011 and fiscal year 2012, one analyst increased their estimate while the other decreased the same.
Magnitude of Estimate Revisions
Estimates over the last 30 days inched up from 91 cents per share to the current 92 cents for the second quarter of 2011, representing a year-over-year growth of 16.65%.
Estimates for fiscal 2011 also increased marginally from $3.24 to $3.25 over the last 30 days while that for fiscal 2012 showed a similar trend of marginal increase from $3.69 to $3.70. These estimates represented a year-over-year growth of 20.43% for 2011 and 13.75% for 2012.
Our Take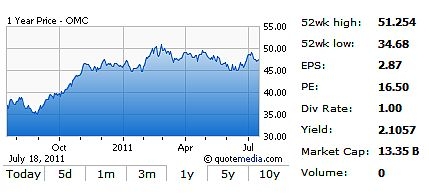 Omnicom is likely to post impressive results in the second quarter based on the company's strategic acquisitions and expansion of client base. Moreover, improved economic conditions and increased consumer spending shows positive indication of improved performance, going forward.
Omnicom is one of the largest advertising, marketing and corporate communications companies in the world extending customized mix of traditional media advertising; customer relationship management (CRM), public relations (PR), and specialty communications services in all the major markets across the globe. It directly competes with its peers, such as The Interpublic Group of Companies Inc. (NYSE:IPG), Publicis Groupe SA (OTCQX:PUBGY) and WPP plc. (OTCPK:WPPGF).
We currently maintain a long term Neutral recommendation on the stock. OMC has a Zacks #3 Rank, which translates into a short-term Hold rating (1-3 months).