Cubist Pharmaceuticals Inc.'s (CBST) second quarter 2011 earnings (excluding special items but including stock-based compensation expense) of 51 cents per share surpassed the Zacks Consensus Estimate by 10 cents. Results in the quarter were helped by strong sales of its antibiotic injection, Cubicin (daptomycin). Cubicin is the sole marketed product at Cubist Pharma. Earnings, however, fell short of the year-ago adjusted earnings by 29%.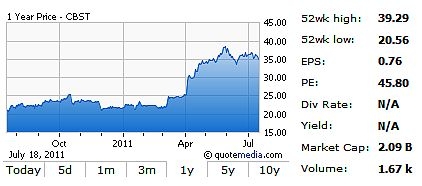 Revenue in the reported quarter climbed 5% to $176.8 million. Revenues were slightly above the Zacks Consensus Estimate of $175 million. Cubicin, which is approved in the U.S. and several other markets for the treatment of severe bacterial infections of the skin and bloodstream, accounted for almost all the revenues reported in the quarter. Net sales of the product in the U.S. climbed 9% to $168.6 million in the reported quarter. Net product revenues from international sales of the product jumped 17% to $7.7 million in the second quarter of 2011.
Cubist Pharma did not recognize any service revenues in the reported quarter pertaining to its marketing agreement with AstraZeneca (NYSE:AZN) involving AstraZeneca's antibiotic Merrem. The deal came to an end in June last year.
During the quarter, Cubist Pharma entered into a two-year agreement with Optimer Pharmaceuticals Inc. (NASDAQ:OPTR) to co-promote Optimer's fidaxomicin in the U.S., for the treatment of clostridium difficile-associated diarrhea (CDAD). Fidaxomicin (U.S. trade name: Dificid) was approved by the U.S. Food and Drug Administration (FDA) in May 2011. Cubist Pharma will receive service revenues apart from other payments from Optimer for co-promoting Dificid in the U.S.
Apart from the deal with Optimer, another positive development for Cubist Pharma during the quarter was the favorable settlement of the patent dispute with Teva Pharmaceutical Industries Ltd. (NASDAQ:TEVA). Teva was seeking to introduce a generic version of Cubicin.
Under the terms of the agreement, Teva can start selling the generic version of the antibiotic from December 24, 2017. However, if Cubist Pharma is successful in gaining approval for Cubicin for the pediatric population in the U.S., Teva can start selling the generic version only from June 18, 2018. Consequently, the settlement removes a major overhang for Cubist Pharma.