The NAHB Housing Market Index Up-Ticks Two Points to 15
An uptick to 15 from 13 for the National Association of Home Builders Housing Market Index is just a blip, given that a neutral reading is 50. Builders continue to face the same headwinds; competition from foreclosed properties that are priced below replacement costs, low home appraisals and restrictive lending standards for new home construction. At best, the market for new homes is bouncing along a bottom.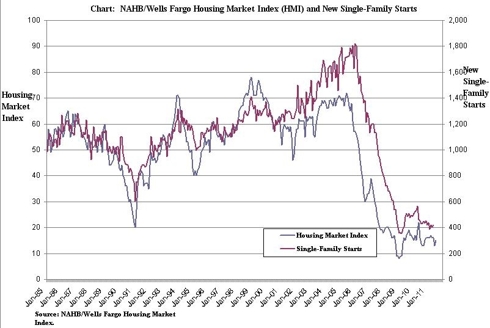 This index peaked at 72 in June 2005, which is when I predicted a peak the share prices for the homebuilders. The index has been below 50 since May 2006, and home prices peaked in June / July of 2005. The NAHB HMI has been below 20 since September 2007, just three months before the Great Recession began. The low for the index was 8 in January 2009.
Home Foreclosures Declined in the First Half of 2011
According to RealtyTrac foreclosures declined in the first half of 2011, not because the housing market is improving but as the result of paperwork delays and investigations into lenders' foreclosure practices.
In the first half of the year, 1.17 million properties received a foreclosure filing, down 29% in the first six months of 2010. RealtyTrac estimates that as many as I million filings that would have been made this year have been pushed into 2012 or later, which will delay the stability of a housing market recovery.
So you think TARP is history? Think again!
As of June 27th Propublica.org shows that $241 billion in TARP money is still outstanding among 810 recipients, mostly community banks. In addition, Fannie Mae and Freddie Mac have taken $162.4 billion of taxpayer money with an unlimited checkbook through 2012.
TARP deadbeat banks reflect another growing stress among community banks. Nearly 200 community banks have missed at least one TARP dividend payment on preferred shares. About half of these banks are publicly traded financial institutions and some are on the ValuEngine List of Problem Banks.
With the housing market in Depression and nearly 50% of community banks in financial stress, Bank Failure Friday remains one of my weekly focuses!
Bank Failure Friday Scorecard –
The FDIC closed another four community banks last Friday and each had significant overexposures to Commercial Real Estate loans including Construction & Development loans. One was publicly traded and on the www.ValuEngine.com list of problem banks. Based upon the regulatory guidelines, the FDIC should have begun to close overexposed banks in 2007, but they ignored the guidelines and only began to seize failed banks in 2008 with just 25 failures. 140 banks failed in 2009 with a peak of 50 in the third quarter. 157 banks failed in 2010. We know have 55 bank failures in 2011, and 377 since the end of 2007. I still predict 500 to 800 bank failures in total by the end of 2012 into 2013.

Disclosure: I have no positions in any stocks mentioned, and no plans to initiate any positions within the next 72 hours.