BHP Billiton (NYSE:BHP) agreed to pay $15B ($12B in cash plus $3B in assumed debt) for Petrohawk (NYSE:HK) on Thursday July 14, 2011. This amounted to $37.25/share. A huge premium given Petrohawk closed Thursday at $23.49/share. This effectively raises the prices on all of the oil leases in the major oil shale plays. Petrohawk had its acreage spread between the Haynesville, the Eagle Ford, and the Permian Basin. Most of its assets were in natural gas.
This buyout makes oil leases in these areas more expensive. It means demand for these leases is going up. It means many small cap and midcap leaseholders in the most desirable plays, the Bakken and the Eagle Ford, are in play. It means that more and more people are recognizing that these are prolific fields. They should be highly profitable for the companies involved (even if those companies are not bought out). Any or all of these companies could soon become the target of a buyout by a bigger company.
Given the approximate 50% premium to the stock price that BHP just paid for Petrohawk, it likely means these companies are going to be bid up by the market in the near future. With the BHP/HK deal and the recent Marathon (NYSE:MRO) deal for Eagle Ford acres, the going price for Eagle Ford leases seems to be about $20,000 per acre. This is a huge premium to the price those acres commanded just a few years ago. It means the Bakken acres are in the same boat (and perhaps others as well). The recent high price for a Bakken sale was approximately $17,000/acre. This all means the Price/Book ratios of almost all of the players are too low, and that is before any oil has been definitely "proven" to exist beneath those acres.
There are myriad companies exploring in these two prolific areas (the Bakken and the Eagle Ford). A few that might be attractive buyout targets are: Brigham exploration Company (BEXP), Oasis Petroleum Inc. (NYSE:OAS), and Denbury Resources Inc. (NYSE:DNR). Brigham has 378,000 net acres in the Bakken. It also has earned a reputation for being the most successful driller in the Bakken. Oasis has 318,942 net acres in the Bakken. Denbury has 266,000 net acres in the Bakken. It also has 250,000 net acres in the LA Eagle Ford (also called the Tuscaloosa Marine Shale). The Tuscaloosa Marine Shale is in the early stages of development, so little has been proved about it. It would not currently sell for what the Texas Eagle Ford does. However, in 1-2 years that situation could change dramatically. It is a Cretaceous age formation that is stratigraphically equivalent to the Texas Eagle Ford Shale.
These companies might draw your attention as stand alone investments. However, with the added allure of possible or even likely buyouts of them by bigger players, they will be that much more attractive; and their share prices will be bid up that much farther. The table below holds some of the fundamental financial data about these stocks. It is from TDameritrade and Yahoo Finance.
 
| | | | |
| --- | --- | --- | --- |
| Stock | BEXP | OAS | DNR |
| Net Bakken acres | 378,000 | 318,942 | 266,000 |
| Value of Bakken net acres at $17,000/acre | $6.436B | $5.422B | $4.522B |
| Market Cap | $3.79B | $2.86B | $7.75B |
| Enterprise Value | $3.90B | $2.79B | $9.88B |
| Price | $32.41 | $30.90 | $19.51 |
| 1 yr. Analysts Target Price | $38.33 | $37.73 | $28.69 |
| PE | 115.34 | N/A | 49.14 |
| FPE | 13.91 | 15.61 | 13.09 |
| Avg. Analysts' Opinion | 1.9 | 1.9 | 1.9 |
| Price/Book | 6.33 | 5.24 | 1.79 |
| Price/Cash Flow | 36.66 | 228.77 | 12.7 |
| EPS Growth Estimate for This Year | 140.00% | 245.90% | 93.50% |
| EPS Growth Estimate for Next Year | 61.80% | 122.50% | 24.20% |
| 5 yr. EPS Growth Estimate per annum | 38.50% | 36.67% | 21.97 |
| Beta | 3.06 | -- | 1.34 |
| Short Interest as a % of Float | 5.74% | 8.06% | 2.60% |
| Cash per Share (mrq) | $1.65 | $5.09 | $0.57 |
| Total Debt/Total Capital (mrq) | 33.49% | 42.33% | 34.94% |
| Quick Ratio (mrq) | 1.22 | 6.62 | -- |
| Interest Coverage (mrq) | 0.53 | 0.69 | 0.9 |
| Return on Equity (ttm) | 7.59% | -13.77% | 3.76% |
| EPS Growth (mrq) | -88.26% | -112.30% | -111.03% |
| EPS Growth (ttm) | 929.21% | -158.47% | 341.82% |
| Revenue Growth (mrq) | 24.64% | 192.72% | 17.17% |
| Revenue Growth (ttm) | 110.53% | 206.93% | 73.03% |
| Annual Dividend Rate | -- | -- | -- |
| Gross Profit Margin (ttm) | 90.27% | 89.53% | 66.34% |
| Operating Profit Margin (ttm) | 21.18% | 29.84% | 13.97% |
| Net Profit Margin (ttm) | 18.645 | -19.87% | 8.57% |
As you can see from the above data, the net acres in the Bakken times $17,000/acres is approximately double the market cap for Brigham and Oasis. It is approximately half of the market cap of Denbury, which has more diversified interests. The Interest Coverage for all of these stocks indicates that they cannot pay their current expenses out of their earnings. Oasis has sufficient cash on hand not to be worried about the near term. However, the other two companies are more troubled, although Denbury comes close to being able to cover its expenses from its earnings.
Still, these companies are not badly off for growth companies. With the price of leases in the Bakken skyrocketing, they all should be able to borrow any money they need. They all are showing good growth. With the current buying frenzy in the Bakken and the Eagle Ford, all of these stocks are likely good buys., although I am somewhat concerned about Oasis' most recent EPS growth numbers. Brigham and Oasis clearly show the likelihood of a near term doubling or more of their stock prices. Their market caps are approximately half of the calculated value of their Bakken leases' value. They could get bought out for a big premium. They could just develop their leaseholds in the prolific Bakken area. The odds indicate that they should be hugely successful even as independent companies.
Now let's look at the technicals for these stocks via their 2 year charts.
The 2 year chart of Brigham: (Click to enlarge)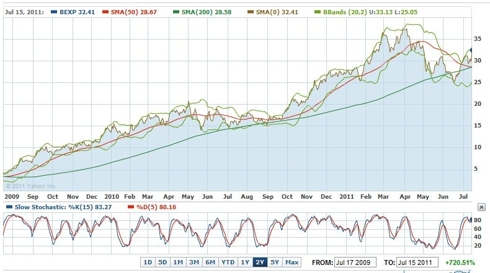 The 2 year chart of Oasis: (Click to enlarge)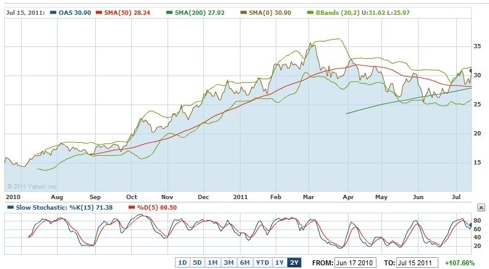 The 2 year chart of Denbury: (Click to enlarge)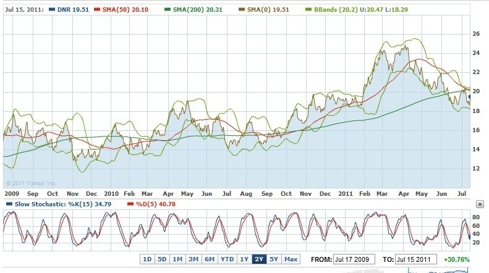 These charts all show uptrends. Brigham's uptrend is probably the strongest. It has unquestionably been the best grower for the last 2 years. It looks ready to go further up. Its mark to market valuation compared to its market cap should push it upward strongly. Both Brigham and Oasis are near overbought levels.
To enter either of these trades, you might normally want to wait until they cycle down further. With the moves of all three of these stocks up strongly on Friday July 15, 2011, you might not have the luxury of waiting for these stocks to cycle down. It might be best to leg in. Denbury has been a slower grower, but it has been having great recent success in the Bakken. Its value to investors or buyers is likely to go up quickly, if it manages to follow those recent successes with more of the same.
Still, there is the possibility of a Black Swan credit event in the near future. To be ultra safe you could wait at least until after the U.S. raises its debt ceiling. Stocks that have trouble paying their bills usually get beat down badly during strong overall market downturns.
Good luck trading.
Read Petrohawk Buyout Puts Bakken and EagleFord Mid-Caps In Play: Part I here.
Disclosure: I have no positions in any stocks mentioned, but may initiate a long position in BEXP, DNR over the next 72 hours.