If you are not the type of investor to jump on the bond-market bandwagon during market instability, perhaps looking at a few conservative dividend stocks will give the desired results during volatile conditions. Due to the beaten up financial sector, when looking at virtually any time frame over the past year, we will exclude any such company.
Some of the criteria we will look for are:
Seven years of increasing dividends
Seven-year dividend growth rate greater than 10%
Current earnings growth above the three-year average
A reduction in liabilities/assets on the quarterly report
Yield greater than 3 percent
Payout ratio less than 50% (or 85% for utility companies)
Dividend Stocks to Contemplate
Avista Corporation (NYSE:AVA)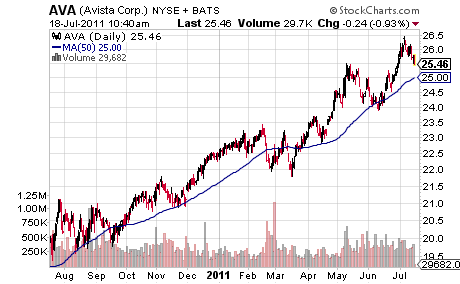 This utility company is trading 27% above its book value. Long-term earnings growth is estimated around 4.67%, with a dividend yield of 4.3%. Three-to-five-year sales growth has hovered around 3% but the company has continued to exhibit superior ability to improve net profit margins since 2007. Although it has a mixed bag of positive and negative reported earnings surprises, the net surprise is still 14 cents over the past four quarters. The slight upwards revisions to next year's earnings by analysts is positive, and if the stock can pull back to the 50-day moving average of $25, this could make a very timely entry point. Keep an eye on the August 4 earnings announcement.
Darden Restaurants, Inc. (NYSE:DRI)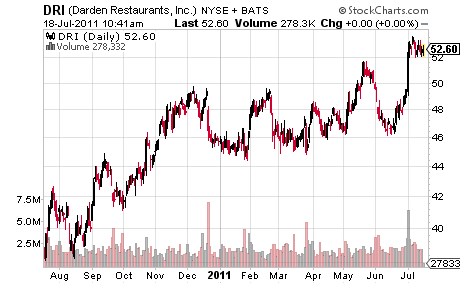 Let's switch gears for a moment as we head over to Darden Restaurants for some surf at Red Lobster or turf at LongHorn Steakhouse. Annual sales are up to a trailing $55.64 per share, which is more than the share price. Even in the cut-throat business of restaurants, it's steadily increased profit margins over the past few years to an average of 7.9%. While current and next quarter's earnings have been slightly revised downward, current and next year's profits have been nudged upwards. When you consider that the long-term growth rate is set at 12.62% and the forward dividend yield sits at 3.3%, this gives a dividend-adjusted PEG ratio of roughly 1 or slightly less, which is desirable. While the price is consolidating after a steep run-up, some support lies below at the $51.75-52 dollar range, giving a measure of protection.
Procter & Gamble (NYSE:PG)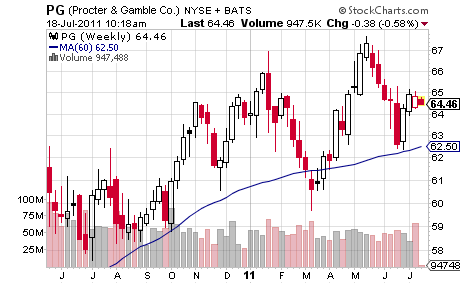 With a market-cap of $180 billion, this is undoubtedly one of the biggest boys on the block. It's had its share of difficulty lately, as prices ran up from $60 to $67.50 and back down to the mid-$64s. Next year's earnings have been downward revised, but a very robust five-year earnings growth rate of 9.33% is still expected. Add this to a 3.2% expected dividend yield for dividend-adjusted PEG ratio of 1.37. While this might seem a little on the high side, note that the current P/E ratio is similar to last year and the three-year average while still below the five-year average of 19.5 and seven-year average of 20.9. The payout ratio is right around the 50% mark, which allows for more room to adjust, but this is the highest it's been over the past seven years. It's respectable that it manages dividends smoothly, but it will need to have earnings play catch-up to maintain a reasonably low payout ratio. If prices can bounce off the 60-week moving average of $62.50, I think this would be a fine entry point.
Wisconsin Energy Corporation (NYSE:WEC)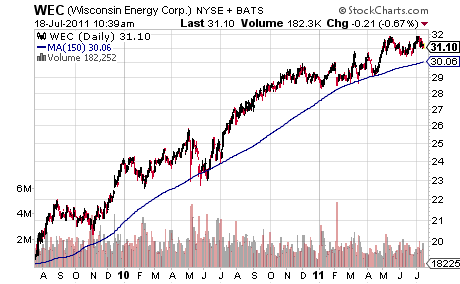 The last company on this list is another utility with a non-utility energy segment under its holding. The P/E ratio of roughly 15 is in line with its own long-term averages and that of the industry in general. The yield of 3.3% is slightly below the industry average. Where this company really shines is in growing its earnings by improving margins consecutively. While quarterly sales (year over year) are up 6.4%, the diluted earnings are up 30.9%. Keep a close eye on the earnings announcement on July 28 to ensure it's keeping up this pace. While it's reported earnings surprises over the past four quarters, don't assume that meeting the expectations will be richly rewarded by shareholders. Too many good surprises may mean analysts need to start upward revisions (which they have not done so lately), and investors are likely preemptively including this in the current price. Based on a longer-term moving average, a pull back to $30 could give one a desired entry.
It is difficult to know with any surety where the markets will head next. When you get that sick feeling in the pit of your stomach while watching the economic news reports, it is often good to switch at least a portion of your portfolio into some less-aggressive dividend stocks that provide a degree of downside protection during a flight to safety.
Disclosure: I have no positions in any stocks mentioned, and no plans to initiate any positions within the next 72 hours.