The S&P 500 fell 2.1% and the broader Russell 3000 fell 2.2% during the past week ending July 15. Of the 4,600 stocks that were tracked, 58 stocks fell more than 15% during the week and 45 stocks rose by more than 15% during the week (see table). These stocks were analyzed to determine if they would continue going up or down in price, or if they would reverse their moves going forward. The following are the best ideas based on an analysis of the 58 stocks that fell more than 15% during the past week.
Buy NXP Semiconductors NV (NXPI)
: NXPI is a Netherlands-based global designer and manufacturer of high-performance mixed-signal semiconductor solutions. High-performance mixed signal solutions are an optimized mix of analog and digital functionality integrated into a system or sub-system. The company's expertise is in RF, analog, power management, interface, security and digital processing products. NXPI's solutions are used in a wide range of automotive, identification, wireless infrastructure, security and digital processing products. The stock has dropped 17% during the last week.
NXPI currently trades at a very cheap forward price-to-earnings ratio (P/E) of 7, while earnings are projected to be on a tear rising strongly from $1.17 reported in 2010 to $2.42 projected for 2011 and to $3.22 in fiscal year 2012. Barclays is the only analyst covering the stock and has an overweight rating on it with a price target of $36, well above the current $21.69 price. The stock has corrected 39% from recent highs in April and is very attractively priced, given the low valuation and the projected high growth. Furthermore, NXPI is perfectly poised to capitalize on the emerging trend in near field communications payments that will enable a smart phone or tablet with an NFC chip, such as the ones made by NXPI, to make a credit card payment or serve as a keycard or ID card. NXPI makes the NFC chip that runs Google (GOOG) Wallet and ensures the security of the transaction, and demand for the NFC chips are projected to grow exponentially once the technology ramps up and the use of Google Wallet becomes more commonplace. We would be aggressive buyers here, and would start accumulating shares at current prices.
Buy Identive Group Inc. (
INVE
)
: INVE is an international technology group focused on providing secure identification-based technologies. The company,
through its group of brands
, provides products and solutions in the areas of physical and logical access control, identity management and radio frequency identification systems to governments, commercial and industrial enterprises and consumers. Its shares were down 17% last week.
INVE is an emerging player in the NFC market, and its platform has been deployed for networks and providers in the U.S., Mexico, Japan, China, India and Singapore, supporting different handset environments and mobile carrier networks, as well as NFC-based secure proximity transactions over mobile phones for payment and non-payment applications. Revenues were up strongly from $41.3 million in 2009 to $84.8 million in 2010, and are projected to rise to $106 million in 2011 and $125 million in 2012. Meanwhile, earnings improved from a loss of 66c in 2009 to a loss of 23c in 2010, and are projected to improve even further to break-even in 2011 and a profit of 14c in 2012. At its current price of $2.02, INVE trades at a forward P/E of 14-15, which seems cheap given the strong revenue and earnings growth, and the opportunities in the emerging NFC space. Back in April, the share price shot up over 100% on back-to-back news of
INVE's exclusive pact with Google
for supplying NFC RFID stickers, and an
agreement with SCM Microsystems (NASDAQ:SCMM) to support the launch of eHealth terminals
in support of the German healthcare program. Share prices have since retreated, partly due to the issuance of 8 million additional shares by the company, and they are now attractively priced for accumulation.
Buy Motricity Inc. (
MOTR
)
: MOTR is a provider of mobile data solutions enabling wireless carriers to deliver mobile content and applications to their subscribers and consumers. The company provides a suite of hosted, managed service offerings which enable wireless carriers and enterprises to deliver customized, carrier-branded mobile data services. Its mCore platform delivers a complete solution, including portal, marketplace, connect, search, managed web, mobile campaign management, messaging, billing and settlement. Its shares were down 16% last week.
MOTR trades at a forward P/E of 7, while earnings are projected to increase from the reported 39c in 2010 to a projected 62c in 2011 and 98c in 2012; revenues are projected to rise at 30% clip during the same period. This makes the stock very cheap on a PEG (price/earnings over growth) basis. Meanwhile, the stock has corrected 78% from the $31.95 all-time high set last November, and is back down just below its IPO price last June. Shares have fallen off sharply despite the company reporting 18% revenue growth in 2010 over the prior year and earnings at 39c over the 3c loss the prior year. This is because the company fell short of analysts' expectations of stellar growth that were built into the four-fold rally from $7-8 to $32 between September and December 2010. MOTR shares now trade at a very attractive valuation and is still a solid long-term growth story, making this an attractive buy on a GARP (growth-at-a-reasonable-price) basis. Analysts are also very bullish on the stock, putting a mean price target of $19, with a high of $31, well above the current $7 price; of the eight analysts covering the company, five rate it a buy/strong buy and three rate it a hold.
Other Big Losers
: Other prominent big losers last week included PMI Group Inc. (
PMI
), which offers residential mortgage insurance and reinsurance and structured finance products, and which was down 16% last week; Powerwave Tech Inc. (
PWAV
), a manufacturer of antennas, boosters, combiners, cabinets, shelter and filters for wireless telecom networks, was down 23%; Delcath Systems Inc. (
DCTH
), a developer of a system that administers chemotherapy and other therapeutic agents directly to tumors in the liver, was down 20%; Stillwater Mining Co. (
SWC
), engaged in the development, processing, and refining of palladium, platinum, and other associated metals, was down 27%; Dorel Financial Corp. (
DRL
), a financial holding company conducting commercial banking operations in Puerto Rico through 34 offices, was down 24%; Ener1 Inc. (
HEV
), a manufacturer of rechargeable lithium-ion batteries and battery systems for energy storage, was down 19%; Evergreen Solar Inc. (
ESLR
), a manufacturer of multi-crystalline silicon wafers utilizing String Ribbon proprietary wafer technology, was down 29%; Kulicke & Soffa Inds Inc. (
KLIC
), a manufacturer of wire, die and ball bonders, wedges, and wafer saw blades for semiconductor packaging and equipment markets, was down 15%; Biolase Technology Inc. (
BLTI
), a developer of laser systems used in many common dental procedures by dentists, oral surgeons and other specialists, was down 26%; and Universal Display Corp. (
PANL
), a designer of organic light emitting diode devices for flat panel displays used in the consumer electronics market, was down 17% last week.
[Click to enlarge]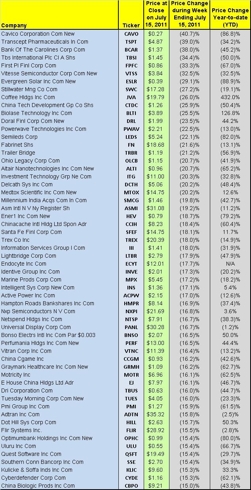 Credit: Historical fundamentals including operating metrics and stock ownership information were derived using SEC filings data, I-Metrix® by Edgar Online®, Zacks Investment Research, Thomson Reuters and Briefing.com. The information and data is believed to be accurate, but no guarantees or representations are made.
Disclosure: I have no positions in any stocks mentioned, and no plans to initiate any positions within the next 72 hours.
Disclaimer:
Material presented here is for informational purposes only. Nothing in this article should be taken as a solicitation to purchase or sell securities. Before buying or selling any stock you should do your own research and reach your own conclusion. Further, these are our opinions and we may be wrong. We may have positions in securities mentioned in this article. You should take this into consideration before acting on any advice given in this article. If this makes you uncomfortable, then do not listen to our thoughts and opinions. The contents of this article do not take into consideration your individual investment objectives so consult with your own financial adviser before making an investment decision. Investing includes certain risks including loss of principal.