Volatile markets are quickly becoming the new stable. The titan Google (NASDAQ:GOOG) jumped roughly 13% in one day while Delcath Systems (NASDAQ:DCTH) dropped almost 14% as dilution was announced - and both of these stocks moved in opposite directions on the same day.
One approach is to shy away from the volatility by investing in a basket of low volatility Graham-type stocks. An alternative approach is to screen for aggressive growth stocks that have such high requirements that few or none will make the cut during turbulent markets. It can be challenging to find a stock rapidly growing its quarterly earnings in a market cycle full of downward revised corporate earnings. Furthermore, if you only allow a certain percentage of your float to be invested in any one stock, then when risk is up during bearish sentiments, you will have less exposure to the equity market as only one or two stocks will be able to fit the rigid growth criteria.
1.The first stock to look at is Buffalo Wild Wings (NASDAQ:BWLD).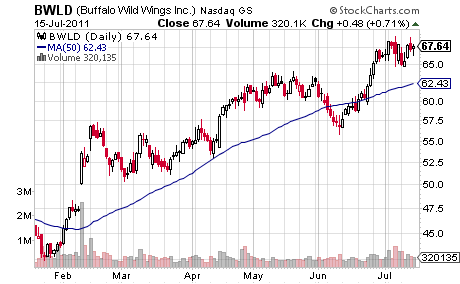 Initial reaction is that this stock has risen beyond its fundamentals. While the 3 year price-to-earnings average is 20.8, the current P/E ratio is 29. Earnings growth is still aggressive but has slowed to 23%. This is close to the 5 year expected growth rate of 20% - which is high.
There is also a trend over the last 3 months of upward earnings revisions both big and small. Make no mistake, this is an aggressive growth company that has almost tripled its sales per share since 2005 with earnings per share being over 4 times as big in the same period of time.
However, this is one stock I would pick up on a pullback at these fundamental valuations. The other time I would pick this up is on the PEAD (Post Earnings Announcement Drift) if there is a large surprise beyond the 60 cents per share expected to be reported on July 26th. For me, it'd have to be in the ballpark of 80 cents per share to ride the PEAD for a month or two. Otherwise, if they meet expectations of 60 cents per share, I'd be a buyer if the P/E fell into 5 year average of 23.7. Unfortunately, this only gives a price of $57.59.
Despite this stock coming up on my CAN-SLIM-esque radar for aggressive growth, I recommend holding off on action until such time as the earnings ratio comes closer to the fundamental averages or until earnings deliver a big surprise to drive fundamentals up. If the market heads south, it could definitely present us with such an opportunity.
2.The second stock on my high-growth radar is NewMarket Corporation (NYSE:NEU).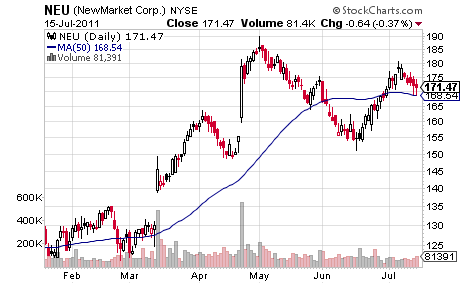 This holding company has two segments: petroleum and real estate development. While earnings growth has really been hit hard, from triple digit growth in 2009 to 6.7% when looking at trailing 12 month growth, the quarterly picture is brighter. The first quarter of 2011 had a 28% earnings growth and this was on the back of 28.6% sales growth. These robust numbers speak well for future prices.
Despite the P/E ratio being almost twice what it was one year ago, it is still below the industry and sector average. The stock also has a 1.4% forward dividend yield with a very low payout ratio of 13%. The consensus on this company is mostly a hold. Also watch for earnings out on August 3rd. With the analyst recommendation taken into consideration, I still like the mix of value and growth.
The buy points I would watch are $160 if the market heavily corrects over the few weeks, or $165 if there is a minor pullback over the next week or so, or the 50 day moving average of $168 if the market remains stable during the next week. All three entry points are fine depending on how much discount you like and where you see the market heading.
Market Timing vs. Staying Invested
Again, some prefer to time the market and stay in cash during times of market mayhem. The S&P 500 (NYSEARCA:SPY) earnings estimates for this year and next are touching their 20 week moving average. Any more downward revisions and I would go to cash if not already. However, some feel that market timing is a bunch of baloney and they prefer to stay invested at all times so as not to miss out on those "black swans" or abnormal days of large price movement.
These are two stocks that could be good buys over the next week or two but right now I would let the ratios cool into longer term averages and the growth numbers play catch-up.
Disclosure: I have no positions in any stocks mentioned, and no plans to initiate any positions within the next 72 hours.