A technique that can be useful when markets are mixed is to trade in pairs. By shorting one type of stock while simultaneously going long on the opposite type of stock, you can hedge the market while sticking closely to a specific type of strategy.
For the purpose of this article we will look at going long on stocks with upward revised earnings and analyst upgrades, while shorting stocks with analyst downgrades and downward revised earnings for next year. If the market topples, then we should hopefully have a good hedge with our short position on these weakened stocks. If the market rises we should experience strong gains on the upgraded stocks with our short position acting as a safety net. In theory, we could gain in any market but in practice we merely hope to lessen the volatile effects and the burden of deciding whether to go 100% long or short.
Two Stocks to Buy
(HSFT) - hiSoft Tech International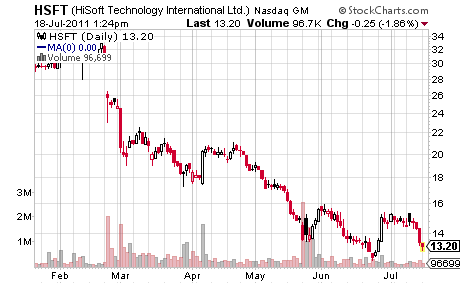 This IT outsourcer and researcher went from having 3 strong buys and 2 hold ratings one month ago to having 5 strong buy and one hold rating today, according to Zacks. While the information differs between Zacks and Yahoo - it seems that the consensus earnings estimate is somewhere between 83 cents and $1.03. This is a very volatile stock that went from $10 to $34 and back to $13. You will be getting a whole lot of volatility for your dollar with this stock and will want to add more long and short picks to even the swings out. A median 12 month price target of $23 carries a large possible upside of 77%. A high short ratio could provide rocket fuel if prices start to jump, and at current volume it would take 17.6 days for shorts to cover.
(NASDAQ:SIGM) - Sigma Designs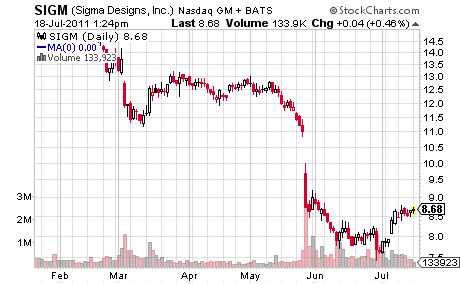 SIGM has also been dealt a pretty devastating blow in earnings forecasts and price performance as it now trades down well below the $15 high. This could be one of the reasons why a strong sell rating was removed and turned into a hold rating over the past month. So while the 2012 estimated earnings have risen from -0.09 to -0.07, it is still way, way down from 64 cents two months ago (Zacks' figures, not Yahoo's). Yahoo has figures significantly higher, and more notably they expect positive earnings. While the year thus far has proved difficult to stomach, a couple small positive indicators including the last few days of price strength could make this a speculative buy.
Stocks to Short
As much as any investor hates the hawkish trader who suggests shorting a stock, it becomes necessary to complete the other half of this pair-trading strategy. To be clear, these stocks could also go up, but the goal is to create a hedge. In rising markets we hope the upgraded stocks increase in value at a comparatively faster rate than the downgraded ones. Enough said and onto analyzing the downgraded stocks with downward revised earnings over the past 4 weeks.
(NASDAQ:MCHP) - Microchip Technology Inc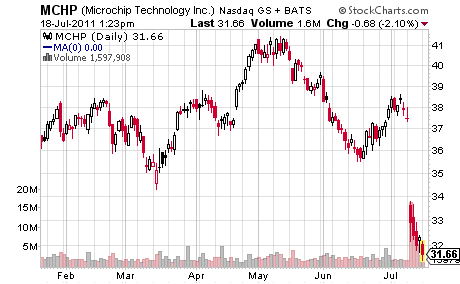 The preliminary net sales and EPS results showed global weakness in buying. Frustrated investors saw the price fall from a $37.58 close on July 11, followed by a close of less than $33 the next day. One month ago saw two strong buy ratings fall to hold, and it is possible more action is to follow with lower-than-expected earnings. Over the past 7 days there have been some downward earnings revisions for this year and next, but they are still quite mild. This makes an early short play when pair trading with one of the above upgraded stocks - although this is not a categorical short play across the board.
(NYSE:SWC) - Stillwater Mining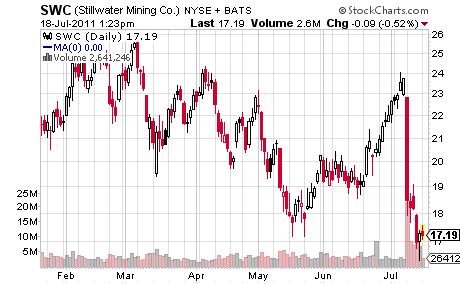 Disappointing news of acquisition played heavy on SWC as prices fell in a single day from almost $23 down to $18.50. The company saw expected 2012 year earnings drop from $2.12 down to $1.80 in the past 7 days. A string of negative earnings surprises also creates a negative drift of price performance. If you are buying into upgraded and upward revised stocks simultaneously, this could be a complimentary short play as a hedge.
Strategic Pair-trading
Trading in pairs can be a sound tactic if you want to stay fully invested during all markets and you cannot decide whether to trade long or short at any given moment. This type of pair trading is suitable for short periods of time lasting roughly one month or two - or up to, but not including, the next earnings announcement. Thankfully, many upgrades and revisions will come at the same time as quarterly reports.
There are other ways to create hedges that involve options, and inverse ETFs, but this type of hedge gives you the opportunity to potentially make money off your long and short positions at the same time - although it doesn't work out that way too often.
Disclosure: I have no positions in any stocks mentioned, and no plans to initiate any positions within the next 72 hours.