The Swiss Franc is a currency that has been on a tear, rising in value significantly due to greater global demand for safe stores of wealth -- safety from volatility and preservation of purchasing power. Assets that exhibit these attributes will soar most in value and price during our current times. For whatever reason, the Swiss Franc has been a beneficiary of the market's demand for safety, as the chart below illustrates.
(Click chart to enlarge)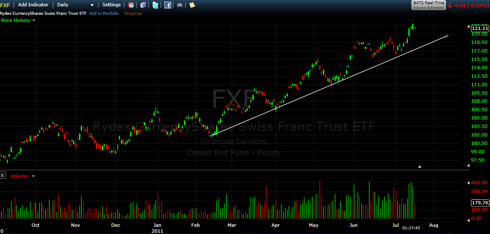 But Swiss economy regulators have commented that should currency appreciation continue, the economy of Switzerland will see slow economic growth. How much further appreciation can the Swiss Franc, and thus the CurrencyShares Swiss Franc Trust ETF (NYSEARCA:FXF), handle?
I suspect it can find a way to handle quite a bit more, as I believe that the political will needed to pull a major move like peg the Franc to the Euro -- something that has been suggested but resisted as unconstitutional thus far -- will continue to be lacking. This tells us two things:
FXF is headed higher

FXF has some weaknesses to serving as a store of wealth stemming from its political nature, and the corresponding will of government officials; gold and silver exist outside of the realm of nation-state governments, and thus have an added dimension of wealth preservation capabilities
Disclosure: I have no positions in any stocks mentioned, and no plans to initiate any positions within the next 72 hours.