Carbo Ceramics (NYSE:CRR) -- $164.49 main business is producing and supplying ceramic proppant for use in hydraulic fracturing of natural gas and oil wells. They also provide fracture simulation software to drillers, and offer fracture design, engineering, and consulting services. The company is headquartered in Houston, Texas and currently has a market cap of $3.9 billion (mid-cap). In my years as a stock analyst I only covered one oil stock, Benton Oil, but an income statement is an income statement, no matter what industry the company is in.
Carbo Ceramics went public back in July of 2001 at an IPO price of $20 per share. It obviously has had quite a run over the last decade to achieve its current price of $164.49. During that 10 year run, the company has grown its earnings from $1.16 per share to an estimated $5.34 per share this year. Next year, the current consensus estimate is $6.86 per share. That works out to approximately 19% average annual compound growth in earnings over the last decade.

It should not be surprising that the stock has averaged an annual total return of 30.5% per year over the last 10 years. This is pretty remarkable when one considers that that market has averaged an annual total return of just 1.2% during that same decade.
In addition to its remarkable 10 year record, the stock has also beat the S&P 500 over the last one month, three months, twelve months, three years, and five years.
When compared against 2,668 other stocks that I follow, Carbo Ceramics is in the top tier (8%) of all stocks when it comes to short-term performance (1 month-12 months). It currently gets a Momentum Grade of A+
When compared against those same stocks, Carbo Ceramics is in the top tier (8%) of all stocks when it comes to intermediate-term performance (three-five years). It gets an Intermediate Term Grade of A.
It is also in the top tier of all stock when it comes to Long-Term performance (five to ten) years and it gets a grade of A.
Here is a screenshot of my Best Stocks Now app that shows the performance of the stock: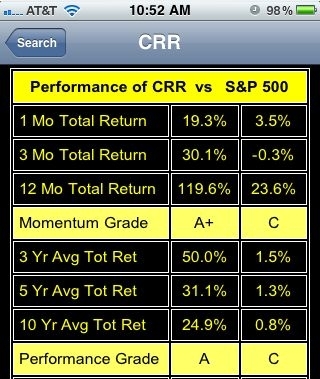 It is pretty hard to argue with the past-performance of the stock. It is one of the great momentum stocks of today. The stock is also hitting a new all-time high and carries an Investor's Business Daily relative strength ranking of 97.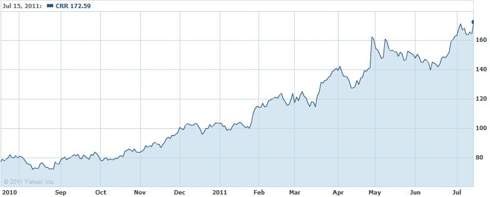 Click to enlarge
(Click to enlarge)
A pure momentum investor can stop reading right here and consider buying the stock. My eighteen years in the business as both a professional money manager and former stock analyst have taught me that VALUATION is also a very important consideration before buying a stock.
I recently wrote an article for seekingalpha on the combination of momentum and value which you can review here. A true MOMENTUM investor generally closes a blind eye to value, while a VALUE investor generally closes a blind eye to momentum. I like to open both eyes to VALUE and MOMENTUM.
I think that the case for the MOMENTUM side of the equation has been made in spades for Carbo Ceramics, but what about VALUE?
A pure value investor would be choking for air when he or she sees a current PE ratio of 42 on the stock. In addition to this, Carbo Ceramics has as forward PE of 24.0, a price to sales ratio of 7.7, and a price to book value ratio of 7.0.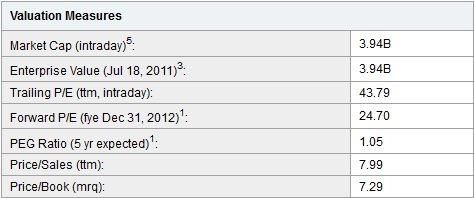 Now grab a little oxygen and bear with me for a moment on the current valuation ratios of Carbo Ceramics. Remember that I showed earlier in this article that the company has been growing its earnings at a clip of 19% per year over the last 10 years. The 13 analysts who currently cover this company have a consensus projected five year earnings growth rate of 29.1% going forward.
Is it possible for the company to continue to grow its earnings at this pace? When considers the opportunity for fracking in the shale of the Williston Basin in North Dakota and Montana, the Haynesville Shale of Arkansas, the Eagle Ford Shale of Texas, and other areas of the United States, the opportunity is enormous.
I recently had Harold Hamm, the CEO of Continental Resources (NYSE:CLR) on my radio show "Positively Wall St." His company, based in Enid, Oklahoma was one of the first companies to drill in the all-important Williston Basin, also known as the Bakken. He pointed out that because of new oil finds here in America, our dependence on foreign oil has dropped from 70% to 50%. Now that is closing a big gap on a critical national issue. In addition to this, many estimates have show the Williston Basin find alone to be bigger than the massive oil field of Alaska's Prudhoe Bay.
It would seem to be a logical conclusion that these important shale finds are going to continue to be developed at a rapid pace over the next many years. Marathon Oil (NYSE:MRO) has recently spent $3.5 billion buying and leasing land in the Eagle Ford shale of Texas and continues to invest massive amounts of money in this area.
Even though I am not one of the 13 analysts that cover Carbo Ceramics, I am pretty comfortable with their growth estimates for the company over the next five years. Now let's do a little bit of math and extrapolate out Carbo Ceramic's earning potential over the next five years. Let's begin with the year 2012. It shows a consensus per share estimate of $6.87. Next, let's extrapolate those earnings out over the next five years at the consensus 5 year growth estimate of 29.1%. The next five years would look something like this:
2012

= $6.87

2013

= $8.87

2014

= $11.45

2015

= $14.78

2016

= $19.08
Now, I know that a lot can happen between now and then. The market and stocks trade on future expectations however, and right now these are the current consensus expectations that this stock is trading on. Consider too, that these expectations could also be too low. In fact, the company just recently blew out earnings in its most recent quarter causing me to significantly raise my 5 year target price.

Now, let's just assume for a minute that the analysts that meet with the company and produce those future income statements are even close to being right. How much would this stock be worth five years from now? Why five years from now, why not three months from now or six months from now? It has been my experience as a professional money manager and stock analyst over the last 18 years that it is better to look out on the horizon a bit than to be focused on the short-term of a stock. The shorter the term, the more unpredictable it is.
I have found that without some kind of longer-term perspective, investors are prone to overreact emotionally to short-term events. For instance, if the company misses their quarter by a penny, in reality it has very little effect on a five year target price. Yet, the stock may pullback 10%-20% and a weak-kneed investor who is focused on the short term could easily make a very costly emotional sell of the stock.
I am after big winners in the market, not short term gains. I want doubles, triples, home runs, even grand-slams. This would not be possible if I reacted to every short-term event that inevitably comes along in the rise of a great growth stock. Having said this, let's go under the assumption for now that Carbo Ceramics lives up to expectations and its earnings per share are $19.08 in the year 2016. We know that stock prices rise with rising earnings. We have already seen the returns in this stock over the last 10 years. Where would this stock be five years from now it is indeed earns $19.08 by the year 2016?
To figure this out, we need to come up with an estimate of what multiple of earnings (or PE ratio) the stock will be trading at in the year 2016 if it meets these estimates.
As I mentioned earlier, the stock is currently trading at a multiple of 42X earnings. I do not think that the stock will deserve such a rich multiple five years from now. Consider that the average oil service stocks like Carbo Ceramics generally trade in a multiple rage of about 10-18. I think that Carbo is a little bit better than the average stock in the sector, however. Consider that the 2,700 stocks that I currently follow with my Best Stocks Now app currently have a forward PE ratio of about 16.
I feel pretty comfortable using a multiple of 15.5X earnings at that point in time. So, the five year target price is pretty simple:
$19.08 X 15.5 = $295
The formula that I use is a very common, projected growth and earnings formula used by many money managers.
With a current price on Carbo Ceramics of $164.49 and a five year target price of $295, the stock currently has 82% upside potential over the next five years.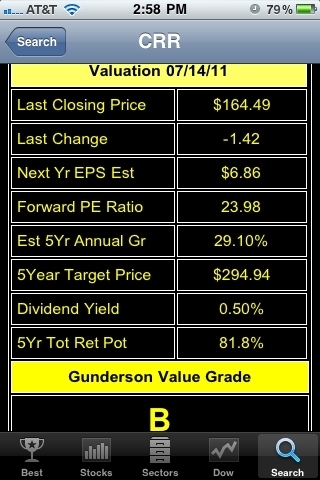 Normally, I like to buy great growth stocks like Carbo Ceramics when they a five year upside potential of 100% or more, but this stock is not too far from that level and I believe that it has a good chance of beating earnings estimates in future quarters, just like it has done in the past.
There is also a lot of risk with a great growth stock. Some of this risks that an investors will have to live with are as follows:
Fracking of shale is becoming more and more controversial. In fact, France recently completely banned the practice in their country.
Enviromentalists do not generally like fracking. It uses a lot of precious water, and it has been accused of potentially polluting a nearby water table.
New techniques may come along that are more efficient.
Competition become more fierce for the fracking business.
I believe that the potential rewards far outweigh the risks, however. I remain very, very bullish on the stock. I consider it one of the greatest growth stocks in the market today. I also chose the stock as one of the 53 stock in my book Best Stock Now 2011 summer edition.
The stock is currently ranked number 23 out of 2,682 stocks in my Best Stocks Now app universe. It currently has a Gunderson Grade of A-. I only buy stocks that have grade of A- or better. This currently represents only about 8% of the current market. I currently have the stock as a BUY.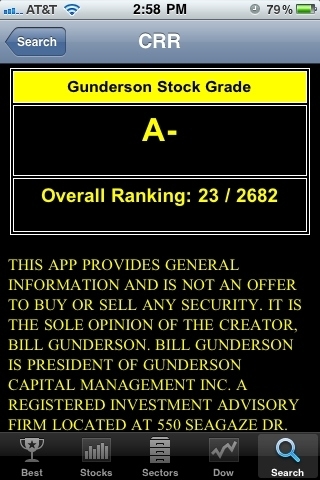 Disclosure: I have no positions in any stocks mentioned, and no plans to initiate any positions within the next 72 hours.