Crude Oil in H1 2011
Crude oil
rose to its highest level in two years during Q2 2011, as escalating violence in
Libya
spread concern that supply disruptions may occur throughout the
Middle East
. As the Arab Spring unrest exacerbated, hedge funds raised purchases of futures to an all-time high. This took
crude oil
price above our Q1 2011 estimate of US$115 per barrel, which we considered as a price ceiling. This price was 30
percent
higher than the price at the start of the year, when we were recommending going on the long side of the oil trade. This pushed the spread between Brent and Cushing benchmarks of
crude oil
to a record high. It also pushed oil product prices to a very high level (August Gasoline rose to $3.98 a gallon on the New York Mercantile Exchange). As projected against the consensus ($15 /bbl decline in the supply premium and a $3 / bbl decline in the demand premium), the
crude oil
price fell from US$115 in April, to US$90-95 per barrel by the end of June 2011. As the Arab Spring "fear risk premium" abated, the
US
economic data tilted negative, EU debt problems spread to the periphery, and
China
kept hiking its interest rates and bank reserve requirements, the effects of commodity price inflation on consumption and corporate profits became obvious as the end of US QEII approached.
Attributing observed price changes to the IEA's 60 million barrels release is difficult as other factors continually affected oil prices, such as changing expectations of world economic and
crude oil
demand growth, uncertainty over oil supply disruptions, estimates of OPEC spare production capacity, and other physical and financial market factors. Additionally,
crude oil
forward contango had flattened (Brent back warded and Cushing based contracts became less steep and spread was a historic US$23 / bbl in June) by the end of Q2 2011, as projected in our last quarterly projection report.

Crude Oil

Outlook for H2 2011:

Energy price forecasts are highly uncertain. WTI futures for September 2011 delivery, over the 5-day period ending July 7, averaged $96.93 per barrel and implied volatility averaged 28 percent. This established the lower and upper limits of a 95 percent confidence interval for the market's expectations of monthly average WTI prices in July -- of $81 per barrel and $116 per barrel, respectively. We expect the

crude oil

price to trade in US$90 –$100 per barrel range until the middle of August 2011, with tight supplies supportive of the

crude oil

price, while negative economic news (US / EU /

China

) and the strengthening US Dollar are pulling the price down. By the middle of August the earnings season for Q2 2011 will be over, and a spat of negative economic news may reduce the street's expectations, which in turn will set the stage for economic data surprising to the upside.

China

's near-term tightening cycle may take a breather, and Euro Zone debt problems would, by then, have been digested by the market. The US Dollar will start to weaken and market participants (especially managed money), will treat it as positive news for

crude oil

demand and

crude oil

prices.

If the negative economic news persists, it may strengthen the case for a third round of quantitative easing in the

US

– with the FED pumping additional liquidity into the system. This will be supportive of

crude oil

prices as it raises asset prices (the equity market and

crude oil

correlation may stay strong). In turn, this would weaken the

US

dollar, which would be positive for dollar-priced

crude oil

. In either of these scenarios, the

crude oil

price should start its upward accent before the end of Q3 2011 and possibly by the end of August 2011. This situation may be further exacerbated by the potential for an Arab Spring II in H2 2011, as there is a reasonable possibility that protestors may come back on to the

Arab street

, as the weather cools down after Eid and

Egypt

elections. We also have serious concerns of a looming supply gap in the second half of 2011 with Saudi's inability to raise oil output, tempered by economic uncertainty amid gloomy

U.S.

economic data and European sovereign debt concerns, a view that could imply weaker-than-expected demand. We see a mixed picture in world economic outlook, and see the potential for disagreement over whether more oil was needed to fuel the economy. The world economic growth forecast for 2011 remains at 3.9

percent

, but challenges to the forecast have become more pronounced. Supply/demand balance indicates a tightening market in the latter part of the year.

(Click charts to enlarge)

World crude oil and liquid fuels consumption grew to a record high 86.7 million bbl/d in 2010. We expect this trend to continue, with crude oil demand at an estimated of 88.8 million barrels per day in 2011 (EIA estimate at 88.1 million barrels). We expect that consumption will be flat in the United States and increase in Canada, Mexico, and South Korea over the next two years, offsetting declines in OECD Europe. Consumption in Japan is forecast to increase slightly in 2011, but then fall in 2012, as power plants recover from the impact of the earthquakes and tsunami.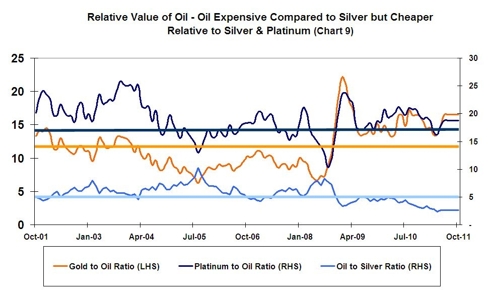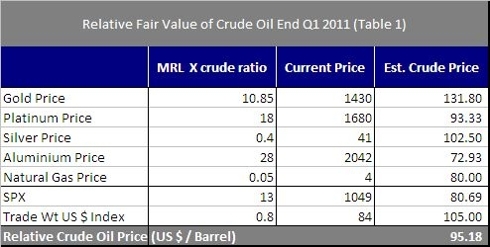 US & EU Oil Demand:
The
crude oil
demand picture in US continues to be mixed and demand remains well below the historical average. GDP is expected to expand by between 2.7 percent to 2.9 percent this year, down from April's forecasts of 3.1 percent to 3.3 percent (median projections). Growth in 2012 will range from 3.3 percent to 3.7 percent, compared with forecasts in April of 3.5 percent to 4.2 percent. Central bankers have raised their forecast range for the unemployment rate after the June jobs report showed broad disappointment, with the unemployment rate ticking up to 9.2 percent. On the upside, consumer spending, which was lacklustre in H1 2011, is likely to improve before the end of Q3 2011.
We expect consumer confidence to remain below expectations till August 2011, which will keep driving below the seasonal average. The recent drop in fuel costs will result in improvement in consumer spending & confidence, with a lag, which we estimate will be up by August's end.
Positive momentum in unemployment, retail sales, ISM, PMI, consumer confidence and payrolls may increase the market's expectation of
crude oil
demand, and hence add more demand related
crude oil
risk premium to the
crude oil
price by the end of Q3 2011.
Crude oil
traders will tend to remain focused on the demand side of the equation until the end of Q3 2011, as the
US
economic picture looks weaker than expected, and the EU is still mired in periphery debt problems. EU Oil Consumption will decline in H2 2011 because of strict austerity measures in peripheral
Europe
and the potential of spread of some of the debt-related problems to the core countries like
France
.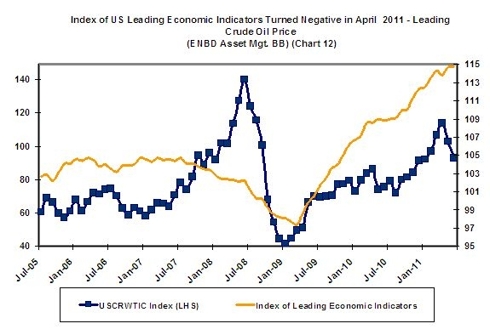 China's economic growth At current levels, China PMI, input purchase orders, new orders, delivery delays and new export orders are low, raw material and finished goods inventories are high, electricity demand growth has decelerated 22 percent year-over-year (yoy) in H1 2011, and buying for China SPR (marginal 170 million barrels) has slowed. China's net imports of crude oil fell to an eight-month low in June (19.73 million m tons; 4.5 million bbls per day, -10 percent month over month & -12 percent yoy) after a record net crude imports of roughly 5.3 million bbls per day in Q1 2011, and imports made up roughly 55 percent of its total oil consumption this year. With the consumer price index hitting a three-year high 6.4 percent last month, this give additional worry to oil traders. This will prompt some speculation that China may again crack down on inflation by raising bank reserve requirements as well as interest rates. A slowdown will have a short term impact on China's marginal crude oil consumption and crude oil prices.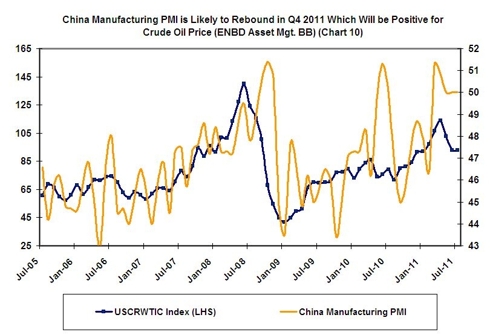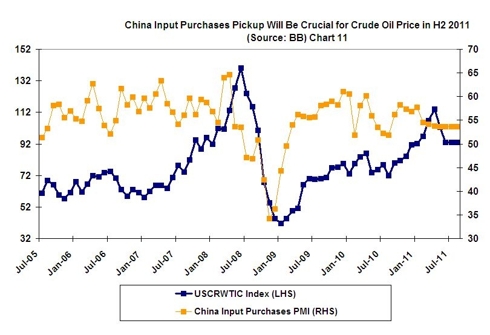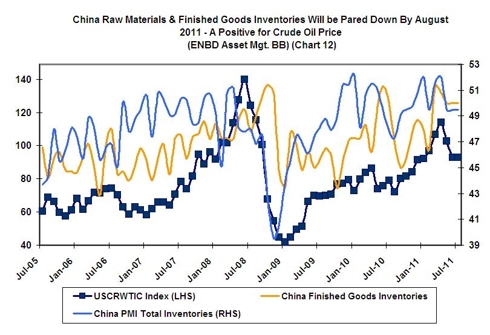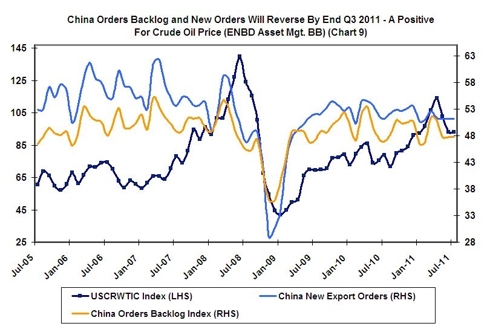 Japan Effect: Japan may need additional consumption to help repair the damage, as percentage of GDP, and will need to replace current electricity generation using hydrocarbon based fuels. Based on previous periods when Japanese nuclear power has gone offline, Japan's energy demand could increase by somewhere between 0.4 -0.75 million bbl of OE per day. Besides, if 4 percent of GDP is what needs to be produced to repair quake damages, required marginal level of GDP will be around US$200 billion over say 2 years, which with an estimated energy intensity of US$1600 GDP per barrel of oil, may require an additional energy input of 125 million bbls of OE.
Spread Between Cushing and Brent
: The spread reached historic levels in Q2 2011 on growing volumes of Canadian
crude oil
imported into the
United States
, Libyan and Nigerian Supply disruptions and higher demand from
China
. Brent-WTI Oil Spread has narrowed as China Crude imports are seen slowing and Euro debt problems persist. The current gap is "unsustainable" and it will narrow further as a trend of declining Chinese imports (in June) increased speculation that demand for
Europe
's oil may decline. However it may not completely disappear due to transportation bottlenecks restricting the movement of mid-continent
crude oil
to the
Gulf
Coast
, supply issues in some
North Sea
facilities, growing tensions in
Nigeria
, and the possibility that IEA being offset by less accommodative Saudi.
Refining & Crack Spreads:
The gasoline price has corrected
by +20 percent in the last five trading sessions – still staying +US$3.65 / gallon. We see the gasoline price sliding to US$3.5 per gallon to be sustainable. This implies contraction of gasoline refining margins by another 15 percent in Q3 2011, before demand comes back.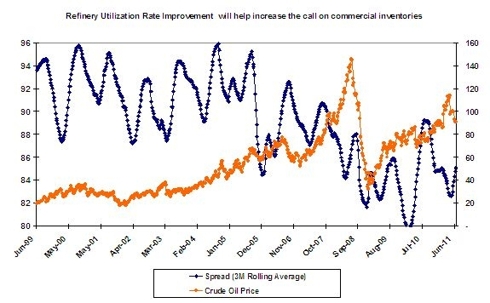 Non-OPEC Supply:
EIA projects that non-OPEC
crude oil
and liquid fuels production will increase by 540 thousand bbl/d in 2011 and by 740 thousand bbl/d in 2012. The greatest increases in non-OPEC oil production during 2011 occured in
Canada
(170 thousand bbl/d),
China
(140 thousand bbl/d), the
United States
(140 thousand bbl/d),
Brazil
(120 thousand bbl/d), and
Colombia
(120 thousand bbl/d). EIA has lowered the rate of production declines in the
North Sea
and
Europe
compared with the last Outlook. At the same time, the EIA now expects that
Azerbaijan
's production will be lower compared with the previous Outlook. In
Russia
, a lack in reform of the tax regime will likely dampen any increase in oil production
.
OPEC Supply Forecast:
OPEC
crude oil
production is expected to decline by about 300 thousand bbl/d in 2011, but increase by 560 thousand bbl/d in 2012. The EIA assumes that about one-half of
Libya
's pre-disruption production will resume by the end of 2012. OPEC produced an estimated 29.2 million bbl/d of
crude oil
in the Q2 of 2011 and the EIA expects that its production will increase to an average 29.6 million bbl/d in the third quarter, which may not be possible. The EIA projects that OPEC surplus capacity will fall from 4.0 million bbl/d at the end of 2010 to 3.5 million bbl/d at the end of 2011, followed by a further decline to 3.1 million bbl/d by the end of 2012.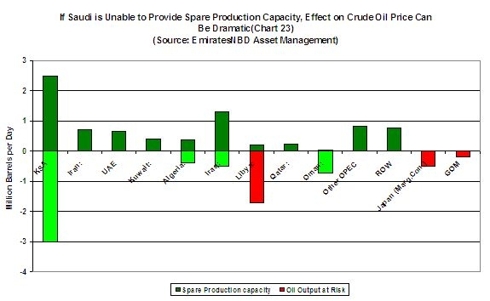 OECD Petroleum Inventories
:
Crude oil
inventories in the
US
are still running above historical averages, which have capped oil prices. But broad US dollar weakness and gradually improving risk appetite should support oil. The EIA expects that OECD commercial inventories will decline in both 2011, and 2012. Because of the IEA release of emergency stocks, the projected commercial stock declines are not as large as those in last month's Outlook. Projected onshore OECD stocks fall by about 78 million barrels in 2011, compared with 118 million barrels in last month's Outlook. Days' supply (total inventories divided by average daily consumption) drop from a relatively high 58.1 days during the fourth quarter of 2010 to 55.7 days in 2011 and 54.6 days of supply in 2012.
Trade Weighted US Dollar May Weaken: The US dollar may remain strong until August 2011, because of safe heaven demand on account of economic growth uncertainty and EU periphery debt problems. US trade, weighted to the dollar, will keep facing cyclical and structural decline. We expect the trend to continue after August 2011, which may result in a further upside to crude oil price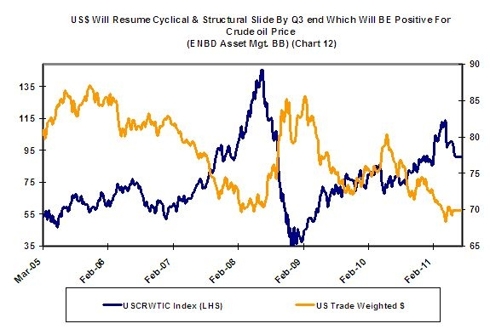 Draining global liquidity:
China
needs to raise interest rates even further to curb inflation, given existing excess liquidity. Although the government has implemented a series of measures, including increasing interest rates, RRR and raising margins for certain commodity futures, the impacts on inflation are not significant. Although
crude oil
consumption in China is less sensitive to oil shocks due to the lower per capita use, interest rate hikes can be negative for the
crude oil
price in the short term. In the
US
, loose monetary policies may continue in Q3 2011, which is positive for commodity prices in general and for
crude oil
in particular.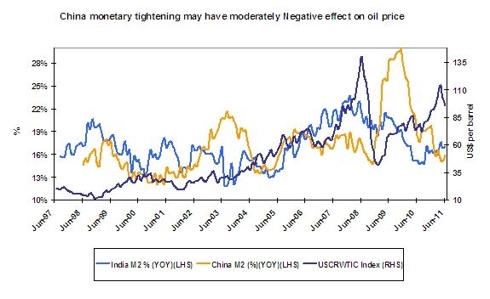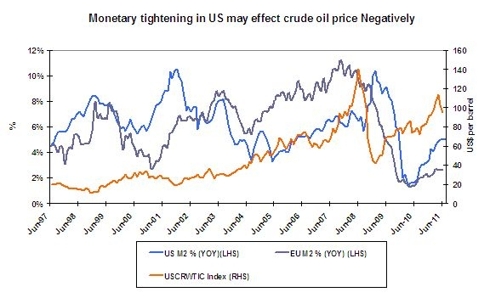 Paper barrels May Remain Intact in Short Term
: