There are two companies standing out in recent days whose management teams have undertaken major shifts in their operational strategies. Both stocks, we believe, face liquidity issues near-term and are initiating radical directional changes to improve cash-flows and prop up their stock prices.
Netflix (NASDAQ:NFLX)
: Management of the online DVD and streaming movie subscription services shocked customers and investors last week when it announced a hefty 60% price increase in monthly fees. This follows news that the company will be entering multiple Latin American markets. Some analysts applaud both events, as JP Morgan initiated the stock with an "outperform" and a $340 price target. Barclays and Goldman Sachs each reiterated their positive outlooks too.
As for Goldman, longtime NFLX observer and SA contributor Andrew Shapiro offered this comment:

GS is excited about one thing - the prospect of leading the inevitable secondary stock offering to raise the necessary $ to pay for the >$2 billion of content commitments disclosed in the 10-Q and in the pipeline (e.g. starz renewal).
Not everyone is bullish on the stock, including us, in reports published
February 21
and
June 3
. With regards to the price increase, Janney Capital Markets analyst Tony Wible, in a recent
interview
on CNBC´s
Fast Money
, struck a less-than-sanguine tone: "They´re [NFLX] increasing price out of necessity."
Our concerns echo those of Wible as the company faces significant off-balance sheet obligations (approximately $2 billion) that start becoming due this year. It is the accounting issues which we have cited in our previously mentioned reports that remain bothersome. Yet the stock continues to flirt with new highs.
The price increase is provocative, but short of a secondary or other dilutive capitalization measure, NFLX´s big plans don´t come close to penciling in even if it was to get the 30 million new subs Wible thinks will be needed to pay for the OBS obligations.
[Click all to enlarge]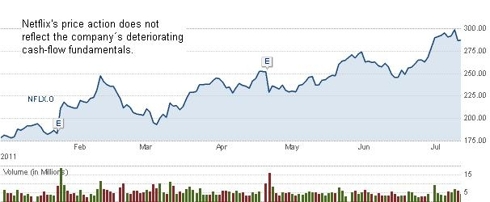 It takes money to make money and it is possible that streaming is being confused for dreaming with regards to margin expansion sufficient enough to support the current stock price.
Chesapeake Energy (NYSE:CHK):
E&P stocks, particularly in the natural gas space, have been on fire in recent days due in large part to M&A activity. BHP Billiton´s (NYSE:
BHP
) $12.1 billion all-cash offer for Petrohawk Energy (NYSE:
HK
) adds new luster to the emerging shale gas boom. Ironically, BHP purchased Chesapeake Energy´s interest in an Arkansas shale gas field last February.
Chesapeake, the second-largest natural gas driller in the US, is no stranger to controversy. CHK´s outspoken CEO Aubrey McClendon is at it again, announcing plans to start a $1 billion fund for investing in companies that build or develop technology and infrastructure to increase the application of natural gas as a replacement for gasoline and diesel fuels. Initial investments are slated for convertible debt of Clean Energy Fuels (NASDAQ:
CLNE
) and an investment in privately held Sundrop Fuels.
Chesapeake was recently featured in a
New York Times
article
that questioned the economic returns being generated from the shale gas boom. We don´t doubt that production in these unconventional wells are increasing, but CHK has been selling off assets, preparing to IPO a royalty trust related to its Colony Wash formation in Oklahoma and (now) yet another new venture.
As for the asset sales and thrust into natural gas transportation and infrastructure development, there are several prospective issues to consider. BHP´s purchase of Chesapeake´s Arkansas interest may have been in part from pressure by Carl Icahn, whose investment arm Icahn Capital LP was a beneficial shareholder when the BHP deal was consummated. Although Icahn continues to hold shares of CHK, he
ceased
being a beneficial shareholder in March 2011. Whether or not CHK management is (still) bowing to demands from activist shareholders is uncertain.
However, the recent push into infrastructure and asset spin-offs since has a sense of "de-lever quickly" wrapped into the package of news McClendon and CHK are promoting to kick-start natural gas demand.
Energy independence away from Middle East petroleum and heavy carbon fossil fuels to some extent validates CHK´s big plans. When you consider natural gas prices remain weak, CHK is definitely thinking outside the box. But CHK also has a very complex operational structure and numerous off-balance sheet arrangements. Although some asset sales have helped shore up the balance sheet, its financial situation hasn´t changed all that much since we looked at its numbers in
March 2011.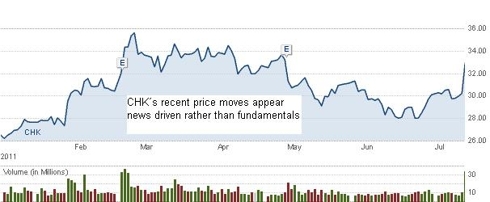 That said, CHK´s bold multi-directional trek into transportation and infrastructure after a previous all-out buying and leasehold spree, leave us at the very least a bit dubious about the recent rise in CHK´s shares.
Companies with significant off-balance sheet arrangements are not necessarily bad stocks to own. However, when a company has difficulty generating or increasing cash-flows from actual operations, investors should be on the lookout for potentially desperate tactics. Tricky accounting can be a sign of potential problems down the road.
Disclosure: I have no positions in any stocks mentioned, and no plans to initiate any positions within the next 72 hours.