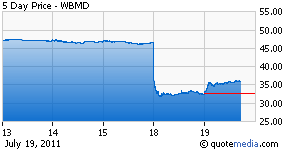 Out of the over 40 internet stocks that I follow regularly, there is only a handful that could be classified as elite stocks. Amazon (NASDAQ:AMZN), Netflix (NASDAQ:NFLX), Priceline (PLCN), Open Table (NASDAQ:OPEN) and even Google (NASDAQ:GOOG) all fit that billing. Another stock that I would include in that list is WebMD (NASDAQ:WBMD).
These are all amazing companies with enticing business models. At the right price I would buy them. However, given that they are the cream of the crop, they almost always trade at a hefty premium.
Take WebMD Health. It is by far the premier publicly-traded online content stock. As such it typically trades at a forward P/E multiple of over 30x. That is well above the 24x average of their peer group.
WBMD recently pre-announced decent Q2 numbers, but more importantly reduced their 2011 forecast. Revenues are now expected to come in between $580 - $600 million which is well below their previous range of $610 - $640 million. At the midpoint that reflects a 6 percent decline in their 2011 revenue forecast.
The company cited longer sales cycles as the primary catalyst for the revenue shortfall. Many sponsorships are being held up due to legal review and some consumer products companies are even cutting their ad budgets.
The news was certainly not positive for WebMD, but it wasn't cataclysmic either. Investor's initial reaction was to send the stock down nearly 32 percent. That took WebMD's shares below $32 for the first time since 2009 and provided a unique entry point for long-term investors.
WebMD is a dominant player in the online healthcare content space. In the first quarter of this year, the WebMD network delivered over 2 billion page views. Unique visitors were up 19 percent year/year and preliminary data from Compete Analytics shows traffic levels increased in the second quarter.
WebMD has also done an enviable job of monetizing their traffic. The network routinely reports CPM's in the $60 range which most content sites would die for. By way of comparison, Demand Media generates roughly $15 CPM's.
The recent announcement by WebMD reminded me of a similar announcement by Vistaprint (VPRT) about this time last year. VPRT reported disappointing fiscal fourth quarter results and provided FY 2011 guidance that was below expectations. VPRT's stock price immediately plunged 36 percent. A year later, investors that bought Vistaprint on the bad news had a tidy 40 percent return to show for it.
At below $32 per share, I bought WebMD. Of course there's no guarantee that WebMD will recover, but a premier internet stock like WBMD doesn't go on sale very often. Investors have to take advantage of the few opportunities when it does.
Disclosure: I am long WBMD.