By Brian Sozzi
If an investor were to take Stanley Black & Decker's (NYSE:SWK) 2Q11 financials on face value all would seemingly be fine and dandy. What double-dip in residential home prices? EU contagion, nah you don't say. The company's EPS trounced consensus by $0.20 on the continued realization of Black & Decker cost synergies, emerging market growth, and a comeback in the two components (national and commercial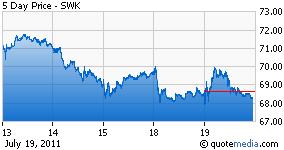 accounts) of the high margin Security business. However, like a Transformer, there was more than meets the eye with respect to SWK's three-month performance. I actually will be pondering tonight whether the very core of the business softened considerably from a 1Q11 that raised more questions than were answered.
Quality of Quarter
SWK's EPS crossed the wires at $1.46 p/s, meaningfully ahead of the $1.26 p/s consensus and our estimate of $1.29 p/s.
Read the full earnings call transcript
Stripping out a $0.28 p/s benefit attributable to the favorable settlement of tax contingencies, I have SWK printing $1.19 p/s, below consensus. I attribute what appears to be a core earnings miss to
disappointing gross margin due to inflationary headwinds;
competitive U.S. market conditions that required increased promotions; and
sluggish European market trends that weakened at a pace quicker than market expectations.
Additionally, the top line was predominantly fueled by acquisitions and currency tailwinds as opposed to runaway organic growth. Going a step further, new product introductions in the CDIY segment, such as the 18 volt lithium ion cordless launch in Europe, masked likely softness in pre-existing product lines.
Other Nuances
Persistence of bumping along the bottom trends at U.S. retailers, and it's not all due to outdoor seasonal underperformance.
FY11 organic growth forecast tailored by 100 bps from prior outlook, reflecting chiefly Europe and CDIY (U.S.).
Meeting of previously communicated FY11 guidance now supported by the pull forward of Black & Decker cost synergies, again as opposed to healthy organic demand.
Inventory growth accelerated year on year compared with the 1Q11 percentage change (11.2% versus 1.14%).
I am not trying to pooh-pooh SWK's quarter, rather just explain the underlying factors that sent the stock lower afterhours following an initial pop. The company's organic top line growth rate in the Industrial segment was strong owing to North America and emerging markets, while comments on Security trends were encouraging. That said, a report such as this is why I downgraded my rating on the stock on June 6; it's not that SWK doesn't enjoy the strongest competitive industry position, it's that trends in the business may not truly be living up to the bullish estimates held by the market. SWK shares change hands at a PEG ratio of 4.5x, implying the market has priced in a fair amount of growth that now is somewhat at risk given core trends in the business.