Last week we started a series on the companies with fastest growing earnings next year. The first article was written about Take Two Interactive (NASDAQ:TTWO) that topped the list with earnings expected to grow by roughly 463%. The second fastest grower is Patriot Coal (PCX).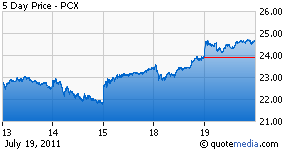 While TTWO doesn't impress us as a stock with sustainable earnings momentum, PCX on the other hand has some growth initiatives combined with expiring legacy contracts that will provide much higher margins once rolled over. In fact, the two coal supply agreements that expire will add a whopping $150M in EBITDA by 2013.
According to the StreetAuthority report, analysts expect PCX earnings to grow nearly 300% next year to $2.82 from $0.72 in 2011. The forward PE is sub 8 making the stock attractive at these levels - especially considering the corporate growth initiatives plus contract changes will lead to more earnings growth into 2013 and beyond.
Another important factor is that earnings expectations have continued to grow over the last 90 days going from $2.61 to $2.81 according to Yahoo! Finance. In fact the highest estimate is all the way up at $3.95 providing substantial upside if that estimate were met. Investors should note that most estimate services include analysts estimates that haven't been updated in a timely manner. Therefore, the total is dragged down by at least one number still listed below $2. Below are the details on the initiatives that will deliver huge earnings growth.
Via PCX March 31,2011 Earnings PR:
intensely focused on our plans to expand metallurgical coal production to at least 11 million tons by 2013 (continue to forecast 2011 met sales between 8.0 and 8.4 million tons)
lock in annual metallurgical business that will result in excellent margins. We booked more than 3 million tons of met coal for 2011 and 2012 delivery at an average selling price of $173 per ton. Our average selling price for met coal for the remainder of 2011 now stands at nearly $150 per ton
substantially increased our participation in export thermal markets
two major legacy coal supply agreements expire, we expect to realize increased EBITDA of around $50 million in 2012 and $150 million in 2013 from higher prices on these volumes.
These facts combined with the minimal market cap of just $2.2B make PCX an attractive investment. Access to 11M tons of annual metallurgical coal production by 2013 has to be attractive to other companies. Unfortunately Alpha Natural Resources (ANR) is already the largest holding in our portfolios making adding PCX at this time not appealing from a diversification standpoint. Still it should be on anybody's radar looking for coal exposure at a very reasonable value. Naturally this all assumes PCX can meet the outlined growth initiatives. Maybe the stock price remains this cheap because the market doubts such growth.

Disclosure: I am long ANR.
Disclaimer: This report should not be relied upon as investment advice. Please consult your investment advisor before making any investment decisions.