Maybe someone forgot to tell these stocks that the market was rocky over the past week of trading. They seem to thumb their nose at what the average publicly traded stock is doing while being bought up despite having high price-to-sales ratios. What are these recent rockets of the market and what is driving them up?
(NYSE:AUQ) - AuRico Gold Inc.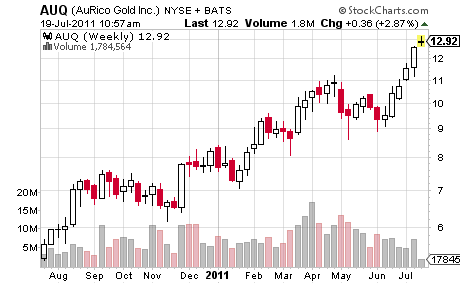 This junior gold company dabbles in silver as well. With the on-going issues of sovereign debt crises and the latent possibility of more 'back-room money printing', aka quantitative easing, to prop up the US economy at the expense of a devalued dollar, gold is poised to benefit. The market sentiment seems to be swaying this way and that like a dingy in the middle of the ocean during a bad storm. That being said, the macro-economic issues in-play are not likely to be solved with a wave of the wand, hence gold is trading around $1,600. Many are waiting for gold prices to go parabolic, which could see a temporary spike that makes current prices look cheap. It's little wonder that as the global economy gets wobbly, these gold juniors take a stand. If you don't mind the teeter-totter action in the short-term, adding such a stock like AUQ could be worth your while. Just be sure to sell if you hear reports of gold doubling overnight; the higher gold gets the less upside potential you have on a logarithmic scale. EXK or Endeavour Silver Corp. is another precious metal play from Canada with a sub-billion market cap.
(NASDAQ:PCYC) - Pharmacyclics Inc.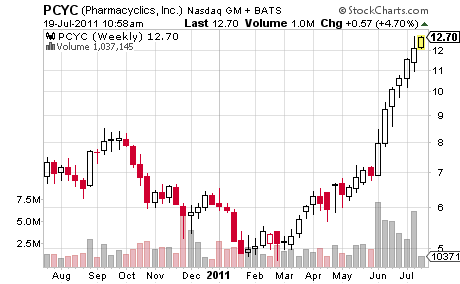 Why has this clinical-stage bio-pharmaceutical company climbed 121% in 3 months despite a serious lack of profitability? In late June, an insider bought 6 million dollars worth. Add to that, 4 analysts recommend buying and 2 recommend a strong buy - and one of those recommendations was added last month. If you look at the EPS estimates for 2012, the losses have been pared from minus 56 cents per share 2 months ago, to minus 47 cents per share by current guesses. Although short interest is still high (just under 3.87 million shares as of June 30th), the days to cover has dropped to one-third of what it was in mid-May, due to higher average daily volume. While this stock has high momentum and some signs of heading toward profitability sooner than expected a couple months ago, it is also a highly speculative stock with little intrinsic value and devoid of proven growth. If you like technical trading or high-risk/reward speculation then this might be one for you to consider.
(NASDAQ:TZOO) - Travelzoo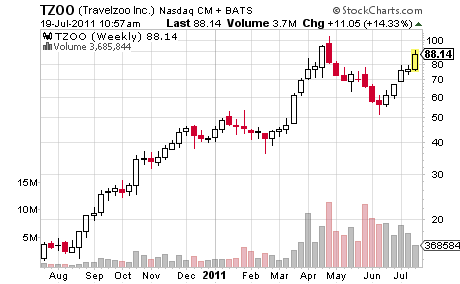 Travelzoo Earnings are out July 21. This is a stock full of positive earnings surprises, which makes me wonder if analysts should categorically raise their estimates. It seems that they have done so to some degree a few months ago as the current year's earnings estimate rose from $1.17 to $1.64 per share, and the 2012 year jumped from $1.56 to $2.36. According to Yahoo, the consensus rating by analysts has gone up from 3 months ago. It now sit with a strong buy rating from 4 analysts and one buy rating.
I'd wait for earnings to come out on this one and ride the post-earnings announcement drift if there is another large surprise. Sometimes a string of surprises can work against you when the expectations reach too high and the earnings, although having large year-over-year growth, simply meet analyst expectations. When investors factor in a surprise before earnings this can make pre-earnings a dangerous time to buy. I discussed this 'Lady Gaga Effect' before on TZOO.
(NASDAQ:WPRT) - Westport Innovations Inc.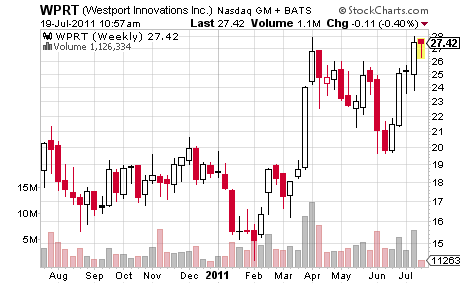 This Canadian company provides alternative fuel with low-emission technology. Its recently announced partnership with GM as well as Cummins (NYSE:CMI) carries a lot of potential for future earnings. Share prices are coiling to break the $28 resistance and any announcement of how these partnerships will affect the bottom line for 2012, or 2013, should be just the alternative fuel needed to get investors going again.
Disclosure: I have no positions in any stocks mentioned, and no plans to initiate any positions within the next 72 hours.