Sherwin-Williams Co. (NYSE:SHW) will release its results for the second quarter of 2011 before the market opens on July 21, 2011.
Sherwin-Williams earned a profit of 63 cents per share in the first quarter of 2011, outshining the Zacks Consensus Estimate of 52 cents per share.
In the upcoming quarter, the Zacks Consensus Estimate for Sherwin-Williams is pegged at a profit of $1.77 per share, reflecting an annualized growth of 2.77%. The upside potential of the estimate, essentially a proxy for future earnings surprises, is 1.13%.

With respect to earnings surprises, the company surpassed the Zacks Consensus Estimate in three out of four quarters, amassing an average surprise of 8.01%.

First Quarter Review
Net sales for the quarter increased 19% year over year to $1.85 billion, driven by acquisitions and selling price increases. Sherwin-Williams' first quarter sales also exceeded the Zacks Consensus Estimate of $1.82 billion.

Cost of goods sold increased 21% to $1.06 billion in the quarter and expressed as a percentage of revenues, it increased 120 basis points to 57%. Gross profit surged 15% to $797.4 million while gross margin dipped 120 basis points year-over-year to 43%.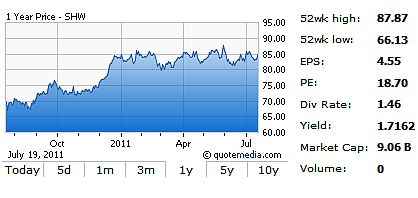 The Paint Stores Group posted net sales of $929.3 million, up 9% from $850.9 million in the year-ago period. The improvement was largely attributable to selling price increases, expanding domestic architectural paint sales to residential repaint contractors and do-it-yourself customers, and improving protective and marine product sales.
Net sales of the Consumer Group inched up 1% from the same period last year to $294.9 million due to selling price increases and the timing of seasonal shipments to some customers. This was partially offset by the elimination of a portion of a paint program with a large retail customer.
Net sales of the Global Finishes Group soared 50% to $630.2 million in the quarter as a result of acquisitions, higher paint sales volume, selling price increases and favorable currency translation rate changes.
Sherwin-Williams had cash of $53.9 million as of March 31, 2011 compared with $58.6 million as of December 31, 2010.
Agreement of Estimate Revisions
One out of the 13 analysts covering the stock for the second quarter of fiscal 2011 has made a downward revision in the last 30 days. No one has made an upward revision in that time.
Magnitude of Estimate Revisions
The second quarter 2011 estimate remained flat at $1.77 per share in the last 7 days and last 30 days. The Zacks Consensus Estimate for the second quarter is 2.9%, higher than the year-ago profit of $1.72 per share.
Our Take
Each of the business divisions of Sherwin-Williams has reaped benefits and will continue to do so, backed by the improving domestic and international markets, rising product prices, successful acquisitions along with the company's cost reduction efforts. However, higher raw material prices remain a concern. We currently have a Zacks #3 Rank (short-term Hold recommendation) on the stock.
Management expects net sales to increase in the range of 8% to 13% compared to the second quarter 2010. The company expects EPS between $1.65 and $1.75 per share for the quarter.
For full year 2011, management expects net sales to increase above 2010 levels by a high single digit percentage. In addition, the company reiterated its full year 2011 net earnings guidance range of $4.65 to $5.05 per share.
Based in Cleveland, Ohio, Sherwin-Williams is a developer, manufacturer, distributor and seller of paints, coatings, industrial and marine products, original equipment manufacturer product finishes and related items, and automotive finishes and refinish products in North and South America, Europe, and Asia. The company's key competitors include PPG Industries Inc. (NYSE:PPG), The Valspar Corporation (NYSE:VAL) and Air Products and Chemicals Inc. (NYSE:APD).