V.F. Corporation (NYSE:VFC) is scheduled to release its second-quarter 2011 results on Thursday, July 21, 2011. The Zacks Consensus Estimate for the quarter is pegged at $1.03 per share, representing an estimated year-over-year growth rate of 3.0%.
First Quarter Performance
V.F. Corporation reported first-quarter 2011 adjusted earnings of $1.71 per share, striding ahead of the Zacks Consensus Estimate by 11 cents. Results also surpassed $1.44 earned in the prior-year quarter by almost 18.8%. Including benefits from tax settlement and change in inventory accounting of 7 cents and 4 cents per share, respectively, earnings per share for the quarter came in at $1.82.
Agreement of Analysts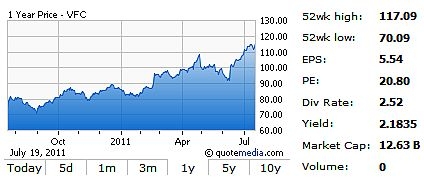 Over the past 30 days, none of the analysts covering V.F. Corporation have revised their earnings estimates in either direction. In the last seven days as well there has been no movement in the estimates provided by the analysts.
Magnitude of Estimate Revisions
With none of the analysts revising their estimates in the last 30 or seven days, the Zacks Consensus Estimate for the second quarter of fiscal 2011 has remained stagnant at $1.03.
Surprise History
With respect to earnings surprises, V.F. Corporation showed a favorable trend in the last four quarters. The company has recorded positive surprises in the trailing four quarters with a low of 5.2% and a high of 29.9%. On average, the earnings surprise was a positive 12.8%. Based on the current flow, we expect the company to come up with healthy results in the upcoming quarter.
Our Recommendation
V.F. Corporation's diversified brand portfolio positions the company well above its peers and generates above-average industry growth, a fact that is surely to see them through in the current challenging environment.
Moreover, the company's approach to brand management allows each brand to develop further, through rigorous marketing strategies, financial control, and operating leverage. Furthermore, given the strength of many of its brands and opportunities with regard to distribution, the company is set for significant long-term growth.
A big plus for V.F. Corporation is its benefit of an extremely diversified and balanced base of over 1,500 contractors across 60 countries controlled from one of the biggest sourcing offices in Hong Kong, which provide tremendous scale and expertise. Given the strength of V.F. Corporation's global supply chain, the company can rapidly adjust its sourcing strategies.
V.F. Corporation holds a Zacks #1 Rank, which translates into a short-term 'Strong Buy' recommendation. Our long-term recommendation on the stock is 'Outperform'. The company has the wherewithal to negotiate intense competition from other well-established players in the apparel industry, such as Polo Ralph Lauren Corp. (NYSE:RL) and Sears Holdings Corporation (NASDAQ:SHLD).