Today, we will be looking at the only company in the NYSE to have a market cap of over $20 billion that has lost over 37% of its value over one year, or 47% year to date. The company I am speaking of is Nokia Corporation (NYSE:NOK) the mobile product giant. Many believe with the emergence of Apple (NASDAQ:AAPL) and the Google (NASDAQ:GOOG) Android system that Nokia's place as the leader in mobile technology is forever a distant memory.
But, with a market cap of over $20 billion, it is a sign of insanity to count this company out as a significant company within the industry. While their dominance is no longer a factor, Nokia must learn to adjust and overcome their current obstacles to remain relevant.
If you look at a one year chart ending with the date July 19th you would notice the first half of the year started off well for Nokia. On July 19th 2010, the stock price traded around $8.80 and on February 9th the stock hit a high of $11.75.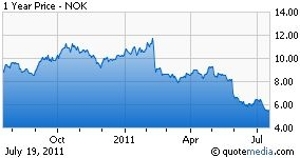 This growth in price took place after seeing a previous drop in stock price. Back on April 1, 2010 the company traded at highs of $15.70 only to drop over the next three months to a price of $8.25. So what happened since April of 2010, and why is the stock trading down 60% in 15 months?
The simple explanation for the drop in stock during April – July of 2010 can be ascribed to smart phones. During this time, Nokia admitted the new smart phone era was affecting their revenue and then lowered guidance drastically which cut their stock price from almost $16 to $8 in 3 months.
At this point, with the company seeing lows in the $8 range, the company began its uptrend and traded in a consistent range of $9-$10 over the next five months. As of February 4th 2011 the range was broken as Nokia traded to lower levels until ultimately reaching its low of $5.31 in which we saw on Monday July 18th 2011.
My entire argument is based around the idea that Nokia is now trading below its appropriate range. I do not believe the news or reports justify such a decrease in price as the stock had already decreased from $15-$10 which I feel is appropriate given their failure to evolve. This additional decrease in price is nothing more than the market demonstrating its constant fear as it sells on practically anything that does not produce immediate gains. So while almost all analysts are telling you to sell I will become an optimist and give you reasons to buy.
On February 11 2011 Nokia announced their new company structure. This new structure features two distinct business units: Smart Phone Devices and Mobile Phones. They will focus on Nokia's key business areas: high-end smart phones and mass-market mobile phones. The company will view these two units as individual divisions of the company responsible to produce for themselves. I see this as great news, creating competition within business. The company has identified the problem, which is a lack of sufficient smart phone platforms and is making an effort to correct the problem with innovation.
Feb 11th, 2011 the company announced an immediate need for layoffs. The company addressed the need for reduced operating costs as well the costs for research and development. This leads me to believe the company plans to spend a significant amount of money on their research and hopefully create the best possible product. I see this move as directed at shareholders in order to make earnings look better for the company.
March 1st the company won a three year deal to supply map data for TechniSat Digital GmbH in vehicle navigation systems. The first car to use the system will be Volkswagen. This news is relevant as it will provide additional revenue not taken into account in previous earnings reports.
March 21st Nokia launched its Indoor mapping service which enables retailers to better target consumers. Nokia has completed several deals with regard to their navigation/maps.
Middle to late March was consumed with legal battles between Nokia and Apple (AAPL) involving several patents.
In April, Nokia was selected by Australian mobile operator in a multimillion dollar agreement to address growing bandwidth requirements. Also, Nokia and Microsoft (NASDAQ:MSFT) signed a definitive agreement ahead of schedule that will result in new global mobile ecosystem.
In May, Nokia Siemens Networks was awarded a joint venture in Greece to consolidate fixed and mobile networks. The company signed the Saudi Arabia Business Standard to develop local markets in telecommunication services sector there. And the company received a Norwegian National Railroad Contract to implement a quality management system.
In June the company was awarded a venture contract with SK Telecom Company and another contract in Malaysia. During this same month Nokia and Apple settled their dispute, signing a patent license agreement. Finally, towards the end of the month Nokia and Siemens receive Telematic Application Contract in China.
The many developments listed above are presented to demonstrate a single point, that Nokia has been very busy this quarter. If you look at the price action from this stock and were unfamiliar with the company's operations you would assume the business is going under. We understand the negatives facing this company, however our economy's mindset is to ignore any positive news and dwell on the bad.
Nokia announced new company structures in February of this year and from what I see are making a real effort to honor the new structure. The company has received multiple contracts during this quarter alone and Nokia's subsidiaries have received just as many. Nokia has expanded and broadened their maps/navigation as they have received multiple deals on various platforms during the past three months. Finally, the company signed a contract with tech giant Microsoft in a collaboration to assist both companies in their expansion.
Investors have heard and know the reasons to stay away from Nokia. There have been multiple layoffs. The company has received various downgrades and has been involved with several court appearances. While these areas of concern are real, an investor should factor in the entire story before forming an opinion.
I believe Nokia is a buy at $5.42, its closing price on Monday July 18th. The company has accomplished all that is written above along with more that is not included. The company has cash available and pays a solid dividend to reassure the investor during this time of poor stock performance.
Nokia understands excellence and what it takes to get there and unlike other companies that have fallen in the past, Nokia has the financials to reinvent themselves. Nokia has already begun their journey and from what I have seen are making good progress.
With expectations so low for the upcoming earnings report I see this as a good place to buy. Their operations have changed, the structure has changed, and the partnerships have changed--all in an effort to accelerate the company's growth. There is a legitimate chance that earnings could surpass expectations as investors seem to be preparing for the worst.
I would watch and listen to the earnings report very closely and pay attention to what the CEO says about future plans and performance. Depending on price performance and guidance this stock may be at a price that has too much upside to ignore.
Disclosure: I have no positions in any stocks mentioned, and no plans to initiate any positions within the next 72 hours.