Carl Icahn is an investment legend who popularized corporate takeovers, shareholder rights, and corporate governance. He began taking control positions in companies in 1978, and has been involved in many successful takeovers that have liberated valuable companies from destructive managers and management practices. His efforts have amassed a $12.5 billion personal fortune.
Currently, Carl Icahn is Chairman and 87% owner of Icahn Enterprises, a fund that continues Icahn's investment strategies. His investment fund identifies target investments that have been held back by management errors, then buys a large stake in the company at depressed prices, and subsequently uses Icahn's reputation, influence, and votes to affect change in the firm. Since 1990, Icahn Enterprises has earned a 25.3% annual return. High demand to invest in the fund has resulted in it being closed to new investors. Investors who try to replicate Icahn's success by investing alongside him must be careful to buy his holdings before they increase in value. Here are some of Icahn Enterprises' current holdings:
Southern Union Company (NYSE:SUG): was a classic Icahn investment. He acquired shares at an average price of $27.16. A $40 per share takeover was offered by Energy Transfer Equity (NYSE:ETE), which was outbid by Williams Co. (NYSE:WMB) in a $44 per share offer. SUG shares have gone up from his acquisition price and are now trading at $43.39. The takeover bid, if successful, will acquire the company at a P/E ratio of 20 and a P/S ratio of 2.2 (ttm). The shares have risen near to the takeover price, resulting in a 60% return for Icahn. Since virtually all of the upside is priced into the shares, this opportunity has expired for outside investors. Southern Union was a home run for Icahn.
Clorox Company (NYSE:CLX): Icahn owns 9.4% of Clorox and has offered to buy the firm outright for $10.2 billion unless Clorox can find a better offer. Unfortunately, hopes for higher bids might be displaced since this consumer staples company seems expensive at current prices.
With a market cap of $9.94 billion, Clorox currently trades at a high 19 P/E multiple and a high P/S multiple of 1.7 (ttm). This valuation might be acceptable for a retiree who eyes the 3.50% dividend yield and the apparent safety of a consumer staples company, but would would not appear cheap to many would-be acquirers. For example, Proctor and Gamble (NYSE:PG) has a similar valuation with a 17 P/E multiple and a 2.2 P/S multiple (ttm).
Motorola Mobility Holdings, Inc. (NYSE:MMI): Icahn is the largest holder of this firm, which was split from Motorola. Icahn was able to buy Motorola at a bargain price with the intention of forcing management to spin off its consumer mobile device and entertainment products. Motorola's CEO Edward Zander resisted Icahn's plan, prompting Icahn to engage in a proxy fight for control. In addition to sending letters to shareholders to persuade them to vote for him, Icahn resorted to buying a full-page advertisement in The Wall Street Journal to convince shareholders to vote him onto Motorola's board. After four years, these efforts resulted in the spin-off of Motorola Mobility Holdings, Inc. (MMI) from Motorola Inc. (NYSE:MSI).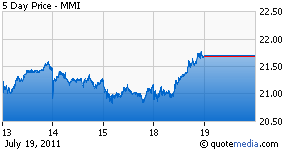 Motorola investors received one share of MMI for every eight shares of MSI owned during the split. As a result, Icahn is a 11.4% owner of MMI. This new company is attractively priced: it has a P/S ratio of 0.52 (ttm) and an expected 13.12 future P/E. MMI is cash-heavy: MMI shares trade near $21 and the company has the equivalent of $10.57 cash per share. If Icahn cannot find a buyer for this mobile device company, he may be able to persuade the board to buy back its own shares using cash.
Chesapeake Energy Corp. (NYSE:CHK): Icahn bought shares in this company because he believes it was overleveraged. Icahn respects CEO Aubrey McClendon, and encouraged him to pay down debt. This investment has paid off handsomely for Icahn, who bought shares at an average price of $22.82. With current market prices at $32.96 per share, Icahn has an unrealized gain of 44%. This price increase anticipates asset sales forced by Icahn, which have yet to happen. Icahn may not be able to prevent McClendon's appetite for leveraged capital expenditures. While Chesapeake is an interesting buy, we think GMX Resources (GMXR) offers better upside potential due to its depressed share price.
Hain Celestial Group Inc. (NASDAQ:HAIN): Icahn controls 16.4% ($230 million) of the organic food company's shares with the intention of forcing a sale to private investors or to a larger grocery company. At $33.34 per share, the stock has risen 16% from the $28.69 average price per share Icahn paid. Hain is expensive and trades at a 30 P/E multiple (ttm). Despite Icahn's pressure to sell, Hain has yet to find a buyer willing to pay such rich multiples.
Dynegy Inc. (NYSE:DYN): Icahn owns 15% of Dynegy, controls two seats on its board, and has played a leading role in turning this slow train wreck into a boardroom soap opera. Icahn and other activist investors see that Dynegy is very cheap, with a P/B ratio of 0.28 and expect to find a buyer at a much higher valuation. At present the board seems unable to agree on a takeover bid for this utility company, believing they can get a higher price. The plot thickens when you consider debt that is rapidly coming due with covenants that are likely to be violated by 2012. Will the investors be able to settle on a cash buy-out before they default?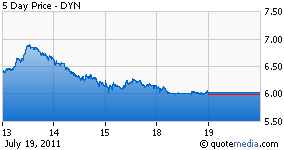 Make no mistake: Dynegy is insolvent and needs cash to continue operating because it does not have the operating cash flow to continue on its own. Unfortunately, issuing debt is expensive for Dynegy since lenders will only buy bonds from Dynegy for over 7% yield. Various buy-out proposals from outside companies have been rejected by different activist investors who believed that they had time to wait for higher bids. If time runs out and bondholders take over the firm, Dynegy will become an example of too many activist investors working against shareholder interests.
Amgen Inc. (NASDAQ:AMGN): Biotech firms interest Icahn because he believes they have many promising drug candidates but lack cash to invest. "Biotech is great for activists. On one side you have big pharma with plenty of cash and few large molecular compounds. On the other you have Biotech with large molecular compounds and with not enough cash." Amgen seems like it is an attractive investment since it trades at a P/E ratio of 11. Icahn bought shares at an average price of $54.32.
Remember big pharma? Ten years ago those companies were hot, and now interest has faded. Now biotech is hot. Hopefully Icahn can find a buyer before interest in biotech wanes, too.
Disclosure: I have no positions in any stocks mentioned, and no plans to initiate any positions within the next 72 hours.