Remember the last internet bubble - back in the epoch of the late 1990s? When stock valuations were measured in eyeballs? People were paying fortunes for companies with strange names and even stranger business models. That's if they even had a business model.
Well, we knew what a folly that was, right? After soaring to stratospheric stock heights and PE ratios of 200 and 300 to 1 on some favored internet stocks, the bubble finally burst. High-flying stocks plunged dramatically, and the Nasdaq (NASDAQ:QQQ) plunged from 4792 to a low of 791, an 82 percent drop! Whole companies disappeared into the dustbin of history almost overnight.
Today, many young people have never even heard of TheGlobe (OTCPK:TGLO), Global Crossing, or Infospace (INSP). Some of these companies are bankrupt, others are still eking out a shadow existence among the penny stocks. TheGlobe's share price enjoys the distinction of one of the biggest drops in history, from $10 to 2/10ths of a penny.
Looking back, those who scoffed at the astronomic valuations given to internet stocks were right. Yet those who derided the internet's future impact and ridiculed the new business models were equally wrong.
Today, if you fast forward 15 years, not all of those companies have fared badly, and some have flourished. Amazon (NASDAQ:AMZN) is trading at about 20 percent higher than its 2000 peak, and Priceline (NASDAQ:PCLN) is currently nudging its all time high. Apple (NASDAQ:AAPL) is currently trading at about 9 times higher than its $37 peak in 2000.
Moreover, in the interim , new internet companies with good management and a defensible niche have sprung up and taken the world by storm. Companies such as Google (NASDAQ:GOOG), NetApp (NASDAQ:NTAP) or SalesForce.com (NYSE:CRM).
As for those odd business models, what could be stranger than launching a product that you give away free for 2 years before you can figure out how to monetize it: that's Google. The company now owns about half of planet earth, and it may well be just getting started.
Those strange names? Google, eBAY (NASDAQ:EBAY), Amazon, Twitter, Facebook, all of these names now easily roll off our collective tongues. In fact, most of the names have become verbs in the English language. Who today doesn't know what it means to google something?
So where does all this "ancient" history leave us? Well, it seems to me that we're getting yo the middle of round two of the Internet revolution. So I thought that I might steal a few more minutes of your attention. And please, this time, don't snicker so loudly when I say that, yes, eyeballs do have real value.
The surprising thing about this second round of the internet revolution is that this time, it doesn't even involve the US. Oh yeah, in case you missed it, China probably surpassed the US in absolute numbers of internet users way back in 2006. Back then, China's leading authority on internet usage, the China Internet Network Information Center, estimated that internet use was growing at about 18 percent per year. By 2010, reported users had already grown to 420 million users, which by my calculations, is about a 15 percent yearly rate of increase.
Moreover, Chinese users are far heavier users of the internet then Americans, logging about 18 hours for every hour of US use. These usage patterns were revealed by Dr Zhang, CEO of SOHU back in 2006, when ringing the opening bell for the NASDAQ. Zhang pointed out that Chinese Internet users spent nearly two billion hours online each week, while the U.S. audience logged on for 129 million hours per week.
According to Zhang , "People log onto the Internet and Sohu.com because, in China, there is no Forbes, Reuters or The Washington Post. Print media was all state-controlled and official, and the Internet filled this void."
So the market in China is humongous already. But is it saturated yet? How much longer can they maintain that double digit growth? If usage statistics in the so-called developed world are any indication, the Chinese market is hardly tapped out:
(Click chart to enlarge)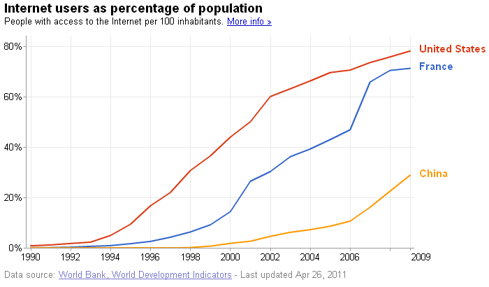 Click to enlarge
If China emulates the US and Europe and population patterns evolve as anticipated, China's internet population could easily reach 800 million people, spending up to 50 times the hours on the internet we do in the US. SOHU is China's major web portal, similar to Yahoo (NASDAQ:YHOO) in the United States.
Consistent with the dominant trend of rapid growth of the internet in China, mentioned above, SOHU has seen its earnings grow 600 percent in 5 years, from 108 million in 2005 to 613 million in 2010. This is average revenue growth of 42 percent a year. Nor has is earnings growth been shabby. These have increase an average of 35.19 percent over the last five years, growing EPS from 77 cents to $3.62.
In reporting its Q1 results last April, the web portal showed a per-share profit of $1.01, up 38 percent from 73 cents in Q1 2010 and revenue up 35 percent from a year ago. Prospects for the future continue to look good. Sohu's brand ad sales rose 45 percent, and the company said its online video business is now No. 2 in the nation, with the most Internet users.
Still, the consensus of analysts following this stock believe growth will slow over the next five years, and project earnings per share growth of 13.87 percent, according to FINVIZ. If that were indeed to occur, take a look at what different assumptions would mean for the future and present value of the shares today.
p/e 15
5% discount
p/e 15
10% discount
p/e 20
5% discount
p/e 20
10% discount
p/e 25
5% discount
p/e 25
10% discount
2016 earnings
$13.28
$13.28
$13.28
$13.28
$13.28
$13.28
future stock price
$199.20
$199.20
$265.60
$265.60
$332
$332
discounted present value
$156.08
$123.69
$208.10
$164.92
$206.15
$260.13

The four columns represent possible future values of the stock based on earnings per share growing from the present annual level of $3.91 at 13 percent to $13.28 by the year 2016.
Here's how the calculations work. If we use 15 as a price-earnings assumption, that would make the stock sell for $199.20 in five years (15 x $13.28). If we assume a 5 percent inflation rate, we must discount that down to a present dollar value of $156.08 . Taking a more extreme assumption of inflation, say 10 percent , brings the fair value today down to $123.69. If we assume investors will continue to pay $25 for $1 earnings 5 years from now, then today's value would be either $260.13 or $206.15, depending on your assessment of future inflation.
As you see, depending on your assumptions about inflation and future P/E ratios, this stock has a fair market value today of between $123 and $260. That would make the stock's present price either a great bargain or a fabulous bargain.
How realistic are the price-earnings assumptions? Well, historically, stocks trading on the US market have averaged price/earnings ratios of 14, which includes both growth stocks (at higher P/E ratios of 18-22 ) and income stocks (at lower ratios of 8 - 12 ).
This stock has traded at P/E ratios ranging from 35 to 15 over the last 5 years. Taking that average would yield a possible P/E of 25 five years out.
But if the consensus of analysts who follow SOHU is correct and future growth slows to about 13 perrcent a year, we would want to use a P/E multiplier of around 18, not 25.
So what could cause SOHU to sell for less than today's value? Simple. The company's management could drop the ball, and lose ground to other competitors. A slowdown in growth to levels in the single digits would likely cause the P/E rate to slip down into the 15-18 range and would send valuations to below today's value. A growth rate of 7 percent valued at a P/E rate of 18 would price the stock at about $77, for example.
So what is SOHU's true value? I don't know, I just run the numbers. But I would put myself on the side of the bulls.
Disclosure: I have no positions in any stocks mentioned, but may initiate a long position in SOHU over the next 72 hours.