A lot of investors were quick to sell auto supply stocks in the wake of the Japanese tsunami, worried falling production rates would sharply curb demand for suppliers. But, production has bounced back more quickly than many feared, and that means top auto suppliers like Magna International (NYSE:MGA) can be bought more cheaply than in Q1.
It's not hard to see why investors stepped aside following Japan's disaster. Magna is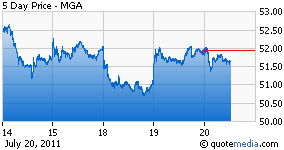 deeply tied to all aspects of vehicle production, both exterior and interior. Its operations cut across 26 countries and include more than 260 manufacturing facilities. Its products are found in just about every major brand worldwide. And, whether it's seats or chassis, a prolonged production stoppage would clearly reduce revenue and earnings.
But, instead of supply chains buckling, they bent. And, while production and auto sales slumped in May, they bounced back in June. Which suggests Magna's Q2 revenue and earnings are likely to prove more a hiccup than anything more severe.
Through the first six months of 2011, North American vehicle production is 9.2% higher than last year. Meanwhile, June U.S. light vehicle inventory has fallen by nearly two days, as inventory for Asian brands declined by twelve days. This suggests future production growth as Honda (NYSE:HMC) and Toyota (NYSE:TM) replenish dealer stock and pump consumer demand through incentives to recapture market share. Ford (NYSE:F) and General Motors (NYSE:GM), are likely to fire back with their own price cuts too.

If auto production does improve, Magna will return to first quarter trends, when revenue of $7.2 billion rose 34%, well ahead of the 17% lift in North American vehicle production. Magna's European sales increased 28% to $2.2 billion last quarter, again faster than the 10% increase in European vehicle production. Emerging markets, however, are the fastest growth market for Magna. Led by China, India and Brazil, the company's rest-of-world sales climbed 69% to $316 million.

Costs are always a concern with auto related stocks. And while gross margin fell 0.5% in Q1 on higher input prices, SG&A came in 0.8% lower. As a result, operating margins were up 0.8% to 5.7%. Cost controls and better utilization remain the key to leveraging sales for bigger profits. And, Magna has made big strides in focusing on bottom line growth.

Last month, it replaced its $2 billion revolving facility, set to expire in 2012, with a $2.25 billion revolver - eliminating an overhang. The company's balance sheet is solid, with $1.57 billion, some $6.49 per share, in cash. And, Magna has been exceeding analyst forecasts, beating the Street in three of the past four quarters. Last year, Magna re-instituted its dividend, and thanks to increases, the stock yields just shy of 2%.

With the stock trading around $52, it remains 16% below its 52 week high and around 9x 2012 earnings per share estimates. Currently, analysts are modeling earnings of $5.60 per share in 2012, which is back to pre-disaster levels and comfortably higher than the $5.41 expected 90 days ago. With supply chains improving and production levels set to increase, Magna offers investors a compelling opportunity for upside.

Disclosure:

I have no positions in any stocks mentioned, but may initiate a long position in

MGA

over the next 72 hours.