When looking for buy and hold opportunities in stocks -- stocks that I believe will appreciate over several years with tolerable downside volatility -- I look for stocks that can meet the following criteria:
In a growing sector

Positive earnings
Income on an annual basis growing
Sizable market capitalization
Issuing dividends
An EPS consistent or below market average
Through this lens, one of the best opportunities is Intel (INTC). The technology sector, driven by networking technology that is re-wiring our entire world and how we connect to each other, remains a growing sector. Intel has positive, growing earnings, an EPS of 2.14 and a dividend yield of 3.76%, and a market capitalization of over $100 billion. In fact, only two other companies in the technology sector have such a large EPS and dividend yield while at a market capitalization of over $100 billion: Microsoft (MSFT) and Siemens (SI), two other companies I believe constitute great opportunities (see my previous comment on Microsoft).
The price action for Intel is bullish as well. The rising wedge pattern below illustrates consolidation in price driven primarily by higher lows; this could preced a breakout to the highs near $28 reached in early 2008. Given the low volume we've been seeing of late, though, I think a move down to the bottom half of a wedge before a breakout to the upside is more likely.

(Click chart to enlarge)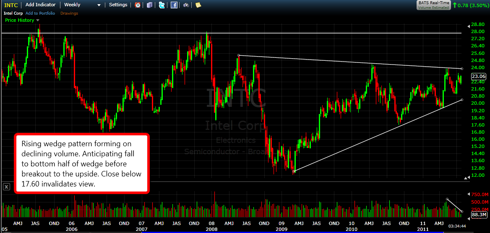 Disclosure: I have no positions in any stocks mentioned, and no plans to initiate any positions within the next 72 hours.