This article is intended for investors contemplating an investment in mortgage real estate investment trusts (MREITs). The article's intent, in the author's eyes, is to share his views and opinions. These are my top six MREITs to buy this week. Hopefully this will serve as a starting point for your due diligence.
1. American Capital Agency Corp. (NASDAQ:AGNC)
Starting from May 30, 2008, through July 18, 2011, AGNC has offered investors an annualized 26.2% return. The start date is based upon AGNC's IPO date. The company, in my view, is the winner based upon its proven 26.2% total annualized rate-of-return, the effective hedges in place, and management's focus upon friendly shareholder communication.
AGNC has outperformed every MREIT I have owned during a similar time frame. Treasury bond rates indicate, pending a political approval for an increase in the debt level, that good times await AGNC shareholders.
Pure Agency-MREIT: Yes. All debt instruments are backed by Government Sponsored Entities.
Annual Dividend Yield: 19%
Second largest publicly traded MREIT.
Book Value Per Share: $26.40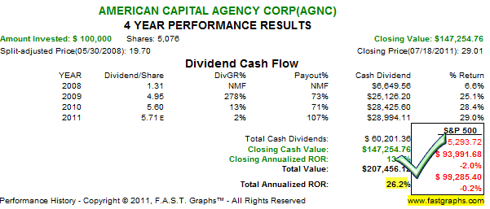 2. Annaly Capital Management (NYSE:NLY)
Michael A.J. Farrell, NLY's CEO and chairman, is a legend in the publicly traded MREIT industry. He is well-versed, recognized, knowledgeable, and skilled in all aspect of MREIT operations. NLY utilizes a bar-bell strategy to reduce risk to the overall portfolio:

Pure Agency-MREIT: No. NLY owns shares in a subsidiary CIM which owns non-agency paper. The majority of NLY assets are, however, backed by Government Sponsored Entities (GSEs).
Annual Dividend Yield: 14.48%
Largest publicly traded MREIT.
Book Value Per Share: $15.84
3. Hatteras Financial Corp (NYSE:HTS)
HTS began trading in early April 2008, approximately at the same time as AGNC. The below HTS vs. SP500 total annualized rate-of-return is from April 30th, 2008, to July 18th, 2011. HTS returned annualized returns of 14.6% vs. the SP500's 1.5%.
Hatteras Financial is externally managed by a seasoned agency-MBS firm: Atlantic Capital Advisors LLC. Atlantic Capital has proven to operate as a smooth running machine. The hedges and risks are implemented to acceptable levels. The returns are not as high as AGNC, but the returns are consistent, reliable, and outstanding.
Pure Agency-MREIT: Yes. All MBS assets are backed by Government Sponsored Entities.
Annual Dividend Yield: 14%
Book Value Per Share: $26.11
4. Cypress Sharpridge Investments (NYSE:CYS)
The company operates a pure play agency-MREIT. The stock is trading at a $12.88 stock price, which equates to almost a 110% book-to-price valuation.
Pure Agency-MREIT: Yes. All of CYS's assets and liabilities are backed by Government Sponsored Entities

(GSEs).

Annual Dividend Yield: 18.5%
Book Value Per Share: $11.74
CYS's MREIT strategy invests strictly in agency-backed securities:
" ... We invest in residential mortgage backed securities either issued or guaranteed as to principal and interest by a government agency or a government-sponsored entity, or Agency RMBS, collateralized by either adjustable-rate mortgage loans, or ARMs, with interest rates that reset monthly, hybrid ARMs that typically have a coupon rate that is fixed for an initial period (typically three, five seven or ten years) and thereafter resets at regular intervals, or fixed rate mortgage loans ..."
5. Invesco Mortgage Capital Inc. (NYSE:IVR)
I am hoping to have a continuing dialogue with Bill Hensel, Director of Media Relations-Invesco, pertaining to WL Ross' involvement with IVR. Mr. Ross is clearly involved in the IVR non-agency MBS selection team.
I am hoping to learn more about what extent Mr. Ross is officially involved on a day-to-day basis; his expenses as an advisor; and his ownership in IVR-shares. Truly Mr. Ross and his team would be of great value in advising specific purchases of non-agency paper. I trust that Wilbur L. Ross has a team in place that is well qualified to maximize shareholder return. I would like to find further info regarding Mr. Ross' personal involvement with Invesco, his personal involvement with the selection of non-agency securities, and the time and financial conditions of his team's involvement.
IVR has returned 12.8%, since its inception on June 30th, 2009, vs. the SP500's 20.8% return over the same time period.
Pure Agency-MREIT: No. Approximately 74% of the assets and liabilities are backed by Government Sponsored Entities

(GSEs).

Annual Dividend Yield: 18.3%
Book Value Per Share: $20.15
6. AG Mortgage Investment Trust, I (NYSE:MITT)
AG Mortgage Investment Trust , I is focused upon profits from the Residential Mortgage Backed Securities (RMBS) sector. Page 1 of the prospectus highlights management's intent to move into this
space
:
External Manager of RMBS Assets
MITT's assets will be externally managed by AG REIT Management, LLC. The external manager is a new subsidiary of Angelo, Gordon. Angelo, Gordon are an approved institutional manager overseeing $23-billion in assets. Angelo, Gordon was formed in 1988 by John Angelo and Michael Gordon.
The team has a proven record of identifying mispricing in non-agency MBS and RMBS. The external manager team will be under the leadership of Jonathan Lieberman and nine investment professionals.
Capital Structure and Dividends
The IPO was priced at $20.00-per share. 5,500,000-shares were sold in the IPO. Shares began trading on June 30th.
This is an interesting MREIT-purchase assuming investors are cognizant of owning RMBS debt instruments. This paper is non-agency paper. Management has stated the intent is to move into the RMBS market. There is an implied higher risk without the GSE backing the MBS paper.
A dividend payout has not been issued as of yet. Investors could potentially receive higher rates-of-return based upon assumed mispriced RMBS valuations.
I will wait and observe how management operates. The unique business model is intriquing for a smaller MBS allocation based upon the RMBS-focus.
This equity is appropriate for those who are willing to accept non-agency paper risk. Angelo, Gordon is experienced in the RMBS market. The stock has the potential to deliver higher capital gains and dividends, when compared to a pure play agency-MREIT.
Disclosure: I am long AGNC, HTS, CYS.