Over the last five years, these Consumer Discretionary companies have seen a growth in their Net Margin ratios (which shows how much of each dollar of revenue is translated into profits). The economy during the same period was pressured from recession and job losses. Sustaining growth and increasing profitability was a challenge within the consumer discretionary industry due to lower consumer spending. However the following companies battled effectively during the period and can be further expected to continue their growth.
(Click chart to enlarge)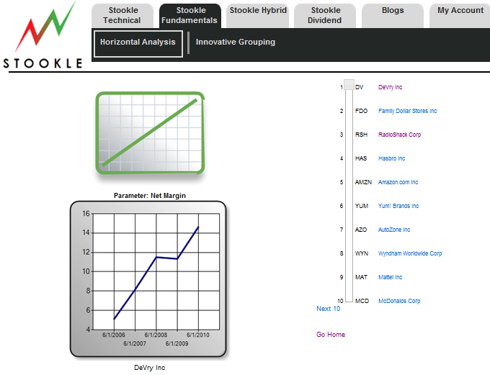 Family Dollar Stores Inc.
(NYSE:FDO) is a chain general merchandise discount retailer that has a presence in 44 states within United States. The company has a strategy of providing value and convenience to its customers. Due to self-service base operations, company has lower operational expenses and can thus have lower markup on products. Over the past 5 years the net margin has grown from 3.05% in 2006 to 4.55% in 2010. Family Dollar is expected to spend $320-$340 million on capital expenditure in FY11 to further increase its market presence and grow. The company has already opened 206 new stores and renovated 680 existing stores in the current fiscal year. The stock closed at $52.90, up 6.42% year-to-date.
DeVry Inc.
(NYSE:DV) is a global for-profit provider of educational services. The company is well diversified in terms of types of institutions it operates. It has a strong presence in Healthcare, Technology and Business education through different institutions and online programs. Due to economic downturn, individuals to remain competitive enrolled in higher education programs benefiting education providers like DeVry. Over the past 5 years the net margin has grown from 5.11% in 2006, to 14.62% in 2010. The stock closed at $65.91, up 37.35% year-to-date.
Yum! Brands Inc
(NYSE:YUM) is a quick service restaurant company that operates in more than 110 countries worldwide under a diversified portfolio of restaurants. The company is looking at emerging market countries such as China, India and Russia to grow its operations. Using franchised based growth strategy the company will be able to quickly expand to the emerging economies. Over the past 5 years the net margin has grown from 8.62% in 2006, to 10.21% in 2010. The stock closed at $55.16, up 12.46% year-to-date.
Hasbro Inc
(NASDAQ:HAS) is a provider of children and family's leisure time products and services through a portfolio of brands and entertainment properties. The company has made significant strategic investments in areas such as product development, emerging markets and television to fuel the growth of the company. The new initiatives undertaken by the company show the tendency for the company to grow in long run. Over the past 5 years the net margin has grown from 7.30% in 2006, to 9.94% in 2010. The stock closed at $39.41, down 16.47% year-to-date.
AutoZone Inc. (NYSE:AZO) distributes and supplies automotive replacement parts and accessories with over 4,600 retail stores in the US, Puerto Rico, and Mexico. A part of the reason for the growth could be attributed to the decline in new auto sales during the recession. Consumers, in an effort to lower spending could have held longer to their vehicles or preferred used cars, thus increasing demand for new auto parts and accessories. Over the past 5 years the net margin has grown from 9.57% in 2006, to 10.03% in 2010. The stock closed at $298.33, up 9.44% year-to-date.
Disclosure:
I have no positions in any stocks mentioned, and no plans to initiate any positions within the next 72 hours.