"The only way to make sense out of change is to plunge into it, move with it, and join the dance." - Alan Watts
I've written a few articles here on Seeking Alpha about silver. On April 26, I published one titled "Was that the Top for Silver?" in which I argued that silver prices (then at the year's high) were on the edge of a mean reversion moment. Two days later, silver began crashing.
On May 11, I put the decline into perspective by showing that the collapse in prices caused silver to be the most extreme under its 20 day moving average relative to all other ETFs I track. On July 8, I revisited silver in the piece titled "Was that the Bottom for Silver?" in which I argued it was possible for silver to resume its uptrend given that prices already crashed and relative performance against the S&P 500 did appear to be ticking higher.
Markets are constantly changing, and every forecast in the world ultimately assumes "all else being equal" (which it never is over long periods of time). Having said that, I ran a screen on my nearly 1,000 ETFs/ETNs to find those areas of the investable landscape which are furthest above from their respective 20 day moving averages (the opposite screen I ran on the May 11 piece).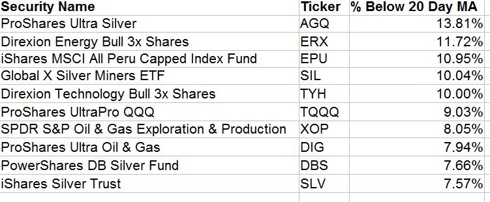 The leveraged Silver ETF (NYSEARCA:AGQ) once again reclaims top spot, with Silver Miners (NYSEARCA:SIL) fourth and silver itself in 10th place. It does appear that silver is trying to find some kind of "volatility equilibrium" given the wild swings experienced over the past several months. While I am not so sure silver will rise at the same pace it did earlier this year, overall strength and outperformance may well persist in the near term.
On another note, the list above is highly beta sensitive, indicating that investors are betting on some kind of a re-acceleration in global growth.
Disclosure: I have no positions in any stocks mentioned, and no plans to initiate any positions within the next 72 hours.
Additional disclosure: Pension Partners, LLC, and/or its clients may hold positions in securities mentioned in this article at time of writing.