If you'd like to invest in a group of fire and security companies, it is not easy to do. Most of the big and medium-sized players in security are conglomerates like Johnson Controls (NYSE:JCI), Bosch Security, Sony (NYSE:SNE) and Schneider Electric (OTCPK:SBGSF). These companies' security product lines are a fairly small part of the overall revenue stream. Even smaller players like Verint (NASDAQ:VRNT) and Nice (NASDAQ:NICE) have much of their revenue coming from somewhere else.
Tyco International (NYSE:TYC) is one of the few larger companies that get most of its revenue from fire and security. In the first six months of FY2011 (ending March 25), approximately 76% of its revenue came from fire and security. That revenue is quite diversified within the sector: Per the company's filing:
Tyco Security Solutions consists of the former ADT Worldwide segment as well as the portion of the former Safety Products segment that manufactures security products including intrusion, security, access control and video management systems. Tyco Fire Protection consists of the former Fire Protection Services segment as well as a number of businesses from the former Safety Products segment including the fire suppression, fire detection and life safety products businesses." Source: Tyco 10-Q report, 2011-04-25
With one company you can buy a lot of diversification across the sector, including manufacturing, distribution, and a rough split of 50% products and 50% services. Geographically, the business is quite North America-focused (about 60% of revenue), so you won't get a lot of diversification there.
Tyco has a colorful and complex history, dominated by a slew of acquisitions and divestitures. You can read some of it on Wikipedia here.
Market
Tyco participates in several distinct markets, making it difficult to predict potential growth rates. For projecting Tyco's growth over the long term, we would tend to look first at the general health of the world's leading economies rather than something more specific like the video surveillance market.
Company Position
The security equipment market is Tyco's largest segment. It owns ADT, the largest security service provider in the business, which gives it a large US presence. ADT had revenues of $7.4 billion in FY2010 and represented 44% of TYC's business.
Here were net revenues by segment for 2010:
Net Revenue

Percent of
Total
Net
Revenue

Key Brands

ADT Worldwide

$

7.4

44

%

ADT, Sensormatic

Flow Control

3.4

20

Keystone, Vanessa

Fire Protection Services

3.3

19

SimplexGrinnell, Wormald

Electrical and Metal Products

1.4

8

Allied Tube & Conduit, AFC Cable Systems

Safety Products

1.5

9

Scott, Protector, Ansul, Grinnell, Software House, American Dynamics, DSC and Bentel

$

17.0

100

%
Source: Tyco 10-K Report, 2010-11-12
The list of manufactured products is broad and varied and includes fire suppression products like water sprinkler systems, portable fire extinguishers, commercial suppression systems for special hazards, hose products, fire-fighting foam and related delivery devices, self-contained breathing apparatus devices, thermal imaging cameras, gas detection equipment and gas masks.
Security products include a wide range of video surveillance and access control systems, plus intrusion security products ranging from burglar alarms to a full range of security systems including alarm control panels, keypads, sensors and central station receiving equipment used in security monitoring centers.
Safety products also manufactures a number of products for ADT Worldwide and Fire Protection Services for incorporation into their electronic security systems, and fire detection and fire suppression systems. These products include a wide range of our fire detection and fire suppression products, security, video and access control products, electronic article surveillance and intrusion products.
Competition
The largest part of Tyco's business, ADT, has a strong brand name in residential and commercial security and broad North American coverage. However, barriers to entry are fairly low and the security business has many local and regional competitors. Although they may not be a huge threat to ADT, they will maintain a constant level of price pressure. ADT is investing outside North America but is still a small player in the rest of the world.
Most segments of the security business are quite fragmented, with no dominant vendor in key areas like video surveillance and access control. Market share will be highly contested, as competitors like JCI and Stanley Black & Decker (NYSE:SWK) are pushing hard to expand their service businesses. Other contractors like Honeywell (NYSE:HON), Ingersoll-Rand (NYSE:IR), Diebold (NYSE:DBD) and military contractors are also pushing to expand their security service businesses and have strong brand recognition and credibility in large business and government/military.
ADT provides a unique, vertically-integrated channel to help the sale of Tyco's product businesses. At the same time, some security product manufacturers like Pelco/Schneider Electric and Panasonic (PC) are likely to be reluctant to partner with ADT as a service provider due to the potential for ADT to favor its own brands.
Growth Rates
Tyco is coming off a weak year in 2009 when revenues dropped 15-20% and a bounce back in 2010 to recover most of that. Early 2011 (after correcting for acquisitions/currency affects) growth seems to be back to about 6% per year, but much of that growth is attributable to acquisitions and currency effects. North American product growth dominated the overall company growth, with almost no growth in EMEA.
Although we believe the overall fire and security market may grow in the 8-10% range, we are not as optimistic about Tyco's growth given its recent poor performance and the importance of the US-based ADT in overall operations. Growth in ADT has recently been helped by acquisition, but we are mostly interested in organic growth. For organic growth rates, overall we are assuming 5% long term.
Cost Control
Tyco's cost of product sales are in the 70% range, which is not bad for a conglomerate manufacturer, and compares well to companies like Johnson Controls, Honeywell and GE. In the past year, cost of sales and cost of SG&A have all improved slightly.
Net income for the first six months was up from 7.4% of revenue in 2010 to 11.6% of revenue in 2011. We've assumed it can achieve 9% in after-tax net profits for the long term.
Inventory levels seem under control with an overall improvement in 2011 versus 2010.
Transparency
We rate the transparency poor. With the company realigning ADT operations and manufacturing operations into a single division, it is not breaking out performance of its largest asset, ADT. We would like to see a breakout of the various brands revenues, and costs each quarter.
Risk Assessment

We assess Tyco's risk level as low. On the positive side, the company is well diversified within its sector, has some highly recognized brand names, and is the largest North American security sales/alarm operation. On the negative side, the company has been through some rocky financial quarters, is growing largely through acquisitions, with limited transparency as to how well its largest asset is being managed. It's largely subject to the success of the security sector; however, we believe the sector is likely to continue to expand with the current world's obsession with security.
VineSecurityJournal.com's Proprietary Pricing Model
We assess stocks primarily based on their fundamental value. We estimate the revenue and earnings to be generated by a company over the next ten years. We look at the risk involved in the business, look at the assets and liabilities, and we discount the value of the future earnings according to risk level. For companies with medium to high risk levels, we discount the value of future earnings more aggressively. Finally, we compare the value of those future earnings to the stock price. Are the shares "on sale" – or are they expensive?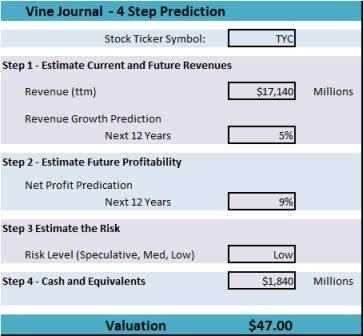 Pricing Model Target Price: $47. Conclusion: Hold. Tyco is an option to buy into the relatively safe security and fire products sector. The market in which it focuses should have safe, if not exciting, growth for many years to come. At its current price of about $47, we would hold, or look for a possible dip to enter at about $42.
Disclosure: I have no positions in any stocks mentioned, and no plans to initiate any positions within the next 72 hours.