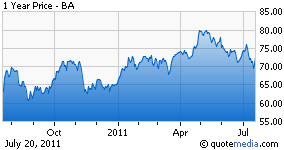 Michael J. Mauboussin, when working at CSFB in 2002, published an excellent piece on the concept of an economic moat, the work of which we make available here. Warren Buffett is often given the credit of coining the term. Morningstar and other research firms like ours (via our ValueCreation rating) have embraced this compelling idea, embedding the concept in a research framework. In this article, we discuss whether we think Boeing (NYSE:BA) has lost its moat in light of the recent split-order of 460 planes from American Airlines (AMR).
First of all, we think the market is completely misunderstanding the long-term implications of the recently announced and massive AMR order to replace its narrowbody fleet (which was split between Boeing and Airbus). Though receiving orders is, in itself, positive, this particular order comes at the expense of Boeing's exclusivity with AMR - the carrier currently flies all-Boeing aircraft. Boeing remained on the sidelines for months, debating whether or not to re-engine its 737 aircraft to counter Airbus' A320neo or to leapfrog Airbus and build a brand-new narrowbody by the end of this decade. We believe Boeing wanted to pursue a brand-new build, but fell subject to the demands of major customer AMR, which undoubtedly demanded a new, more fuel-efficient upgrade at the negotiation table. We had predicted this outcome.
Importantly, the major takeaway is that customers are now dictating Boeing's future (the firm's insight into what customers want has waned following the launch of the 787 Dreamliner). Airbus has already garnered 1,000 orders for its re-engined A320neo aircraft, which it announced December, while Boeing remained content with doing nothing until this order announcement. We are confident that the domestic jet maker was forced into this decision, and Boeing will now spend the next several years trying to catch up to Airbus in the narrowbody segment, a strategic blunder. We now believe Boeing will not have the resources to build a brand new narrowbody until the middle of next decade, and Airbus will retain a clear lead in this segment.
Click to enlarge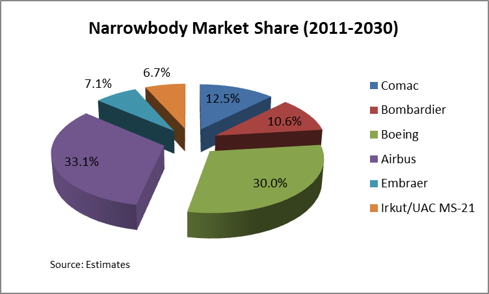 The bargaining power of customers is so pronounced that we also think there will be major moves with other all-Boeing customers, which we outline here. Importantly, competition in the narrowbody market has heated up so much that we think there will be at least six major commercial airframe manufacturers - including Russia, China and Bombardier (OTCQX:BDRBF) - by the end of this decade. Though the aggregate narrowbody pie is large, we suspect that margins will come down in a hurry, as all six look to grab share (we also think Boeing and Airbus probably offered lucrative and unprecedented terms to American to get a piece of this recent order). Further, Boeing's major customer of the defense side (the U.S. government) is being squeezed with its own political debt crisis, and we do not think the hefty defense margins of years ago will be a part of Boeing's near-term future.
These serious events - the significant change in the bargaining power of customers (not only to dictate even more lucrative terms these days but also an airframe manufacturer's strategic direction) and the intensity of rivalry that will occur in coming decades in the narrowbody market - has stripped Boeing of a moat, in our opinion. Boeing's business is roughly half defense these days, and the narrowbody market is the largest expected market for commercial airplanes in the next several decades. We maintain that there will be a coming boom in commercial airplane deliveries during the next few years, but think the best way to play the space is within the commercial aerospace supply chain, which we outline here.
Disclosure: I have no positions in any stocks mentioned, and no plans to initiate any positions within the next 72 hours.
Additional disclosure: Our Best Ideas List is for information purposes only and should not be considered a solicitation to buy or sell any security. Valuentum is not responsible for any errors or omissions or for results obtained from the use of our Best Ideas List and accepts no liability for how readers may choose to utilize the content.