After crushing Wall Street's expectations on Tuesday, Apple's (AAPL) stock tore a hole through the roof and soared to new heights after the bell, briefly crossing the $400 mark before settling at $394, a full 8.5% above the last historical high it set on February. Apple investors have been waiting for this. After Steve Jobs announced his medical leave from the company half a year ago, the stock has languished, trading sideways week in and week out as pundits publicly wondered why a growth story as compelling as Apple's was selling for pennies on the dollar.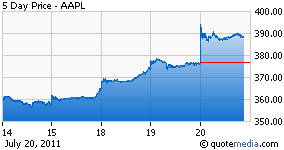 The answer was obvious: after a third leave from the company to tend to his failing health, no investor on Earth was willing to put money on the hope that Jobs will make a recovery and return to his post as chief executive full time. The Jobs premium had become a Jobs discount, and the Street punished Apple's stock for it. But long-term shareholders of Apple continued to hang in there as the traders played their games - our belief in the company never wavered, and we knew there was more to Apple than Steve Jobs.
For the past week, we've been seeing signs that Wall Street was beginning to see what we see. Apple's stock skirted around its 52-week high last week, finally nudging through resistance on Friday, and it went a bit higher still on Monday, a day when the entire market took a 1% haircut. You can almost feel the tension in the air - Wall Street was awaiting Apple's earnings release with bated breath. The rest is history.
We've crossed into virgin territory with this move, and it's time to throw out the playbook because the game has changed. This is a pivotal moment for Apple, and it's not because the company posted record earnings in a non-holiday quarter, smashing every analyst estimate along the way. It's not because the stock has finally breached through resistance to set a new historical high. It's because for the first time since Steve Jobs engineered Apple's rebirth from the ashes more than a decade ago, investors are finally beginning to believe that the company can stand on its own without him. Apple, as they say, is all grown up and ready to take on the world.
Slow down. Catch your breath. This ride isn't over yet, and no doubt there'll be profit-takers over the next few days. At moments like these, it's a good time to revisit your original investment thesis to see whether you should lock in gains, or continue to hold out for the rest of the story. We've all done our own due diligence on Apple before we dove in. One aspect of the company that I had made sure to look into was the people who make up Apple's all-star team, the ones who will be responsible for steering this ship in the event of Jobs's departure. I believe now is the perfect time to go back and take a look at some of these folks.
Apple's numbers have been good, they are good, but it's the future scoreboard that matters. These are the players who will be responsible for making Apple's shots in the coming days. Jobs may have brought Apple back from the brink of extinction, but he didn't do it alone. For one, he had Tim Cook, Apple's Chief Operating Officer and acting CEO in Jobs's absence. Investors should take an especially hard look at Cook, since he's the leading candidate to take the wheel when Apple's founder finally leaves the company for good.
Cook, recruited to Apple shortly after Jobs's return in 1997, is by all measures an operations genius. Under Cook's operations leadership, Apple transformed from a bloated also-ran saddled with inefficiencies and immobilized by its own weight into an agile, well-oiled machine that consistently outmaneuvers its competitors at every juncture. One of the earliest moves Cook made in his tenure was to close down Apple's factories and outsource manufacturing to foreign suppliers to cut down on costs and improve efficiency. In a couple of short years, he had reduced the amount of time inventory sat in Apple's floor space from three months to two days.
As Apple began to take off, Cook stayed on top of the game, brokering a billion dollar deal to corner the market on NAND flash memory in 2005, securing Apple's supply of this crucial component for years to come. Despite all of his achievements, perhaps the most important thing to attribute to him is this: Cook is as dedicated to the company as he is good at his job. Cook lives and breathes Apple. Employees all attest to his incredible work ethic, reporting that he's always the first one in and last one out of the office, and his stamina is legendary amongst his colleagues. In his 2010 commencement speech delivered at his alma mater, Auburn University, Cook cited Steve Jobs as one of the most important people in his life and identified his choice to work at Apple as the best decision he ever made.
Okay, so we've established Cook as a skillful operator who's devoted to the company, but is he the kind of man who can mastermind Apple's next creative breakthroughs? Sure, he's no Steve Ballmer (he has a degree in Industrial Engineering from Auburn), but he's no technological visionary either. Without Jobs at the helm, we're going to need someone who can conceive, design, and create the hot new products that are going to fuel Apple's growth engine in the future. That someone is Jonathan Ive, Apple's Senior VP of Industrial Design.
When Jobs has a vision for a groundbreaking new gadget, Ive is his go-to guy to turn that vision into reality. An obsessive genius who draws inspiration for his designs from all spectrums of life, Ive is known for such things as traveling to Japan and staying up through the night to watch a renowned katana maker forge a Japanese samurai sword, all to learn how to push metal to its absolute limits. Rumor has it this was the source that inspired the iPad's razor blade design. Another story: When Jobs asked Ive to craft the first iMac, Ive brought his team to a jellybean factory to learn how to use color in a fun and interesting way. They later applied the knowledge they gained from their field trip to design Apple's new line of machines. Ive's former employer, Clive Grinyer of Tangerine, still laments the loss of one of Britain's greatest talents in design to Apple. There's no question that should Jobs retire from the company, Ive and his team will become the mainstay that will secure Apple's position as the leading innovator of cutting-edge technological products for years to come.
There is a host of other brilliant men and women on Apple's team, like Scott Forstall, Phil Schiller, and other key players who Jobs entrusted with their own piece of the company. When head of retail Ron Johnson left Apple for J.C. Penney (JCP), the market value of the department store went up over a billion dollars in a single day. This is how valuable Apple's top brass is. Though Apple owes much to Jobs and the vision, expertise, and ideas he brought to the table, his most important and enduring contribution to the company was this: He assembled a team of brilliant people who work well together and created an environment where they can fully leverage their talents to invent the world's next big thing, and make a ridiculous amount of money doing it.
No one is more aware of his own mortality than Steve Jobs, and he has done well setting his company up to succeed even after he's gone. In a piece called Inside Apple, Fortune's Adam Lashinsky reported on a brand new internal management class developed within the company's walls. Unofficially dubbed Apple University, this class is run by educators plucked from some of the most prestigious universities in the country, as well as some of Apple's top executives. Jobs had put this program together to transfer his experience and knowledge to the future leaders of Apple, preparing them for the challenges of tomorrow. Apple has undergone an unbelievable transformation under Jobs's leadership, and his initiatives to ensure the self-sustainability of his company make it a safe bet that his legacy will continue long after he's gone.
This is why I didn't sell Apple at $400, and you shouldn't either. With the most valuable brand in the world, the best talent in the industry, and the strongest balance sheet in the business, I firmly believe that Apple's best days still lie ahead. I don't harbor any illusions though...I know it won't be a smooth ride to the top. There are a lot of itchy trigger fingers in Apple's stock, a lot of potential catalysts for short-term drops, but I am fully convinced that in the long run, investors who hang on tight will be rewarded lucratively for their faith. All the stars are aligned...Apple is the right company in the right place at the right time. I hope we'll see each other at the next stop, and the one after that...even now, even at over $300 billion in market cap, this ride is just beginning, and I look forward to the many amazing sights we'll see along the way.
Disclosure: I am long AAPL.