NeoStem (NBS) once offered investors a promise that seems now too good to be true, since the company dilutes the value of its shares with financings like the one that caused its share prices to plunge nearly 20% on Monday. The stock closed at $1.06 after the stem cell research company announced an underwritten public offering of 13,750,000 units at $1.20 per unit. Each unit consists of one share of common stock and a warrant to purchase 0.75 of a share of common stock with a per share exercise price of $1.45.
Were dilution-tired NBS investors the ones who dumped a whopping record number of shares? Before the close, 6,012,189 shares were sold. A voluminous 2554.03 % increase over the average day. The selling continued after hours.
[Click to enlarge]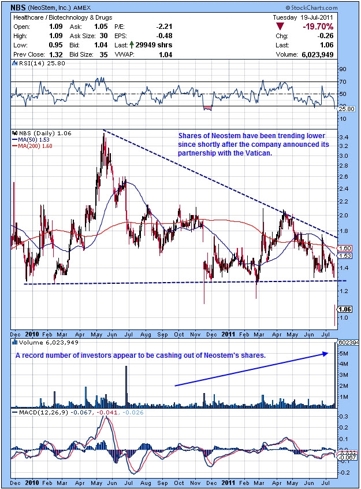 In 2007, NeoStem acquired the worldwide exclusive rights to its headline-making VSEL™ technology, promising that the very small embryonic-like stem cells which form the basis of the technology have physical characteristics typically found in embryonic stem cells, including the ability to differentiate into specialized cells found in different types of tissue that would be able to interact with the specific organ in order to repair degenerated, damaged or diseased tissue.
Shortly after the company announced a key collaboration with the Vatican in Rome, the door to the possibility of achieving the positive benefits associated with embryonic stem cells without the ethical or moral dilemmas took shares to $3.50. Investors and skeptics alike took note of the important announcement, given the fact that church officials had always been very vocal about their opposition of embryonic stem cell research.
In an orchestrated press briefing in New York last summer, an official from the Vatican's Pontifical Council for Culture announced what was characterized as the Vatican's first-ever contractual collaboration with an outside commercial venture to advance stem cell research. It was also revealed that the Pontifical Council for Culture, through its charitable foundation STOQ International, was making an economic commitment of one million dollars to start its collaboration with NeoStem.
Now, investors are left wondering whether the Pope himself sold all those shares on Monday. Officials at the company reached out to several of my analyst colleagues touting their excitement about its very recent acquisition of Amorcyte, Inc., a development stage cell therapy company focused on novel treatments for cardiovascular disease. Now it appears that the company will use money from the financing to raise money for Amorcyte's lead product candidate, AMR-001, which is reportedly ready to initiate a Phase II study for the treatment of acute myocardial infarction.
Is that investor money well spent on a technology that promises to promote the growth of new blood vessels and strengthen the stressed heart cells in areas where heart attacks have left dead cells? If so, how is the technology from BioHeart (OTCPK:BHRT), a long time player and leader within the cardiovascular sector of the cell technology industry, much different? That company trades at a significantly lower market cap and is basically at the same clinical studies level looking for a technology that can help address congestive heart failure, lower limb ischemia, chronic heart ischemia, acute myocardial infarctions and other multi-billion dollar medical needs.
Investors appear to be catching on to the game at NeoStem and some of the other stem cell companies that have been promising what they can't yet deliver. They're looking for stem cell plays that will actually deliver in spite of the rigid FDA approval process. Already many Americans have turned to medical tourism, a billion dollar industry, to take advantage of stem cell therapies which are not only working, but already approved in other countries.
You can't keep a good thing down. When the US restricted stem cell research over a decade ago, that research didn't die, it emigrated. All over the world, scientists continued to explore the efficacies of embryonic and adult stem cells with astonishing results. Maybe the only thing stem cell related which will be kept down for now is NeoStem's share prices.
Disclosure: I have no positions in any stocks mentioned, and no plans to initiate any positions within the next 72 hours.