Mario Gabelli manages the Gabelli Utilities fund, and its Class AAA shares trade using the symbol (MUTF:
GABUX
) - $6.48. Some believe Gabelli is a pretty savvy utility investor in the large- and mid- cap value field. His fund increased Net Asset Value by $700 million in 1st qtr 2010, increasing from $1.5 billion on 12/31/10, to $2.2 billion as of 3/31. With share prices trading 1.8% higher over the quarter, much of the dollar increase was generated from new capital. The fund represents 224 positions and has a 19% annual turnover rate. Some may ask: Where did Mario put that money, how has it done so far this year, and could these first quarter selections still be a good value?
The top five purchases, on a percentage of shares owned by the fund, in the largest 25 holdings (excluding US Treasury purchases) were:
Edison International (NYSE:EIX)
- $38. Market Cap $12.0 bil, 3.3% yield, increased share count by 30% and owns $38 mill, or 1.4% of NAV. Electric utility in Southern California.
Scanna Corp (NYSE:SCG)
- $40. Market Cap $5.0 bil, 5.9% yield, increased share count by 21% and owns $21 mill, or 1.0% of NAV. Electric utility in North Carolina, South Carolina, and Georgia.
NorthWestern Corp (NYSE:NWE)
- $33. Market Cap $1.2 bil, 4.3% yield, increased share count by 18% and owns $23 mill, or 1.1% of NAV. Electric and natural gas utility in Montana, South Dakota, and Nebraska.
Great Plains Energy (NYSE:GXP)
-$21. Market Cap $2.8 bil, 4.0% yield, increased share count by 15% and owns $21 mill, or 1.0% of NAV. Electric utility in Missouri and Kansas.
CH Energy (NYSE:CHG)
- $ 53. Market Cap $830 million, 4.0% yield, increased share count by 14% and owns $22 mill, or 1.1% of NAV. Electric and natural gas utility in New York.
In addition, material positions were added to
National Fuel Gas (NYSE:NFG)
- $73, at 5.58% of NAV and
Consol Energy (NYSE:CNX) -
$54, at 2.0% of NAV.
Of this group, NWE share price has outperformed the S&P Utility Spyder, (NYSEARCA:
XLE
), rising a bit more than 17% versus 10% respectively over the past six months. SCG's share price has performed the worst at a fall of a bit more than 5%. The balance of the list share prices have gone up by 1% to 10%.
A six month chart of these purchases versus XLE - (click to enlarge):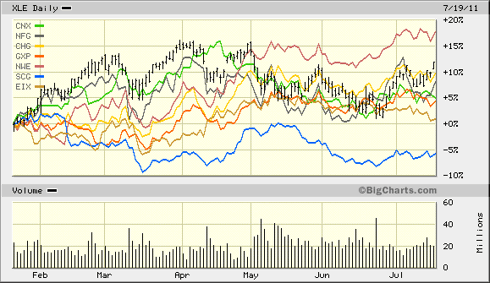 Click to enlarge
Value oriented utility investors should review these firms for potential portfolio additions. Mario's stock selections are usually utility companies offering above-average growth prospects, including potential acquisition targets, and are currently value priced. With 2nd qtr portfolio changes due out in a few weeks, it should be interesting to review these selections for updates.
More on GABUX from April
A description of each utility as provided by Reuters:
Edison International
, incorporated on April 20, 1987, is the holding company for Southern California Edison Company, a California public utility corporation; Edison Mission Energy, an independent power producer, and Edison Capital, an infrastructure finance company. it operates in two segments: an electric utility operation segment and a competitive power generation segment. SCE is engaged in the business of supplying electricity to an approximately 50,000-square-mile area of southern California. EMG is the holding company for its principal wholly owned subsidiary, EME. EME is a holding company with subsidiaries and affiliates engaged in the business of developing, acquiring, owning or leasing, operating and selling energy and capacity from independent power production facilities. EME also engages in hedging and energy trading activities in competitive power markets through its Edison Mission Marketing & Trading, Inc.
SCANA Corporation
is a holding company. The Company, through its wholly owned regulated subsidiaries, is primarily engaged in the generation, transmission, distribution and sale of electricity in parts of South Carolina and in the purchase, transmission and sale of natural gas in portions of North Carolina and South Carolina. Through a wholly owned non-regulated subsidiary, SCANA markets natural gas to retail customers in Georgia and to wholesale customers primarily in the southeast. Other wholly owned non-regulated subsidiaries provide fiber optic and other telecommunications services and provide service contracts to homeowners on certain home appliances and heating and air conditioning units. A service company subsidiary of SCANA provides administrative, management and other services to SCANA and its subsidiaries.
NorthWestern Corporation,
incorporated in November 1923, provides electricity and natural gas to approximately 661,000 customers in Montana, South Dakota and Nebraska. The Company operates its business in three segments: regulated electric operations; regulated natural gas operations, and all other, which primarily consists of a remaining unregulated natural gas contract. Effective January 1, 2009, the Company's joint ownership interest in Colstrip Unit 4 was placed into Montana utility rate base. In June 2009, the Company began construction on the Mill Creek Generating Station.
Great Plains Energy Incorporated,
incorporated in 2001, is a public utility holding company. Great Plains Energy's wholly owned direct subsidiaries with operations or active subsidiaries includes Kansas City Power & Light Company, KCP&L Greater Missouri Operations Company, Great Plains Energy Services Incorporated (Services) and KLT Inc. The electric utility segment consists of KCP&L, a regulated utility; GMO's regulated utility operations which include its Missouri Public Service, and St. Joseph Light & Power divisions. Electric utility serves over 823,000 customers located in western Missouri and eastern Kansas.
CH Energy Group, Inc
. is the holding company of Central Hudson Gas & Electric Corporation (Central Hudson) and Central Hudson Enterprises Corporation. Central Hudson is a regulated electric and natural gas subsidiary. CHEC, the parent company of CH Energy Group's unregulated businesses and investments, has six wholly owned subsidiaries, Griffith Energy Service Inc.,CH-Auburn Energy LLC , CH-Greentree LLC, CH-Lyonsdale LLC, Lyonsdale Biomass LLC and CH Shirley Wind LLC. CH Energy Group operates in four segments: Central Hudson's regulated electric utility business; Central Hudson's regulated natural gas utility business; Griffith's fuel distribution business, and other businesses and investments, which includes CHEC's renewable energy investments and the holding company's activities, which consists of financing its subsidiaries.
National Fuel Gas Company, incorporated in 1902, is a holding company. The Company is a diversified energy company consisting of four business segments: Utility segment, Pipeline and Storage segment, and Exploration and Production segment and Energy Marketing segment. Its subsidiaries include National Fuel Gas Distribution Corporation, National Fuel Gas Supply Corporation, Empire Pipeline, Inc., Seneca Resources Corporation, National Fuel Resources, Inc., Highland Forest Resources, Inc., Horizon Energy Development, Inc., Horizon LFG, Inc., Horizon Power, Inc. and National Fuel Gas Midstream Corporation. In September 2010, the Company sold its landfill gas operations in the states of Ohio, Michigan, Kentucky, Missouri, Maryland and Indiana.
CONSOL Energy Inc
is a multi-fuel energy producer and energy services provider primarily serving the electric power generation industry in the United States. CONSOL Energy operates in two segments: Coal and Gas. The Company produces pipeline coalbed methane gas from its coal properties in the Northern and the Central Appalachian basin, and oil and gas from properties in the Appalachian and Illinois Basins. In addition, it provides energy services, including river and dock services, terminal services, industrial supply services, coal waste disposal services and land resource management services. On June 1, 2010, the Company acquired CNX Gas Corporation. On April 30, 2010, CONSOL Energy completed the acquisition of the Appalachian oil and gas exploration and production business of Dominion Resources, Inc. which included approximately one trillion cubic feet equivalents of net proved reserves and 1.46 million net acres of oil and gas rights within the Appalachian Basin. Included in the acreage holdings were approximately 500 thousand prospective net Marcellus Shale acres located in southwestern Pennsylvania and northern West Virginia. It also acquired 17 vertical Marcellus wells acquired in the Dominion Acquisition bringing its total well count to 52 Marcellus wells.
Disclosure: I have no positions in any stocks mentioned, and no plans to initiate any positions within the next 72 hours.
Disclaimer: As always, investors should conduct their own due diligence, should develop their own understanding of these potential opportunities, and should determine how it may fit their current financial situation.