This week saw even further volatility in political events surrounding both Europe and the United States, leading to a general selloff in risk assets. Investors remained fearful over the European debt situation early in the week, causing a large selloff in the euro, but quickly switched their fears to renewed monetary easing by the U.S. combined with the possibility of a default because of politicians inability to agree on a deal to raise the debt ceiling. As has been the case for months now, fundamentals have a taken a back seat to fear-mongering and political speculation.
For the week, the S&P 500 and GSCI Total Return Index both ended lower, with the dollar trading fractionally higher. The big winner of the week was again precious metals, with gold trading up 3% and silver gaining almost 7%. The incredible rise in silver prices over the past 2 weeks caused U.S. to become wary of the recent gain and take profits in the metal, although we remain bullish in the long-term. As has been the case for months, we believe gold is the premier asset to own right now given the geopolitical uncertainties, and the almost-certain loss of confidence in paper currencies that will result in almost any outcome of the current dilemmas.
Shown below is a chart of the CRB Raw Industrial Index and the GSCI Total Return Index.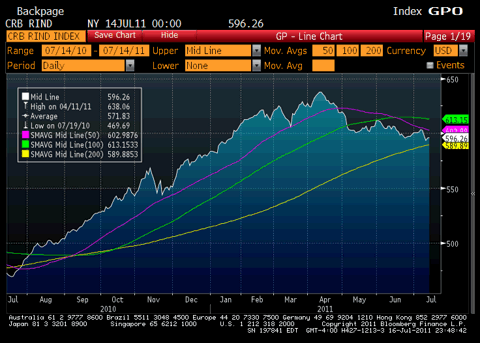 Click to enlarge
(Click to enlarge)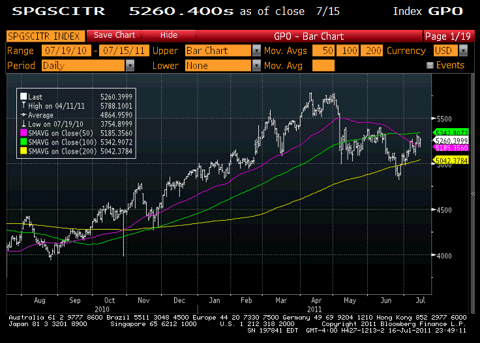 Click to enlarge
(Click to enlarge)
As can be seen, both indices fell slightly on the week. The general risk aversion of recent events caused industrial commodity investors to become spooked and move to the sidelines. However, we believe that interesting opportunities still remain.
While the focus of Bernanke's testimony was that he left the door open to a possibility of QE3, the real takeaway from the testimony should have been that the Fed will do whatever is necessary for the economy, be it tightening or loosening. In fact, Bernanke spent almost twice as many words talking about possible tightening procedures than he did discussing loosening possibilities. It is our belief that as long as risk assets don't suffer a sustained correction (~15% down on equity prices from here), then the Fed could actually start tightening and raising rates far sooner than the rest of the world expects.
Investors should keep in mind that Brazilian, Indian, Chinese, Vietnamese and every other country in the world's inflation is being caused by U.S. zero interest rate policy. If the global economy plateaus at current levels, Washington will face enormous pressure to raise rates both here and abroad. However, while this could be construed as bearish for precious metals, note that the Fed would probably have to raise rates by 150-200 bps before yields on government bonds overtook the rate of inflation. As long as real interest rates remain negative (as will most likely be the case for at least the next 2 years), precious metals will shine.
Gold
As stated above, we continue to own gold and hold it in the highest regard in today's environment. That being said, the advance in gold is getting a bit extended, and on a convicted move above $1,600, we would advise lightening exposure.
Shown below is a chart of gold over the past 2 years, along with aggregate open interest on gold futures.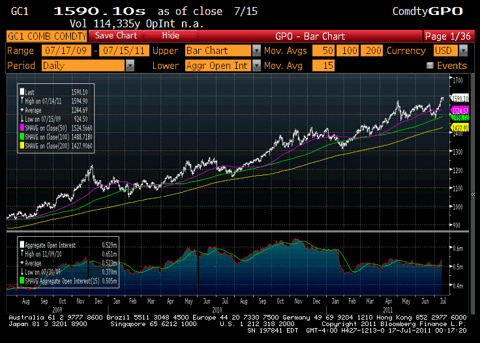 Click to enlarge
(Click to enlarge)
Two features of the chart stand out. First, gold does not extend far beyond its 50 day moving average without retracing. Even though gold is in a secular bull market, it is still one of the most stable asset classes in the world as measured by historical volatility. Because of this, it sticks to its moving averages fairly closely, and quick moves above it are almost always accompanied by retracements back to the averages.
Secondly, aggregate open interest on gold futures remains 120k contracts below the high set back in November 2010, indicating the possibility of increased speculation taking gold prices higher. Shown below is a chart of gold in yellow and Managed Money longs in white.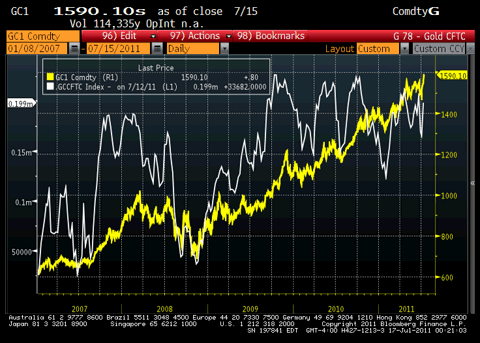 Click to enlarge
(Click to enlarge)
As can be seen, Managed Money net longs are at an elevated level, but are still 27k contracts below the all-time high set in November 2009. We believe that Managed Money net longs could easily break to new highs, taking the price of gold to the $1625-1650 level. However, we would view a move to those heights as an opportunity to lighten exposure and take profits, with the objective of re-buying around the $1525-$1550 level.
Trade Recommendation
Our recommendation is to hold gold and maintain current exposure levels with an upside target of $1,625-1,650. If that target is achieved, investors would be well-advised to reduce exposure, cutting 50-100% of net longs.
Disclosure: Long gold futures