A tiny exchange traded fund tracking Ireland remains in the green so far this year as economic data showed solid growth in the first quarter, but the outlook is clouded by Europe's debt crisis.
Some analysts argue that the Irish economy is just scraping by and may see growth taper off due to poor domestic demand.
The iShares MSCI Ireland (NYSEARCA:EIRL) is up 5.3% year to date, according to Morningstar. The fund has $4.2 million in assets.
Ireland's GDP expanded 1.3% in the first quarter over the previous three months, the strongest quarterly growth in more than three years, report Dara Doyle and Finbarr Flynn for Bloomberg.
Yet Irish government bonds remain weak amid worries the debt crisis is spreading from Greece to other countries on Europe's periphery such as Italy and Ireland.
Yields on 10-year Ireland government bonds recently touched 14%. Moody's earlier this month cut Ireland's credit rating to junk status.
"There is a consciousness about contagion but certainly the authorities I have spoken to believe they can prevent contagion spreading to Ireland and Portugal but they have some concerns about the bigger European countries and they are going to draw the line there," commented Finance Minister Michael Noonan at Irish Central.
The government projects average economic growth of 2.3% between 2011 and 2014, but the current economic environment suggests the forecast may be too optimistic.

iShares MSCI Ireland
click to enlarge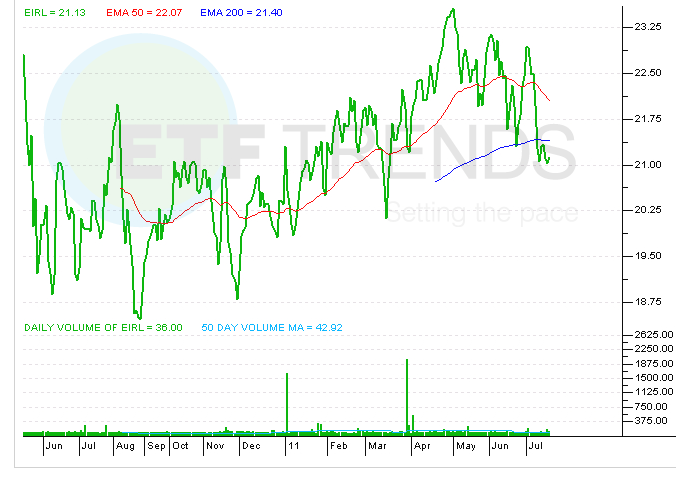 Max Chen contributed to this article.
Disclosure: None