As a holder of Sirius XM (SIRI) September $2.50 calls, it has been painful to watch. Here's a look at SIRI's chart over the course of the last week, courtesy of FreeStockCharts.com:

Click to enlarge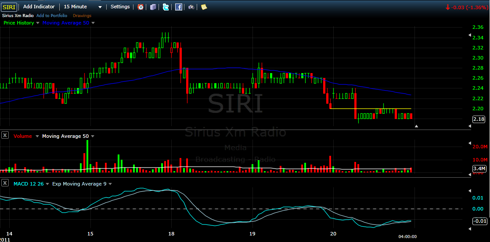 There's little, if any, rhyme or reason to SIRI's action lately. On Tuesday, for instance, the Dow had its best day of the year, yet SIRI closed $0.04 off of its open and $0.08 off of its intraday high. So much for macro sentiment dictating SIRI's gyrations. Throughout the entire month of July, SIRI has turned in similar performances day-after-day with one head fake after another.

Click to enlarge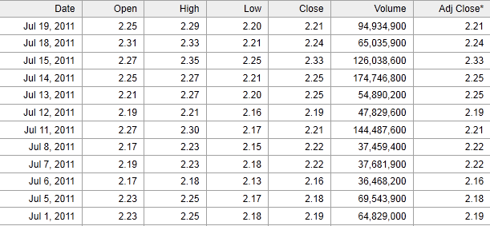 (Prices courtesy of Yahoo! Finance)
The volume spikes, possibly triggered by SIRI's inclusion in the Nasdaq 100 index, have done practically nothing to sustain upside glimmers. Undoubtedly, day traders have taken control of this stock. You can make a killing trading the intraday highs and lows on this stock.

I do not blame day traders - purely human and humans controlled by machines - for taking advantage of this reality. If I had the power to trade a minimum of 100,000 share lots of SIRI, I would pour a beer and do likewise all day, everyday. Instead, I added more calls today on the dip because I believe in the near-term prospects of this company.

Pessimism, however, continues to cloud my thinking. I need Sirius XM CEO Mel Karmazin to come in and erase my evil thoughts prior to his company's earnings release and conference call.

First, announce the date of the conference call already. And accompany that announcement with some guidance, assuming there is optimistic guidance to give. All signs point to that being the case, so come to the table and take control of this stock and public perception, once and for all.

Outside of signing Howard Stern and other big-name talent, Sirius XM remains an incredibly passive company. The competitive space Sirus XM runs in does not reward a passive approach. If you're not Apple (AAPL), you've got to take it to the competition, take the message to the streets and out-innovate or be left behind.

For instance, I want to know what SatRad 2.0 is actually going to be before Steve Jobs takes the stage to introduce iPhone 6 and iPad 3.5. I want to see that Sirius XM has plans to capture the younger demos it lacks just as terrestrial radio is doing via streaming efforts such as Clear Channel's (CCMO.PK) iHeart Radio and Slacker's partnership with AARP. I want to see proof that Srius XM believes it needs to broaden and diversify its audience through real and meaningful marketing efforts, not half-baked promotions and fleeting headline grabbers that do absolutely nothing to deliver new subscribers and sell radios.

It's easy to get lost in the vacuum of 20 million or so seemingly loyal customers, but it's a dangerous approach. This passive, we're here and we'll always be here approach almost killed terrestrial radio, particularly on the AM side. Karmazin stood by and watched it happen.

As a little kid and young adult, I listened to the stations "The Zen Master" ran. Despite being part of a dying business, they were always the best in breed. They had the best, most compelling talent and inspired my dreams of being on the radio. Karmazin has built Sirius XM into one of the best choices in audio entertainment, just like he did during his time in terrestrial.

I continue to buy calls despite my doubts not only because of chart history and technical indicators, but because I have faith in the man at the helm. Here's hoping that this article comes prematurely, that the best takeaway from it is the hint to keep buying bullish calls and that the Zen Master has not fallen asleep at the wheel.

Disclosure: I am long SIRI.